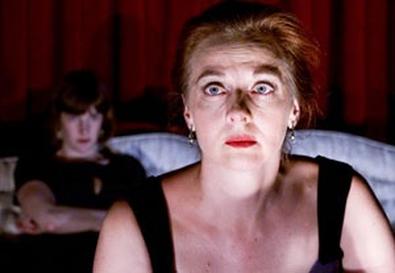 The frustrating and hilarious "Brandywine Distillery Fire," conceived by playwright Matthew Freeman and director Michael Gardner, could hardly be called a play. According to the press materials, this off-kilter ensemble piece represents "the birth of a new performance style" called "the new naturalism." And while this stuttering, purposely misinflected style does yield many laughs, you may find yourself wondering by the end of this peculiar evening just what was so wrong with the old naturalism.
In front of a simple curtain the play's game cast members (who use their own names) enact scatterbrained, seemingly disconnected scenes. Be it a discussion of whether gorillas can keep pets or a board meeting for a small church, each rambling encounter quickly explodes into a frenetic tirade built on Freeman and Gardner's unusual spoken cadences. Throughout Gardner's cannily casual production, light cues are purposely missed and incidental music plays over entire scenes. The actors blink and smile uncomfortably at each other. Freeman and Gardner attack the awkward aspects of performance at full force, with varying results.
As a working example of this new naturalism, the line "Don't get your shoelaces in a knot over it" becomes "Don't get your. Shoelaces. In a. Knotoverit." Some of Freeman's text, such as a somewhat meta group segment toward the end that seems to be about the script's creation and Alexis Sottile's superb monologue about her face, emerges very well through the play's antic mode of delivery. But there are also times when the poetry of the script feels particularly stunted by the performance style. A lengthy discussion that seemed to be about office etiquette blurred into indiscernible noise thanks to the frequent stressing of the words "the" and "it."
In the seven-person cast, Steve Burns (of the TV show "Blues Clues") rightly slides between dry understatement and blaring neuroticism with ease. Sarah Malinda Engelke likewise excels throughout, particularly in a seductive prayer delivered to an unsuspecting audience member.
Presented by Incubator Arts Project at St. Mark's Church-in-the-Bowery, 131 E. 10th St. NYC. Sept. 9–18. Tue.–Sun., 8 p.m. (No performance Wed., Sept. 15.) (212) 352-3101, (866) 811-4111, or www.incubatorarts.org.