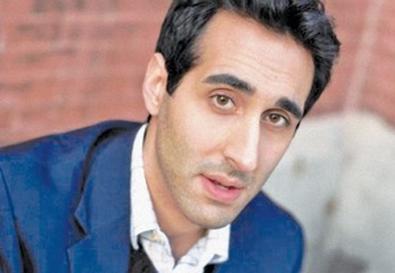 Allison Strong, Union City, N.J.
I remember my first print audition like it was yesterday: I was 11 and thought I was so cool for leaving class early to go into the city. I wore my favorite outfit: a cute orange tank top with a sparkly new pair of jeans from Kids R'Us. I would have to walk into the studio alone because the odds of finding parking in Manhattan were about as good as the odds for winning the Mega Millions jackpot. Terrified, I walked in to see the tan, blue-eyed model I envied from the Limited Too catalogs waiting on line. She had a huge color portfolio, an agent logo on her résumé, and all the confidence in the world. I had one black-and-white headshot, no agent logo, and, suddenly, a lot of doubt. I never felt more uncomfortable in my body than in that moment. No matter how hard I smiled in my test photo, I could never beat this girl, be as beautiful as she was, or look as good as she did in her clothes. Needless to say, I didn't book the job that day.
The truth is that while I've always been thin, I've never looked the way I wanted. I'm built more like a Cabbage Patch Kid than a Barbie doll, and I'm positive my stress-induced munch fests on Skippy and Nutella this semester haven't helped. So, after finals week, I bravely marched myself to the local New York Sports Club and walked out with a student membership. I'm proud to say I now go almost every day and have made my peace with the meaty muscle heads I lift weights with. So what if they're benching 250 and I'm benching 5? I'm just happy to feel good about my body and the changes I've made, including the choice to retire my jar of Nutella to the furthest reaches of the freezer.
Interestingly, that wasn't the toughest hurdle I had to jump this month. Eight years after I convinced myself that my print-modeling career was over, I got an audition for an insulin ad. Was fate cruelly testing me? With reluctance, I accepted the challenge and began to prepare. I got dressed up in my new favorite outfit: a dark blue dress with a jean jacket and brown boots. Like the time before, I walked into the casting office alone, only now I felt strangely fearless. I quietly waited for Limited Too girl to arrive, but, sadly, she never came. I almost wished she had. In her honor, I stepped into the audition room with the same beam of confidence she blinded me with all those years before, and a week later I booked the shoot. Hmm. Maybe that's what it took all along: total self-belief and a pinch of positivity. I may never be the face you spot in a catalog, but I can be my most confident me and flaunt it to the best of my ability. Who can compete with that? Wherever she is, I'm sure model-girl would be proud.
Nick Martorelli, Philadelphia
There are certain fringe benefits to being an actor. Sure, everyone knows about the fame and fortune we are supposed to receive, as well as the love and attention from adoring fans. But sometimes I'm involved in a production that invokes and inhabits a world that is wholly unfamiliar to me. On these occasions, my job requires an exploration of a new world and gives me an opportunity to learn new and highly specialized skills along the way.
The design of my recent "Twelfth Night" was heavily inspired by steampunk, which combines Victorian costumes with a modern gear-and-piston technical element. I knew very little about steampunk. The theater hired a consultant who supplied us with costumes and props, as well as discussions of what the steampunk culture involved. We also performed scenes from the show at the first Steampunk World's Fair in Piscataway, N.J., where I was introduced to an amazing new world. The courtyard of the hotel was filled with men, women, and even children dressed up, speaking in British accents, and celebrating their love of this culture. I had a blast wandering around and meeting people, and I made contacts for when I produce an upcoming film that incorporates steampunk elements. Everyone at the fair was incredibly friendly and open; I felt lucky to be included in this unique world, if only for a weekend.
In addition to exploring brave new worlds, we actors also acquire a variety of show-specific skills. A few years ago, I had to learn how to rappel for a production of "Big Love." My character made his entrance from an overhead helicopter, so a fireman and a rock climber came in and spent an afternoon teaching me how to rappel. One of the other actors was scared of heights, so we leapt off the balcony instead of the theater ceiling, but I really enjoyed learning a new skill I got to show off onstage.
Maybe the most impressive of all new skills came to me last fall courtesy of "The Elaborate Entrance of Chad Deity." The show was set in the world of professional wrestling, and I played several different wrestlers who were featured in matches throughout the show. Two weeks into the rehearsal process, all the boys put on our workout shorts and elbow pads, and we went into the wrestling ring with a former professional wrestler to learn our moves. We spent the first day learning the basic falls, grabs, and moves, then started assembling the choreographed routines for the show. The physical work on this show was very difficult, and I have rarely been as challenged as I was when learning how to wrestle. Because it was difficult, it was satisfying to succeed, and I now look back on that show as one of the best experiences of my recent career. Learning these new skills and exploring these new worlds are some of the wonderful side benefits of my chosen career. Now where's my fame and fortune?
Derek Lui, Los Angeles
Two years ago I saw an independent film titled "The New Twenty," directed by Chris Mason Johnson, at a film festival in Los Angeles. I enjoyed the film a lot, and I was amazed by the performances of some of the actors, especially Andrew Wei Lin. There was something about his performance that was so honest, intelligent, layered, and volatile that I couldn't help studying him. I experienced one of those actor moments when I wished I could figure his method out so I could be as good as him.
Being an Asian actor, it's always inspiring to see other Asian actors doing good work in nonstereotypical roles. Out of admiration for his work, I sent him an email through his official website, telling him how great his performance was. And he replied.
In December, "The New Twenty" was screened at a film festival in Hong Kong while I was home for Christmas. I recommended my friends see it, and I saw it for the second time. My friends agreed that Andrew gave a superb performance with great emotional depth. They looked him up on IMDb a while later and saw that his date of death was listed on it. They found out from the Internet that he committed suicide last year. When my friends told me about it, I was shocked and saddened beyond words by the news. I don't personally know him, and we had never spoken with each other besides that one email. But I was very upset about his death.
I looked up his email reply once again. He thanked me for the kind words and said he hoped Los Angeles was treating me well, that there was a lot of work out there available for me and that I should just keep plugging away. He wished me luck and success. I was glad I wrote him an email telling him how terrific his performance was. I know my email probably didn't change anything in his life and what he might be going through. But I am hoping I did make a difference in bringing a light to a stranger for at least a minute.
From then on, whenever I see somebody's work that I admire, I try my best to let him or her know about it. It's not easy to do it because sometimes we are so focused on ourselves that we forget to appreciate others' efforts.
As for myself, I had a rewarding May. I booked a voiceover commercial with PG&E, and I also learned that "The Amazing Bulk," a film I did a while ago, is going to resume production very soon, and I will be doing ADR for it next month. Also, I got accepted to become a member of the Red Brick Road Theatre Company. They are putting "Neil Labute's Bash" up in June. By the time you are reading this, I will be at the theater enjoying other actors' performances and getting inspiration from their work.

Octavia Spencer, Los Angeles
If I were writing my memoirs, I would lovingly refer to May 2010 as the month of miracles. Since I'm not, I'll just lead you to water and hope that you're thirsty.
A couple of months ago, I saw my dear friend Kathryn Stockett and expressed to her how much I missed our days "on the road." Early last year, her best-selling novel, "The Help," was released, and I was lucky enough to tour with her for a few weeks. I was Thelma to her Louise.
Although we didn't rob any banks or run her BMW off a cliff, we had memorable moments tearing up the two-lane highways of the South. I received my first speeding ticket in 20 years just outside of Memphis. I was doing 55 in a 45 zone. As you can see, I was a lawless rebel! A Thelma! Or was that Louise?
Anyway, Kathryn invited me to join her in early May in Chicago. We were to do two events, and I would return to L.A. and continue to research and prepare for my role in the film. At least that was the plan. But something had changed. Kathryn had become a rock star of the literary world to "standing-room-only crowds." People were lined up to hear her read passages from the book. To say that I was overwhelmed and proud would be putting it mildly. Needless to say, we had so much fun donning our Thelma and Louise personas that we decided to add me to one more stop on her tour: Bend, Ore. It was there that I felt the divine.
In researching the Civil Rights Era—the time and setting of the book and film—I became reacquainted with the Martin Luther King Jrs., the Freedom Riders, the Emmett Tills, the Rosa Parkses, the Myrlies and Medgar Everses. This was not the first time that I'd encountered these icons, mind you. However, it will be the first professional opportunity I've been given to walk in their shoes.
For those of you unfamiliar with the book, it's historical fiction that takes place in Jackson, Miss., during the Civil Rights Era. Medgar Evers, the field secretary for the NAACP, lived and worked in Jackson. He was a pioneer of the civil rights movement and on June 12, 1963, was assassinated just outside his home in front of his wife, Myrlie, and their children. This true event, among others, is covered in the book.
Well, Myrlie Evers Williams currently resides in Oregon. When she heard that Kathryn would be doing an event in Bend, she graciously decided to surprise her and introduce her to a crowd of 500 guests. The moment was magical. After a soloist sang two gospel songs, Miss Myrlie took to the stage. Hearing her speak brought tears to my eyes. You see in that seminal moment two worlds collided. I was able to reach out and touch the past and say thank you. Because of the sacrifices of the fallen, I am free to live without limitations, and that is a miracle.
Richard Rella Jr., New York City
I've only fantasized about being cast in a scene opposite Tom Cruise. I've imagined the excitement I would feel as my manager reported the good news to me. I've envisioned the sleepless nights I would have in anticipation of working with the biggest star of our generation. I've dreamed about the countless hours of preparation I would put in to ensure that I would give an Oscar-worthy performance. Then that day would arrive, in my mind, of course, and I would just want to focus on taking in every second of working with Maverick.
One thing that never entered this fantasy was the prospect that I might have to act with Tom Cruise's photo double. Imagine stepping on set to find an actor who resembles Mr. Cruise in height, weight, and coloring, wearing Mr. Cruise's clothes and speaking his lines. How disappointed I would be at this turn of events! All of the preparation and anticipation would culminate in a sea of disappointment and confusion.
One morning, as I sit in a miniature chair at my daughter's activity table eating Cheerios, my cell phone rings with a familiar number. My favorite casting director is asking if I can make it to 29th Street Stages in one hour for work. Traveling from Staten Island to Long Island City in the midst of rush-hour traffic would be far from easy, but, as always, I agree. The drive past the Brooklyn Battery Tunnel, the Brooklyn Bridge, and the Manhattan Bridge is a nightmare for any morning commuter, and, as I slug my way along the BQE, I restlessly wonder what my day is going to entail. I know that I will be photo doubling for Mr. Cruise in his new movie "Knight and Day," but nothing else.
When I arrive at the stages, I am immediately beset by three production assistants. One places a script in my hand, another ushers me to the wardrobe department, and the third takes my bag and asks if I would like something to eat or drink. Before I can even open my lips to reply, I hear through that same P.A.'s walkie-talkie that I am needed now on set. As I make a rapid decent down two flights of stairs in a hospital gown, I glance at my script attempting to get a grasp of the scene. Fortunately, I have a second-team rehearsal to see the camera line up, memorize my lines, and make choices. From that rehearsal I can tell that the camera would be looking over my prone body and onto the principal actress. That actress would be the Academy Award nominee Viola Davis.
Ms. Davis was wonderful, gracefully crafting the scene from moment to moment. If she was disappointed that Mr. Cruise was not acting opposite her, she certainly did not show it. Instead she joked with me between takes, asking if I was making scale plus ten. We wrapped by noon because Ms. Davis had to go and act opposite another Fordham alumni, Denzel Washington, in the Broadway play "Fences," and I made it home in time to clean up my daughter's Cheerios.