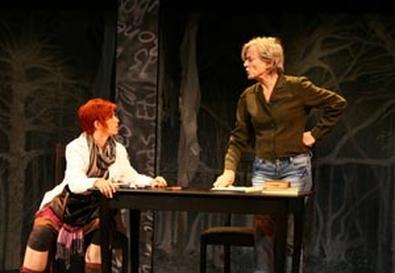 Though most plays depend on words, words are immutably the crux of Jennifer Haley's West Coast premiere play. The telling of stories and memories, lies and truths, relies on our words. And like the breadcrumbs dropped in a fairy tale to find a way back to the familiar, words are dropped along the life path of the protagonist-author in this two-hander. Those breadcrumbs, however, are being pecked at and removed from her memory by Alzheimer's disease.
Alida (Anne Gee Byrd) visits a clinic for a diagnosis, where she meets an inept, patronizing nurse's aide, Beth (Brook Masters). The needy Beth soon drops by Alida's home, ostensibly to return materials Alida may have left there. The two come to rely on each other for care and a feeling of purpose. The actors begin to fill in Alida's childhood memories, as Byrd also plays young Alida and Masters plays Alida's dysfunctional mother.
As the adult, Byrd descends into Alida's "infinite, indifferent darkness," clearly evidencing the disease while maintaining a glorious intransigent dignity. As the child, Byrd shows a youthfully pliable physicality as she crawls on the ground through imaginary tree roots and curls into a little-girl ball. But Byrd's main childlike choice, an insistent curiosity, offers the sharpest depiction of the young persona—mostly because it's an interesting characteristic of a healthy child and because it would have been a building block of the adult Alida. Masters matches Byrd's energy, limning a clingy Beth whom we like despite her annoying boyfriend problems.
Jessica Kubzansky's flawlessly vivid direction gives this devastating play about real characters a fairy-tale feel that almost soothes the audience while shaking us. Susan Gratch's set of slate-gray, filled with words written in chalk, embraces a diamond-shaped stage that brings the play into the audience. Jeremy Pivnick's emerald and salmon lights turn from "reality" to childhood memory. Madeline Mikkelson's costumes enable instantaneous scene changes.
Among Haley's most-interesting ideas, she occasionally ensures that the audience doesn't trust its own ears. Who is lying, who is demented, who misheard, who is mistaken? It may be only words, but words are all we have to take our hearts away.
Presented by and at Theater 150, 316 E. Matilija St., Ojai. July 9–24. Fri., 8 p.m.; Sat., 2 & 8 p.m.; Sun., 2 p.m. (805) 646-4300. www.theater150.org.