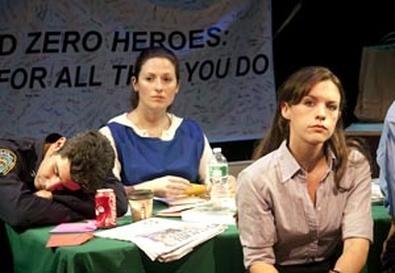 Much of playwright Louise Rozett's "Break" takes place in a workers' break room near NYC's Ground Zero in late December 2001. But neither the location nor Sept. 11 drives this play. The real drama happens as the characters struggle to cope with deeper conflicts that the tragedy seems to have brought to the surface.
Marco (Brian Patrick Murphy), an embittered young policeman, meets Jon (John Finn, of "Cold Case"), a veteran fire department captain. The two have been working shifts at "the pile," the smoldering wreckage of what was once the World Trade Center. At first the pair chats uneasily, and they soon spar about everything from religion to politics. Annie (Gabrielle Aimée), an amiable volunteer, is quickly drawn in as referee.
Intermixed are scenes from the two men's personal lives. Marco's wife, Darlene (Jenny Dare Paulin), desperately wants another baby, but her husband has become moody and distant after working extra shifts at Ground Zero. Jon's daughter Lisa (Liza J. Bennett) has unexpectedly returned after a stint in rehab and wants to re-establish their relationship.
The 85-minute play has a very rocky start, with the action awkwardly shifting among the three scenarios. The conflict in the break room feels contrived, though Aimée adds a warm presence. At about the halfway point, the play settles into a domestic drama and finally hits on the story's emotional core.
Despite working with a cast of veteran actors, director Tracy Middendorf has difficulty getting traction with Rozett's often-pedestrian script. The best moment is the final scene between Jon and Lisa, in which Finn and Bennett create a palpable sense of two people who love each other and want to work things out but have trouble getting out of their own way. Yu-Han Huang's cluttered set is an unnecessary distraction.
Presented by LouLou Productions and February 29 Films as part of the New York International Fringe Festival at the Clemente Soto Vélez Cultural Center's Teatro Sea, 107 Suffolk St., NYC. Aug. 14–27. Remaining performances: Sat., Aug. 20, 4:30 p.m., Wed., Aug. 24, 4 p.m., Sat., Aug. 27, 6:45 p.m. (866) 468-7619 or www.fringenyc.com.