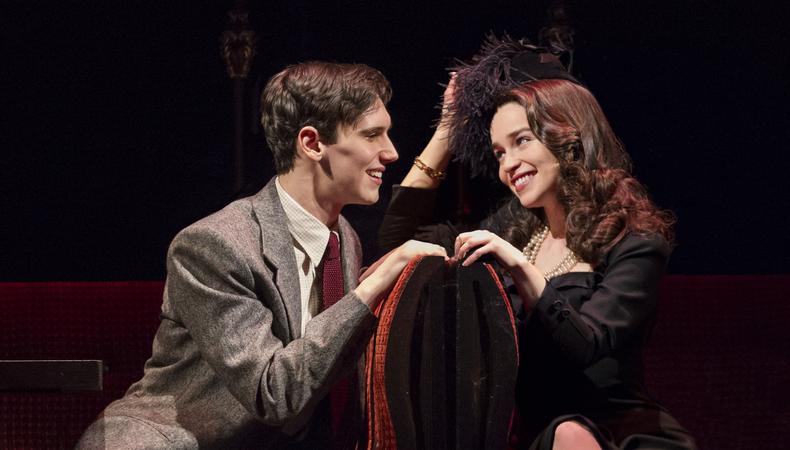 Playwright Richard Greenberg has adapted Truman Capote's novella "Breakfast at Tiffany's" for the theater with remarkable fidelity—and that's the problem. Capote's wispy memory tale, told principally in carefully carved prose, may be hypnotic on the page, but it's dull onstage, with too much narration and not enough drama. Greenberg and director Sean Mathias haven't rethought it in theatrical terms. Add to that a game but awfully artificial performance by Emilia Clarke as Holly Golightly, and it's enough to give you a case of the mean reds.
Say what you like about the hit 1961 film version—I'm not a big fan—but director Blake Edwards found a way to give the story speed and sheen while addressing the interests of a contemporary audience. Audrey Hepburn did iconic work as Holly, leaving her successors—Mary Tyler Moore in an ill-fated musical version, Stefanie Powers in a failed TV pilot, and Anna Friel in a London stage adaptation also directed by Mathias but with a different script—floundering in her wake. The lovely Clarke looks the part, but she seems so determined to show us Holly's manipulative, role-playing side that when genuine emotion needs to bleed through, it plays like just one more calculated choice. Clarke seems to forget that Lulamae Barnes, an orphaned teenage Okie refugee from poverty and squalor, still lives within Holly. As Holly's former agent O.J. Berman (a fine Lee Wilkof) puts it, "She isn't a phony because she's a real phony." Clarke jettisons the adjective too often.
Greenberg's biggest contribution has been to make clearer Capote's subtle gay subtext in organic ways. The story's writer-narrator, dubbed Fred by Holly because he reminds her of her adored younger brother, is an authorial stand-in, and Cory Michael Smith does Herculean work in the role, confidently navigating all that direct address with just a hint of a Southern lilt while giving Fred an endearingly cracked vulnerability and a youthfully needy ambition and ego.
Supporting standouts begin with Murphy Guyer's touchingly stoic Doc, the much older Texas husband Holly has abandoned. George Wendt's work as Joe Bell, a bartender who loves Holly from afar, is direct and full of feeling. As José, the rising Brazilian diplomat for whom Holly falls hard, Pedro Carmo successfully suggests a strait-laced man momentarily unstrung by romance. Tony Torn's giggling, debauched Rusty Trawler, a rich hedonist Holly has on the hook, is just right. Less successful are Kate Cullen Roberts' bland Mag Wildwood, Holly's grasping fashion-model chum, and particularly Suzanne Bertish's twin caricatures of Madame Spanella, a prudish crank neighbor, and the "stern lady boss" who fires Fred from a copyediting job. Bertish seems to be in a different play altogether.
Derek McLane's set of sliding pieces and screens combines with Wendall K. Harrington's projections and Peter Kaczorowski's shaded lighting to effectively inhabit the shifting nature of recollection. Colleen Atwood's costumes make the period palpable.
Oscar-winning screenwriter and Tony-winning book writer Peter Stone always asked when his students chose a project, "What's the envelope?," meaning what about it speaks to today. Mathias and Greenberg have no envelope.
Presented by Colin Ingram and Donovan Mannato, Geoffrey Thomas, and Dominic Ianno, in association with Robert L. Hutt, May Chu, and Ilene Starger, at the Cort Theatre, 138 W. 48th St., NYC. Opened March 20 for an open run. (212) 239-6200, (800) 447-7400, or www.telecharge.com. Casting by Ilene Starger and Zoe E. Rotter.
Critic's Score: C-