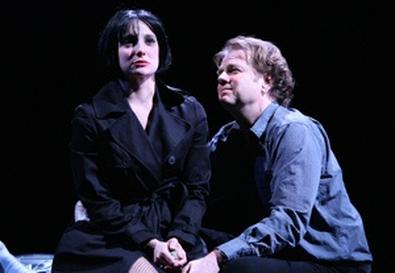 When Back Stage spoke with them, Tracee Chimo, Catherine Dent, and John Earl Jelks were in previews for the Los Angeles premiere of Neil LaBute's "Break of Noon," directed by Jo Bonney, at the Geffen Playhouse.
The show began its Los Angeles run Feb. 2 after a long sit at New York's MCC Theater at the Lucille Lortel Theatre. Jelks and Chimo came to Los Angeles with the show, which had also starred David Duchovny and Amanda Peet. Dent replaces Peet. She is joining Kevin Anderson, who replaces Duchovny as John, a man who claims to hear the voice of God after an office massacre kills every other person there.
The three we spoke with portray two characters apiece in the play. We found out how each actor got cast and how each is working to create distinct characters.

Back Stage
: How did each of you get cast in this production? Tracee and John, you were cast for the New York production.

John Earl Jelks
: I was already booked for another job, working in D.C. with Phylicia Rashad. But we hadn't signed a contract. You know how agents are always looking for something better. They said, "We know you're out on the West Coast, but we just got a request for you to come in and read for Neil LaBute's new play." I hate to say it, but I had never heard of Neil being a playwright. I knew he was a director of film. I said, "How soon do they want to see me?" They said, "Like tomorrow." So I flew in, didn't get much sleep, went in for the audition, and by the time I was getting ready to get on the plane, that's when I got the call saying, "Would you like to do this role?" I said, "Sure. But what about the role in D.C.?" This was less money than I was going to make there. But it gave me a chance to be in New York, and I'm never really in New York that much, and I wanted to be home, to be able to, we call it, walk to work. These jobs on the road, they're a little harder than just being at home. So I'll take the cut in pay. But once I got in the room and met Tracee Chimo and David Duchovny and Amanda Peet and Neil and Jo Bonney, I said, "Okay. This is worth it." It's not always about the money; it's really about the material when it comes to plays. I don't know what happened to my relationship with the Kennedy Center.

Tracee Chimo:
I was doing "Bachelorette" in New York over the summer, and I got a phone call from my manager that the folks at MCC had called my agent and my manager wanting me to come in to audition for these two characters. I said, "Yeah, I'd love to audition, but I need to read the play first." The only reason why I said that is because I'm starting to get a little bit more careful about the jobs I choose and the path I was on and that I'm still on. The fire that I was creating in New York, I was in a job where I had the lead in this great play at Second Stage [Theatre]. And so I wanted my next job to either top that or give me something totally different to show people. I had been a huge Neil LaBute fan. Huge. "The Shape of Things" is one of my favorite plays. ["Break of Noon's"] casting director is a friend of mine, Will Cantler, over at Telsey + Company. He called me in and he had said, "This play, just to let you know, is still under a lot of construction. But just take a look at these two ladies that they want to see you for." I read those two scenes that I get to do, and fell in love with those two characters. So I went in and auditioned for them, and the next day they called me and offered me the roles. I had met Jo at Sundance. She was directing something else. But we had become friendly at Sundance. And she was familiar with my work in New York.
Back Stage:
Tracee, what happened when you got into a show you realized was bad? And do you read your reviews?
Chimo:
I never read reviews. I think it's none of the actor's business what the reviewers have to say. And inevitably it will get in your head. You know when you've got a hit and when you don't. And you find ways to do [the "bad" work]. You find that one thing you love about that character, and you just cling to that—hold on to that for dear life and play that.

Back Stage:
Catherine, your audition story?
Catherine Dent:
This was a great audition story for me. Every time I would be in New York, a play would come up that I would be right for, and I would audition at Telsey + Company, with Bernie Telsey and Will Cantler. And I think that in the past, probably, eight years, since I've been a full-time resident of Los Angeles, I've flown myself in to New York on my own dime probably 15 times. I was up for a job at the Kennedy Center. They were doing the Tennessee Williams festival; Telsey was casting. I'd flown myself in. I remember one time I was up to play Stella, and something happened with the director. They were like, "They've cast somebody else. But the good news is, they want you to come in for Maggie. I was [fake sobbing], "I don't want to play Maggie; I want to play Stella." So last year I happened to be in New York, and they were auditioning for "Enron." I met with the director and [writer] Lucy Prebble and was really close to that, came back, had a callback in New York, got a call saying they want you to come back again, but I had to fly myself in again. I was like, I can't do it anymore. I just can't. My husband, bless his heart, said, "You've got to do it. You'll never know if you don't try." I flew in in a 24-hour period: get on the plane, get off the plane, go to the audition, get back on the plane. As it turned out, I didn't get "Enron." I was just [silent screaming], just beat me up again. And then right before Christmas, I was literally at the beauty parlor with foils in my hair, under the dryer. I check my cell phone and see, like, 17 messages from agents and managers. I call, and my agent says, "Do you have time for a story?" They were looking for someone to take over Amanda [Peet's] role out here, and they were trying to get a tally of girls to audition here, at the Geffen. And Jo had not heard of me. She was sort of vaguely familiar with my TV. So my agent said to Phyllis [Schuringa, casting director at the Geffen], "Well, Phyllis, why don't you just have Jo call Bernie directly." My agent was just trying to get me an audition. And evidently Jo or Phyllis called up Bernie, and Bernie said, "Don't even audition; just hire her. She's great." I was like, "I'm so thrilled, I'm so flattered, but send me the script." 'Cause I've been there a couple times, where I've been so excited that they offered it to me flat out. And then I thought, "Why wasn't I a smarter actor? I have to make choices for myself, not just because it's a big ego trip that I got this offer."
Back Stage
: How did each of you start building your characters?
Jelks
: What was really challenging for me was making sure I kept both of those characters separate. Both are similar in a way—the lawyer and the detective—in what they basically stand for and in what they want. Basically you try to find out what the character wants. And the lawyer, he basically wants to make a nice buck on this. Whether he believes the story or not, it's not up to the lawyer to say I'm with you on that. I started saying the detective wants that too, so I was trying to figure out how to separate the two without them getting in my head, because I don't want both of them to be in my head when I go out. I want this guy to be over here and this guy to be over there. When I found out the fat suit was going to come into play, I went, okay, that will help. I can really just immerse myself into this lawyer and just try to make him a little jolly, a little fun, a lot different from this other guy. Then, I started looking through the script again and went, "He's the only one that mentions he really believes in God." That's the key that unlocked it for me.
Chimo
: I lucked out in that the two characters I play are each other's polar opposites. And I get to play [plot spoiler] three different people. There's the TV host, who I've aged a little. I think of her more as 35 and married and got her feet on the ground, and wealthy and living a very exposed life. Versus Gigi, I placed her at about 25, and she's role-playing, and then we get to meet [the real person] Jill, and she's this kid who just lost her mother and who doesn't have much and doesn't have stability.

Dent
: I'm the only two characters who have relationships with John [his ex-wife and his mistress]. I was thinking the men I've known who have had mistresses, when they talked about stepping out of their marriages and being in long-term, sought-out, prolonged relationships, somehow that woman made him feel alive and visceral. So I wanted Jesse to make him feel good about himself. In the script in New York, Jo said they thought about making Jesse be more excited about what was happening to John—his celebrity. I wanted to run with that, because so much of celebrity culture, you have so many people riding on your coattails. And I thought, Jesse should want to be part of the party. It's got to be fun for her that her man is on TV. So Neil wrote some stuff for me that was added on at the top of the scene. "Yeah, you did good! It was so cool seeing you on TV!" That to me was a differentiation between the characters. One woman has been there, done that, and it's just not going to work. The other woman still has hope and desire and wants to make him feel good. But, interestingly enough, what changed with the audience for me these past two previews, and even the final dress: In the reveal on Jesse, I'm in a miniskirt, an Ace bandage basically, lace stockings, hair, the whole thing. I'm sitting on a bench, and the bench comes out, and it's nighttime, and I'm all by myself in heels and a miniskirt. And last night I was onstage and I'm in the middle of the scene, and you can feel from the audience, you just know what they're thinking. And I was thinking, "They don't know who I am." And I'm so broad, and so big, and so va-va-va-voom. This is not serving the play. As an audience member, I want to know who's John Smith, and should I believe him. I obsessed about it all night last night, and came to work and told Jo, "She needs to be approachable and, like, the girlfriend." Yeah, she can be hot. Maybe tight jeans and boots. But she's got to be physically something he's drawn too. The audience isn't getting that. I was having fun with my choices, trying new stuff and trying to be as fearless as possible, but I thought, "It's not working. So, I'm going to try something different tonight."
Back Stage:
What do you do backstage to step into your second character?
Jelks
: For me, costume and making sure I don't have the wig on. Once I come out of the first costume and start putting on the next costume, I start putting on the layer of that guy. By the time I lace up the shoes of the detective, I'm the detective.
Back Stage
: What were the acting challenges you were hoping for or found working on this play?
Dent:
Initially I felt like the Ginger scene was very challenging for me, because of the relationship. Jo kept saying, "Bring in the love." And I thought, "But she's so done. They're divorced." It was really interesting to go back to the positive and the love. It's so easy to go to those negative choices. And for Jesse, the accent. I'm a hard worker. I will dig a ditch. I worked so specifically with my dialect coach that the accent was very, very strong and specific. And it was a little Jersey Shore, which was just too much. So I had to take it back, and it's a lot harder to take back an accent.
WATCH CLIPS FROM THE PERFORMANCE HERE
SHOW INFORMATION:
Presented by and at the Geffen Playhouse, 10886 Le Conte Ave., Westwood. Feb. 2–Mar. 6. Tue.–Fri., 8 p.m.; Sat., 3 and 8 p.m.; Sun., 2 and 7 p.m. (310) 208-5454. www.geffenplayhouse.com.
BIO BRIEFS:TRACEE CHIMO
-Last seen as Regan in "The Bachelorette" and created her character for the Off-Broadway premiere of "Circle Mirror Transformation"
- Guest-stared on "Louie," "Guiding Light"
- Won the Eugene O'Neill Award for her work in "Irena's Vow"
CATHERINE DENT
- Theater credits include "Uncle Vanya" Off-Broadway and "The Country" at La Jolla Playhouse
- TV credits include "The Closer," "Sarah Connor Chronicles," "Without a Trace"
- Film credits include "21 Grams," "Auto Focus," "Someone Like You"
JOHN EARL JELKS
- Nominated for a Tony Award for "Radio Golf," which also played in Los Angeles, and also appeared on Broadway and in Los Angeles in "Gem of the Ocean"
- Appeared in the world stage premiere of the "The Shawshank Redemption" at the Gaiety Theatre in Ireland
- Appeared in Spike Lee's film "Miracle at St. Anna"