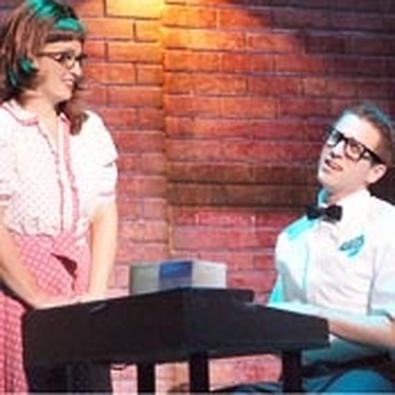 A perfect antidote for the recession-era blues, Cabrillo Music Theatre's West Coast premiere rendition of this new jukebox musical is an immensely enjoyable confection. Librettists Erik Jackson and Ben H. Winters devised a fictional romantic tale as a framework for incorporating the memorable pop-rock tunes written and/or sung by noted 1950s–'70s teen idol Neil Sedaka. Though the frothy story ultimately wraps up its loopy complications a bit abruptly, the incomparable efforts of director-choreographer Troy Magino, music director Michael Paternostro and his four-piece combo, and a spirited cast make for a cornucopia of delights.
The setting -- a Catskills entertainment resort during Labor Day weekend 1960 -- provides a nifty backdrop for a series of amusing complications. Jilted at the altar by her fickle fiancé, the unglamorous Marge (Leslie Spencer Smith) is persuaded by her best friend (Julie Dixon Jackson) that the two of them should share the honeymoon reservations that were made at the inn. After all, as the girls smoothly warble in a Connie Francis classic, it's "Where the Boys Are." The boys they encounter include egomaniacal headlining singer Del Delmonico (Ryan Nearhoff) and a nerdy bespectacled flunky (Jeff Leatherwood). Love will conquer all, of course, but surprises are afoot. Flirtations also extend to the interactions between a bossy middle-aged proprietor (Eileen Barnett) and a cheeky standup comic (Nathan Holland), whose love-hate skirmishes result in laughs aplenty.
Nearhoff has the charisma to bring the ambitious heartthrob Del to life, crooning up a storm, though the darker edge behind Del's charm is appropriately apparent. We're likewise clued in that there's more to Leatherwood's beleaguered underdog than meets the eye when the performer lets loose with showstopping love ballads midway through. Equally delicious are the portrayals by Jackson and Smith -- virtuoso belters and masters at comedic timing. Seasoned troupers Brennan and Holland round out the sterling ensemble. Soliciting valiant audience members to participate in the action proved hilarious at the matinee reviewed. A nostalgic production design, imparting a snazzy showbiz atmosphere, adds to the pleasures in this blissfully melodic trip down memory lane.
Presented by Cabrillo Music Theatre at the Fred Kavli Theatre, Thousand Oaks Civic Arts Plaza, Countrywide Performing Arts Center, 2100 Thousand Oaks Blvd., Thousand Oaks. Jan. 9–18. Thu.–Fri., 8 p.m.; Sat., 2 and 8 p.m.; Sun., 2 p.m. (805) 449-2787 or Cabrillo Music Theatre