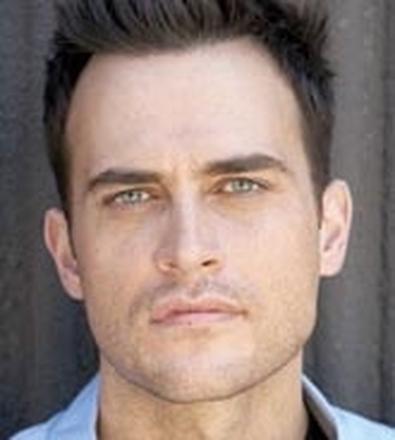 For close to a year now, men and women have been swooning over Cheyenne Jackson in Broadway's Xanadu. No surprise then that we wanted to talk to the handsome leading man for this year's Gay Pride edition of Back Stage.
Becoming a sex symbol for both sexes isn't all that bad, acknowledges Jackson, who roller-skates wearing scanty shorts in the effervescent musical tribute to 1980s pop and bad movies. "I'd be lying to say that it isn't flattering," he says. "Everybody loves to feel sexy. But it's not real. When you're up there — covered with makeup and your eyes sparkly — you feel the glory. Then you walk home and it's over."
Becoming a gay poster boy is another story. Jackson has been out as gay since age 19, but his sexuality became a matter of public record in a 2005 interview with The New York Times. Since then he's been wary of journalists' shorthand references to the "openly gay Cheyenne Jackson." "Don't get me wrong," he says. "I totally get it. People want to see someone else they can identify with, and if I have to be that guy, I understand it. But I find it very reductive and, frankly, annoying, because I think there are so many more interesting things about me."
Jackson's path to Broadway stardom is an example. Born in a rural town on the Idaho-Washington border, he first made a name for himself in Seattle, where he lived for seven years before coming to New York. "We had a death in the family and 9/11 happened — both in really quick succession — and it really lit a fire under me," recalls the actor. "I thought, I don't want to be an old man thinking, If only I had and why didn't I try?" With just one contact in the Big Apple — actor Marc Kudisch, whom he had understudied in a musical version of Mark Twain's The Prince and the Pauper — Jackson headed east in 2002. With Kudisch's help, he acquired an agent, who helped him land his first job, an ensemble role in the Broadway production of Thoroughly Modern Millie. He also understudied the lead characters Jimmy Smith and Trevor Graydon, the latter created by Kudisch. "It was definitely somebody in the universe telling me this is where I need to be," says Jackson.
But subsequent jobs didn't come that easily. "I was second and third choice for everything," he says. "Prior to moving here, I never had any acting or dance classes or, really, singing lessons, so I took classes and did every workshop I could." In a 2004 workshop, he originated a role in Altar Boyz, a musical about a Christian boy band, but the following year — a week before the show began a commercial run Off-Broadway — Jackson was offered the lead in All Shook Up. That musical, featuring the songs of Elvis Presley, was trying out in Connecticut before a Broadway run. "That was my big break," he says. "When there's a billboard four stories high of your face, it's absolutely fantastic."
Jackson came out publicly just prior to the show's Broadway opening. "I know it sounds trite," he says, "but I really didn't give it much thought." Having come from a very conservative Christian family, he had already gone through what he calls "the agonizing part": coming out to them. "I also have a partner — almost nine years now — so that was something that was settled in my life," he adds. So when the Times asked if he was gay, he said yes with just a moment's hesitation: "I needed to be open and honest. This is the only way I know how to be. It goes hand in hand with my acting. I feel I can focus my energy and not have to worry about, Did I say the right pronoun in this interview? I can just do my job and let my work speak for itself."
Jackson's gay identity was clearly no obstacle to his newest role: Joe Hardy, a heterosexual baseball player in Damn Yankees. The actor will star in the Encores! Summer Stars production in New York next month during a leave of absence from Xanadu. "I've been pretty silly in my last two shows," he says. "Here I'm the straight man to everybody else's crazy antics, so it'll be fun to show that side of me. Also, I've been doing a lot of pop since I've been in New York, and I'm dying to do legit singing." And he has no qualms about playing hetero. "I'm comfortable enough in my own skin that I don't worry. I just want to be true to the character. I like to think I beat out a lot of straight guys for the part," he says with a grin.
Out gay actors are increasingly familiar in the entertainment landscape, and soon, one hopes and as Jackson remarks, being out will hardly be newsworthy. Back Stage spoke with four other actors who shared their thoughts on being out and its effect on their work and careers. All are men; the women approached for this story either declined to comment or were unavailable.
Robin De Jesús: Hitting the Heights
A decade younger than Jackson, 23-year-old Robin De Jesús is currently performing on Broadway in the musical In the Heights, for which he was nominated for a Tony for best featured actor in a musical. He came out publicly with the release of Camp, a 2003 movie in which he played a gay teen. "I was so fresh off the boat and somewhat confused about what I was doing," De Jesús recalls. "I thought, Oh God, what do I say? Am I hurting my career by being an out actor? But at the end of the day, I was like, I can't hide anything and live in that closet. I have friends that do and it's a lot of effort. It's draining emotionally and they're not happy. Life is difficult as it is on its own."
To avoid typecasting after Camp, De Jesús initially stayed away from gay roles, but he later understudied Angel, the gay drag queen in Rent, on Broadway. He gets to break out of the mold with In the Heights. "It's great to come in as this Dominican who's hitting on girls like a little playboy," he says. But at first the actor had concerns: "I was worried about my voice being too high and what mannerisms I had to control. I had that moment even in rehearsals at times, when I did something with my hands or something and I'd go, 'Ooh, I dropped my purse.' That's what I call it. But now I feel confidence on my part."
Leslie Jordan: The Gayest Man He Knows
Being out in the theatre is one thing; being out in film and television is quite another. Just ask Leslie Jordan, who literally took a bus from his native Tennessee to Los Angeles in 1982. The actor, who won an Emmy in 2006 for his recurring role on Will & Grace, recalls his first Hollywood job, a commercial: "The first thing I noticed was there were no homosexuals anywhere. When you come from the theatre, you're used to just being surrounded by gays. This is such a macho environment; even the makeup guys are not usually gay." Claiming he's "the gayest man I know," Jordan recently published My Trip Down the Pink Carpet, a memoir in which he gleefully recounts his Hollywood success story. He will soon appear with Olivia Newton-John and Rue McClanahan in Sordid Lives, a new series that debuts in July on Logo.
"I'm a 4-foot-11 character actor and have a pretty thick Southern accent, so any gayness that came through was just part of the package," he says. "Had I been a young, hunky leading man, I think it would have been a much more difficult journey. I hear these young actors go, 'Oh, I don't want to be typecast.' Yes, you do! When they know what you do, you work. Then you can reach a certain level when you can do what you want." He was championed by a casting director whose tactic was to audition five actors who were exactly what the producers expected, then she'd spring Jordan on them, saying, "I've got this other guy; he's very funny. He would be another way to go." "I would trot in and they'd look at her as if, What the fuck were you thinking?" Jordan says with a laugh. "But sometimes I would see the wheels going in their heads: This is not what we wrote on paper, but wouldn't it be interesting?"
Daniel Evans: Life Is More Important
It's a glaring irony that straight actors are often lauded for playing gay roles, but no one seems to notice when a gay actor plays straight. "We will undoubtedly have at some point an out gay actor winning an Oscar," says Welsh actor Daniel Evans, nominated for a Tony this year for playing heterosexual French painter Georges Seurat and his great-grandson in the Broadway revival of Sunday in the Park With George. "In the beginning the Oscar will probably be for playing some tortured gay guy who gets burnt at the stake," he says with a laugh, "but I do believe that it will have a major influence, a trickle-down effect."
Reflecting on the start of his career in London, Evans says, "I don't suppose I was ever in. Growing up being gay is lonely enough. To take that into your adult life, that's somehow an unconscious decision that I made somewhere. To me, my life is more important, ultimately, than my work. And I think for those people who aren't out, it's the other way around." He's done a fair amount of film and television but has mostly worked in the theatre. "I can honestly say that I've played more straight parts than gay parts, but that's also probably because there are more straight parts."
His most rewarding role, however, was a gay character in Christopher Shinn's Where Do We Live at London's Royal Court Theatre. "I played this young, fantastically bright, moral writer," he says, "and I identified so much with the part and felt so much empathy with it. That's what we always all do with a part: You have to find what parts of yourself you can draw upon to inhabit a character. But it's interesting that the most satisfying time I've had in the theatre is playing a gay part in a brilliant play."
Francis Jue: Know Yourself
Francis Jue, who has received an Obie and a Lucille Lortel Award this year for his multiple roles in David Henry Hwang's Yellow Face, jokes, "I've wanted to play Blanche or Stella, but I've never wanted to play Stanley. Is that because I'm gay?" His roles have included Molina, the gay window dresser in Kiss of the Spider Woman, and the cross-dressing spy in M. Butterfly, as well as Hwang's father in Yellow Face. "I don't know that I'm the kind of actor whose sexuality people wonder about," Jue says. "As an Asian-American man, I've always been sensitive to how we are often desexualized or seen as effeminate or passive and sometimes fetishized, even in the gay community.
"When I was playing Molina," he continues, "I was asked whether I was gay or not, and I said, 'Well, yes, but the question is, Do you believe that I'm gay when I'm playing Molina?' " Jue asked himself a similar question before he took on the role of the king in Rodgers and Hammerstein's The King and I at the Muny in St. Louis and the American Musical Theatre of San Jose. "I didn't know whether I could play this straight man who is usually the biggest man in the room, with pecs the size of Wyoming — not exactly how I've always perceived myself. I stopped being concerned about that later on, because I found a way to connect to the man in very specific cultural circumstances and to this woman, Anna, in sexual, historical, and romantic ways. That was a huge accomplishment because, whether or not anyone else believed that I could, I discovered that I could."
We asked Jue, who is a member of the Council of Actors' Equity Association, what advice he'd give an up-and-coming actor who happens to be gay or lesbian. "Know yourself and trust who you are," he says. "How we are perceived is completely out of our control, but we do have complete control of our instrument and how we develop that."