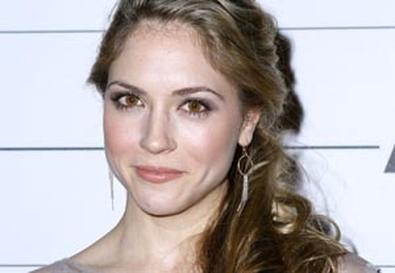 As anxious techie Julianne Simms on the A&E fugitive series "
Breakout Kings
,"
Brooke Nevin
brings a different side to the high-testosterone drama. The Canadian-born actor is a relatively fresh face in the business, even though she began her career as a teenager. In addition to the A&E series, which ends its first season Sunday, Nevin also stars opposite Jason Priestley in the HBO Canada comedy "
Call Me Fitz
." Nevin chatted with Back Stage after filming wrapped earlier this year on "Breakout Kings" about her latest gig, past projects, and how she approaches scripts.
Back Stage: What was the experience like filming "Breakout Kings"?
Brooke Nevin: It's been a journey. Our show began as a pilot for Fox and then when we were turned down, we thought, "Oh, my God." We all had such a great time doing the pilot, we thought that this was going to die a premature death. But then A&E said that they'd love to do the show, so we were all stoked.
Back Stage: What was that like as an actor on a show that was going through a rough transition?
Nevin: Individually, it just seemed like this is what happens every time you go up for parts. You're put on hold and it's between you and three shows that might take that spot on the time periods— it's between you and three other actresses. It's funny because you almost feel like there's a sense of mourning because it doesn't happen the way you think it will. You keep holding your breath because you don't have a definitive answer yet so basically, for a whole month, I tried not to think about it. [Laughs.] It turned out for the best.
Back Stage: How did you find out about "Breakout Kings"?
Nevin: It all started last pilot season. I had just come back from finishing Season 1 of "Call Me Fitz" and jumped right into pilot season at the end of January of last year, and I was really lucky in that it was the first pilot that I tested for and ended up going all the way. I've probably tested for over 20 times for pilots in the last seven years. It was a dream come true to finally have my spot on a show as a series regular. I started in television as a youngster and was 14 when I started acting professionally. I was lucky enough in Toronto to star on a series as a kid, and there's always been something about that camaraderie as a cast and also having a job that you know you're going to come to work for at least a few…[or] several months.
Back Stage: What was it about this particular project that worked in your favor?
Nevin: What I loved about this script was the role of Julianne. I felt like I knew her right away. This script, for me, was surprisingly void of any notes because I felt like I was already internalizing a lot of it. Of course, the pedigree of the producers involved was a draw to the project because it was Nick Santoro and Matt Holmstead, who were writers and creators of "Prison Break." It was a wonderful mix of fast-paced danger, because we're catching criminals who have escaped prison, but also you come to know these characters every week, this non sequitur team that's forced to work together.
Back Stage: What was the audition process like for Julianne?
Nevin: It was actually pretty streamlined. My first audition with Scott Kissinger was also with Matt and Nick. I gave them my take as Julianne and I think they were impressed right away. There was a sense of [them] wanting to work with me and [they] had me take some notes and incorporate their ideas into the sides. I came back [in] and read for them again, then I went to studio and network afterwards and we put my character on tape. I reauditioned so that they could see a heightened, more anxious version of my character. Sometimes in these high-stress pilot situations, you feel like you only have one shot to give your best. Sometimes all the stars align.
Back Stage: You've been acting for a quite a while. Were there any past projects that were a pivotal moment in your career?
Nevin: Going through pilot season [for a while now], that means seven years of auditioning in front of casting directors and producers and heads of studios. You become a commodity that's at least known to them so it becomes easier for them to see you as a series regular or a face that people might want to watch on TV.
Back Stage: What was your experience like being on a sci-fi series like "The 4400"?
Nevin: I love sci-fi, especially when it comes to dialogue with fans; they're so involved with the series. It's a great experience to be able to talk with the fans of the show. As an actor, you know much more about your character, even more so sometimes than gets shown on the show. Sci-fi fans really have a commitment to the characters even as much as the actors do. There's a synergy between making television and who gets to watch it.
Back Stage: What would you like to tackle next?
Nevin: It's hard to say because being in the business this long, sometimes you're absolutely surprised by what certain things take. For instance, this little comedy show that I did with Jason Priestley has now become an amazing gem of a critically acclaimed comedic series. I got to play a character that even I didn't think I could inhabit. Sometimes, we even surprise ourselves in saying yes to things and opening up doors and discover maybe a new path. If I could just straddle the world between drama and comedy, and continue to do that in both film and television, I would be supremely happy.