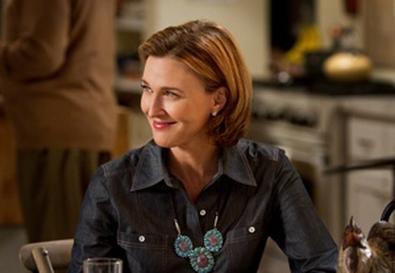 I'm a big fan of fabulous ladies. Who isn't? Well, Menonites, for one. And the Amish, except in that movie "For Richer or Poorer" with Kirstie Alley and Tim Allen. But I digress.
You know who is undisputedly 100 percent fabulous and also 100 percent a lady? Brenda Strong. Strong is a fantastic actor that you probably know from "Desperate Housewives." She played Mary Alice Young, the woman who (spoiler alert if you live in the year 2002) killed herself in the pilot episode and then went on to narrate every single episode that followed, with only two exceptions when other characters narrated. Over the course of nine seasons, Strong's voice became one of the most familiar on television.
And now, she's back in another deliciously sexy, suspenseful, and fantastic new series on TNT, "Dallas." "Dallas" picks up where the super popular 1980's series left off, a couple decades later.
I recently got to talk with Strong, and it took everything in me to keep myself from asking her to say, "Yes. Sometimes on Wisteria Lane. Things are not... what they seem." I am happy to report I didn't and refrained from revealing myself as too much of a super fan.
On "Dallas," Strong plays Ann Ewing, Bobby Ewing's (Patrick Duffy) new wife. "The writers have made Ann a lot more than a typical Texas wife, she's elegant but tough," Strong told me. "She's comfortable hosting fundraiser dinners just as much as she's fine riding horseback with her shotgun. She's a slew of opposites."
When I found out that she graduated from Arizona State with a degree in musical theater, I got really excited and asked her to tell me all about her training.
"I moved to New York after I graduated to audition for summer stock" she said, "and while there, I had an epiphany. The people headlining on Broadway were from television and movies. And I had a bit of a reality check with who I was and what I look like... no one is going to cast a six-foot woman in the chorus. It would have been too much of a distraction."
It was in New York that she made the decision to head out West and give television and film a try. Once in L.A., she started booking guest spots on shows like "St. Elsewhere" and "Cheers" and slowly but surely started to build up her resume.
She talked openly about how hard it is to be a guest star on a show, as opposed to a series regular. "I have such respect for guest actors," Strong said. "They don't know all the characters as deeply as the regulars and the cast isn't your family, so you have more at stake."
I know that anytime I do a guest spot, I pretty much spend 90 percent of the time wondering when I'm going to get fired (and the other 10 percent eating the free food).
She talks humbly and honestly about getting to where she is today, and when I asked her what advice she has for young actors starting out, her words were some of the best I've ever heard on the subject.
"In a strange way, I represent tenacity and the long climb that so many people make," she says. "There are a lot of people who dream of overnight success, of being Brad Pitt getting discovered for 'Thelma and Louise,' but that doesn't always happen. I represent that stick to it-ness that it takes to build a career over time, guest spot by guest spot. Looking back from here, I wouldn't have wanted the journey to go any other way."
I, for one, find myself getting bummed out when I think I'm not doing enough or not "achieving" enough, and so much of that comes from watching the success of others and wondering, "Why not me? What does Jim Parsons have that I don't have?" (Well, for one, an Emmy and probably a nice house.) But a wonderful actress like Strong really makes you remember that you're you and that is enough.
"Your journey is uniquely yours." she told me.
And something about Strong, that "tenacity" she spoke of reminds me that my journey IS my journey. Even if some days it seems a little off course, it takes us where we're supposed to be. So why not enjoy it? Who knows? You might just end up being TV married to Patrick Duffy someday too.
"Dallas" premieres on Wednesday, June 13 on TNT at 9/8c.Jeffery Self is a writer and an actor. His TV series "Jeffery and Cole Casserole" played for two seasons on Logo, and he has since then appeared on various other shows including: Desperate Housewives, Hot In Cleveland, 90210, Torchwood, Shameless, and 30 Rock as Randy Lemon. He's currently writing his first book, which will be published by Running Press Publishing in the spring of 2013. Follow him on Twitter: @jefferyself