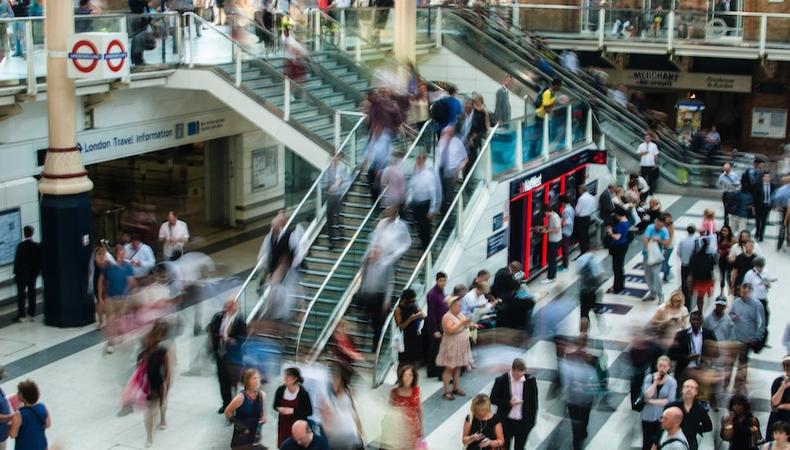 British screen industry at risk of missing out on EU spending boom.
U.S. streaming giants Netflix and Amazon have been spending big on their respective successes: the critically acclaimed original drama The Crown and popular Top Gear spin-off, The Grand Tour. However, despite the already lavish budgets set aside for original content and talent, a new EU law could see streaming services having to spend billions more on original content within Europe. Amazon has already dropped $4.5 billion on originals in Europe and has drama productions running in the UK, France and Germany, but new legislation could force on-demand services to make European original content at least 30 percent of their total spending. Although this is intended to support screen industries across Europe and create a surge of new drama features and series, Britain's uncertain relationship with the EU may mean the UK film and TV industry misses out.
Along with Apple, HBO and Sky, Amazon and Netflix are currently producing a raft of UK dramas, including the Vanity Fair adaptation for ITV, dystopian thriller The Feed and the BBC's terrorism drama Informer, starring Paddy Considine. Amazon's most high-profile British drama is the upcoming adaptation of Terry Pratchett's Good Omens, co-produced with the BBC and released next year. Featuring an all-star British cast that includes David Tennant and Michael Sheen, it's exactly the sort of multi-million-pound spending that EU lawmakers and local screen industries want to see more of. However, if Britain's exit from the EU next year leaves the country outside of the single market and not able to opt-in to the relevant legislation, Amazon may find itself forced to spend elsewhere and UK talent short-changed.
Likewise, Netflix formed a co-producing relationship with the BBC that has created blockbuster TV drama like Collateral, starring Carey Mulligan and Billie Piper, one of six BBC-Netflix co-productions announced last year. Despite the number of titles, the $1 billion Netflix set aside for original content across Europe is far less than national broadcasters and politicians would like. The BBC's budget for original content is $2.3 billion and ITV spends $1.3 billion. Netflix announced earlier this year that 85 percent of their spending will be on original content, so it's possible that European spending could reach as much as $10 billion. If the law passes and Britain is left out in the cold, it's likely that Ireland will see the benefits of EU spending regulations, as the only English-speaking country left within the EU and a popular filming location. Commenting on the uncertainty of the post-Brexit screen industry, Ireland's Screen Directors Guild said that "difficulties are likely to be only short-term" because "film is by its nature a borderless, internationalist enterprise". However, they accepted there was bound to be uncertainty and fresh challenges but that Ireland should be "cautiously optimistic".
Bloomsbury Theatre reopens with Walliams' stage show.
The Bloomsbury Theatre is reopening after a three and a half–year renovation with an adaptation of David Walliams' best-selling children's book Awful Auntie. The Christmas show will be the first to be staged at the central London venue after it was forced to close its doors early in 2015 when inspectors found asbestos on site. Opened in 1968, the theatre has been an integral part of the campus and has hosted small-scale opera, theatre and stand-up comedy. It was one of the venues that provided an early stage for comedians like Eddie Izzard, Jo Brand and Mel and Sue.
Awful Auntie is just one in a collection of Walliams' work for children that is being adapted. His book The Boy in the Dress became a TV drama back in 2014 and is now being transformed into a musical by the RSC, with a script by Mark Ravenhill and music by Robbie Williams and Guy Chambers.
Stage Production News
Game of Thrones star Maisie Williams is to make her stage debut as part of Hampstead Theatre's latest season. Williams leads new piece I and You where she plays Caroline, a schoolgirl who is confined to her room due to illness. Lauren Gunderson's play is directed by Artistic Director Edward Hall and opens in the main house 18 October.
READ: Meet the VFX Team Behind the 'Game of Thrones' Dragons


Other highlights in Hampstead Theatre's new season include the UK premiere of Tony Award–winning play The Humans by Stephen Karam, running from 30 August and directed by Joe Mantello. The Humans brings over the complete New York cast. New writing in the season includes new works from Richard Molloy, Dusty Hughes and Ifeyinwa Frederick, all casting soon.
Read more here.
A Tony Award–winning musical based on the unforeseen effects of 9/11 announced it will coming to London's West End next year. Come From Away will premiere at the Phoenix Theatre, replacing Chicago from the end of January, with a press night on 18 February. The run currently does not have a confirmed booking period. The musical is based on the true story of a "kindness and cooperation" in a tiny Canadian town. Gander, Newfoundland welcomed 7,000 stranded air passengers in the wake of the 9/11 terrorist attacks in New York. Books, music and lyrics are by Irene Sankoff and David Hein, and the production is directed by Christopher Ashley, with staging by Kelly Devine and supervision and arrangements by Ian Eisendrath. Come From Away is produced in the UK and Ireland by Junkyard Dog Productions and Smith and Brant Theatricals. Additional casting is to be announced.
Read more here.
Screen Production News
Actor Simon Bird, best known for playing Will on The Inbetweeners and Adam in Friday Night Dinner, is making his directorial debut with feature Days of the Bagnold Summer. Last week he lined up several key cast members ahead of further casting and shooting starting this autumn. Monica Dolan, Rob Brydon, Tamsin Greig and Alice Lowe have joined the project, along with supporting actors Earl Cave (The End of the F***ing World) and Elliot Speller-Gillott (Uncle). The film is an adaptation of Joff Winterhart's graphic novel of the same name, with a screenplay by novelist Lisa Owens. The story follows 15-year-old heavy metal fan Daniel Bagnold, whose holiday to Florida is cancelled, meaning he must spend the summer with his long-suffering single mum Sue. Casting is by Robert Sterne and Sally McCleery.
Check out Backstage's London audition listings!