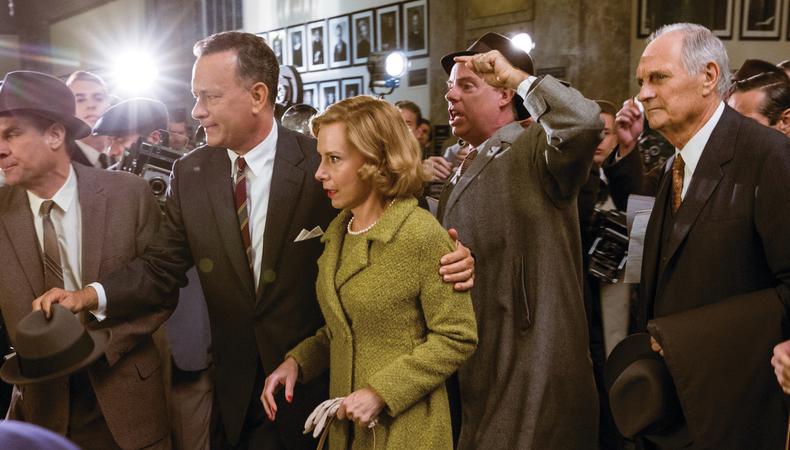 Matt Charman couldn't have asked for a better entrance to Hollywood. Already a seasoned playwright in his native U.K., the 36-year-old makes his feature screenplay debut with "Bridge of Spies," a Cold War espionage thriller with none other than Steven Spielberg at its helm and Tom Hanks as its hero. And to think it all started with a footnote.
A self-proclaimed American history buff, Charman was reading "An Unfinished Life," Robert Dallek's 2003 biography of John F. Kennedy, when the seeds of "Bridge of Spies" were first planted. "[The book] was talking about Cuba and the aftermath of the Bay of Pigs. These 1,500 servicemen had been captured, and JFK used an American lawyer named James Donovan to go and negotiate with Castro for their release," Charman explains. "In a footnote, it mentioned that Donovan first came to prominence negotiating the release of a Russian spy, [Rudolf Abel], for an American pilot, Gary Powers, who had been shot down over Russia. I remember seeing that footnote and thinking, 'Wow, hang on a second. Who is this guy?' "
It's the little-known story of this high-stakes Glienicke Bridge exchange that eventually became the pillars on which "Bridge of Spies" was built. Pieced together after hours scouring New York Times archives, visiting the JFK Presidential Library, and speaking directly with Donovan, Powers, and other key players' family members, Charman's screenplay was swiftly picked up by Dreamworks, with Spielberg needing little convincing to claim the director's chair.
"I pitched to Steven Spielberg over the telephone, which was exhilarating, nerve-racking—it was crazy," Charman admits. "He doesn't know this, but I got very hot and flustered and I stripped down to my boxer shorts and T-shirt. He's such a big person in my life that having him on the phone and having this opportunity was a little overwhelming."
After that phone call, Charman turned around a first draft in five weeks' time, working through Christmas and flying out to Los Angeles soon thereafter. Then three-time Spielberg collaborator Hanks—whom Charman says he always secretly envisioned playing Donovan—signed on, brothers Joel and Ethan Coen came in to punch up the script's dialogue, and, slowly but surely, Charman's first film began taking form. Surprisingly, it's a project that the writer of award-winning stage dramas like "The Observer" and "A Night at the Dogs" says was always meant for the movies, not the theater.
"I'd always seen it as a very cinematic story," Charman says. "It just felt so much in the tradition of [espionage author John] le Carré and great spy stories of old. I also knew that if anyone's going to show the Berlin Wall being built onscreen, Steven's going to do it." And the story is all the better for it. Spielberg's actualization of Charman's script is reliably gorgeous in cinematography and effects—not to mention period-era sets and costumes. Paired with Hanks' take on Donovan, Charman believes the final product hints at "the best of what you can do with cinema."
As with any "inspired by true events" feature due for awards season, Charman's script will inevitably be under particular scrutiny for its factual accuracy. Whereas other screenwriters like Aaron Sorkin—who Charman says balances "a brilliant relationship with truth and reality"—have come forward and defended factual leniency in nonfiction film, Charman says that with "Bridge of Spies," sticking to the facts was crucial.
"It was really, really important to me, not least because I met James' family," Charman says. "Something really different happens when you look the family of somebody in the eye and you say, 'Trust me to tell your father's story.' You are taking on a burden of truth and a burden of veracity. I feel it only connects because people know in truth they're watching something that happened. Yeah, of course, 'inspired by true events'—we've had to conflate certain things, but this guy did this. This guy went to this very scary place and pulled this exchange off, and it feels great to present that to an audience and to be able to stand by that."
Inspired by this post? Check out our film audition listings!