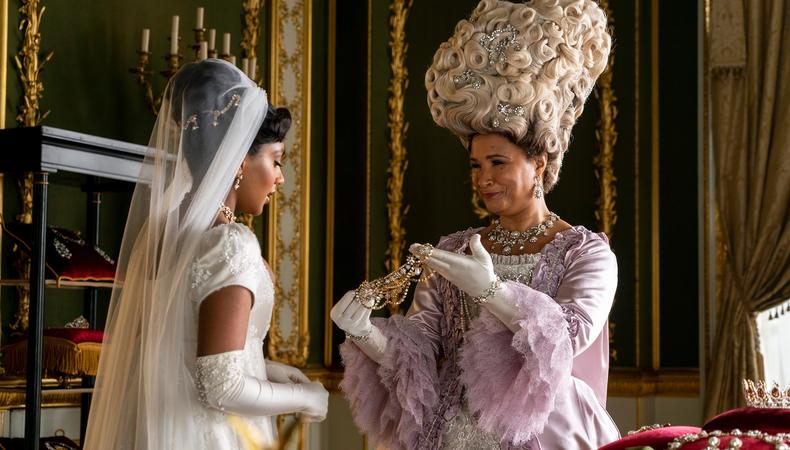 "When you're thinking about makeup and hair, the most important thing that we do is tell the story," explains Erika Ökvist, who has done just that with her work on the second season of "Bridgerton." Here, she channels Lady Whistledown to dish about the looks on the visually decadent Netflix series.
What are the first things you do when you start working on a project like "Bridgerton"?
I will read a script and get an idea of the character and what the character does to drive the story forward, and then start doing loads of research.
"Bridgerton" is a whole world of its own. It's Regency, but slightly heightened—or maybe more than slightly heightened. I'll marry a Regency look with editorial looks—maybe from Vogue, Harper's Bazaar, or maybe just a really classic something from Vivienne Westwood—whatever feels right for the character. You know what the end product needs to look like to fit within the world that [creator and showrunner] Chris Van Dusen has created.
What are your conversations like with the costume department and the actors to help create these characters?
I think that costumes and hair and makeup should be seamless. So if [costume designer Sophie Canale] is using certain colors or shapes, then I want to use colors and shapes that make it all more cohesive. I'll do the drawing, I'll do the wig, and then we'll do the fitting with the cast. Usually, the first fitting at the beginning of a series is a three-day fitting to try to find the character; it gives the makeup artists and hairdressers working with the actor the opportunity to explore how far we can take certain looks. Sometimes when you experiment, you come up with something incredible. On the third or fourth test day, we come up with one final look, which is the look DNA—these are the star colors, where they should be placed on the face, the shape of the hair. Once you've got a look DNA, you can spin from that every time you see them.
RELATED: How to Get Cast on 'Bridgerton'
Season 1 of "Bridgerton" established such a gorgeous framework for this world and its characters. What was front of mind for you when continuing that into Season 2?
When you're coming after somebody incredible like [late hair and makeup designer] Marc Pilcher, who set down the notes and created this world that people know and love, you have to honor that foundation. You don't want it to be redesigned; you want people to be redefined instead. Last season was last season. It's the same thing as Julia Fox or the Kardashians—they go to Paris Fashion Week and they look a certain way; they're the influencers. But then at the next show, they wouldn't be caught dead looking the same. The ton [on 'Bridgerton'], they've got the money, they've got the resources, so maybe they send away their maids to Paris to learn the new look for the next season. When they come back, they want to come back with a vengeance, to find their husbands or wives—or not, as it may be; but they really want heads to turn.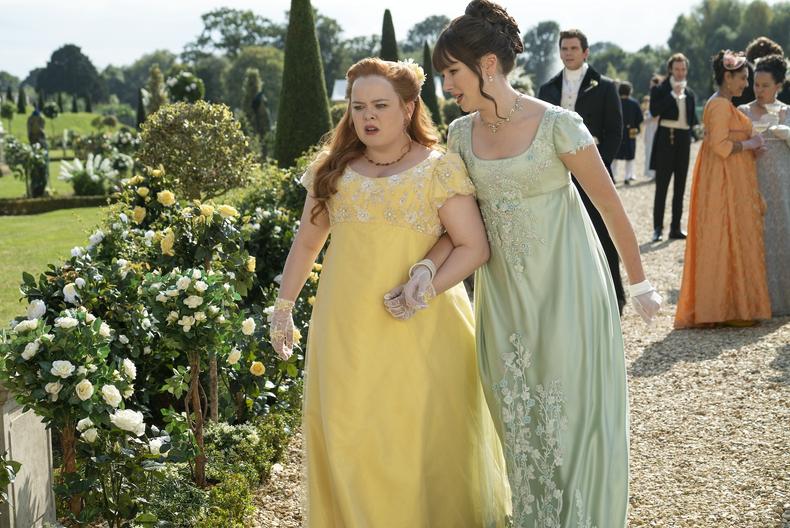 We got to meet some new characters this year, like the Sharma sisters. How did you develop their looks?
With them, you need to have notes from India, especially for Kate. That's where her heart is; and in her head, that's where she's going to return to once she's managed to marry her sister off. She's a no-nonsense lady; she probably doesn't have the patience to sit still long enough for a maid to sort her hair out. So maybe before she goes out riding, she can braid her own hair, and then when she comes back from a secret ride, she just uses a couple of hairpins to flop that plait back up. Then, when she starts to fall in love, she forgets to put that little wispy bit [of hair] behind her ear; maybe she even plays with it as she's thinking about Anthony. But she won't fall out of character too much, because then her mother will notice and [ask] what's going on.
Edwina is a totally different sort of person. She's been educated in a way that she knows her job, basically, is to get a husband, so she knows she needs to have a certain type of look. When she arrives in London, she's very much aware of what her job is. Her approach in her life feels like it's poker-straight: She's just going to go down that road, find a suitable husband, get a perfect life. And then, obviously, there's this curve in the road and things change, and she realizes that she's much more of a mature woman than she thought she was to begin with. And so she had more soft, very girly influences in the beginning [of the season]. And then when she realized what was going on, her hair and makeup became a little bit more mature and she felt a little bit more put together.
Then you have characters whose storylines came to the forefront this year, like Eloise and Penelope; and Anthony's sideburns got a whole makeover. Tell me about carrying their stories through.
With Anthony, you can see that his father has the same lamb-chop [sideburns] Anthony had in Season 1. That was an homage to his dad. He was a playboy then, and this season, he takes the family very seriously; he doesn't have time to go out and do all this playing that he used to do. He sort of downsizes, because he needs to be ready to take care of the family. He feels there's a very heavy weight on his shoulders, [so] it would be something that was very quick. That's why his style changed.
Penelope is coming into her own. Before, she was very much her mother's creature in terms of what she looked like. Now, she's got her own money, she's got her own will, she's got her own knowledge; she knows that she could possibly stand on her own two feet very soon. So she's experimenting with looks, like how we did when we were teenagers. In terms of Eloise, it's more like her hair just grew and she decided to change it ever so slightly. She needed to feel a little bit more grown-up than she did last season to show her growing with Penelope. If she had stayed in that very, very young look, she would have felt too young with Penelope, because they're both coming of age and trying to figure out who they are as women.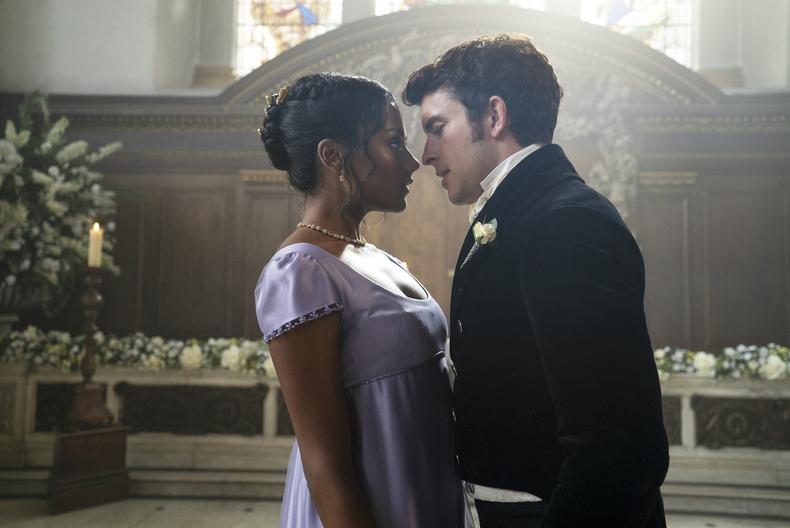 I'd be remiss if I didn't ask about Queen Charlotte and her absolutely tremendous wigs. Tell me about conceiving and executing those.
Marc set up a really hard task to follow. We went into the world of cut books and fashion and a lot of different cultures, trying to create shapes and textures that we didn't see in the first season—because I don't think the queen would want to look the same two times in a row, ever. And she's certainly got the money to send people all over the world and get inspiration or materials.
To make one of these wigs, you buy a wig that is quite long and totally smooth; there's no texture in it at all. Then I make a drawing of the shape that I want it to have, and we make a kind of birdcage to sit on top of the wig to hold the shape that you want. That birdcage is then clad with netting, so that when we're dressing out the wig and the curls, we've got something to pin into. That's how it maintains the shape. It's also why it's not too heavy, because that whole cage is totally hollow. We then put the hair in rollers, depending on what angles we want things and how big we want the curls. When we're doing the Afros, we're actually setting this hair on skewers—like, barbecue skewers. To set an Afro wig, to dress it out could take quite a long time; it could take one and a half to two weeks. [Actor Golda Rosheuvel] carries them brilliantly, like nobody else can. She's developed this kind of effortless glide, where she just glides in, she turns her head, and it looks like no effort at all. There's nobody who can carry these looks off apart from her.
What advice would you give somebody entering the industry now?
Be true to yourself, and don't be scared to ask questions; don't be scared to ask for help. A lot of the young ones who start off think that they need to know everything to begin with. I've done this for almost 30 years, and I still learn every single day. Surround yourself with talented people, and learn from them. And at the same time, teach them what you know. If you're generous with your knowledge and you get things back, you're always going to grow and you're always going to get better.
This story originally appeared in the Aug. 11 issue of Backstage Magazine.