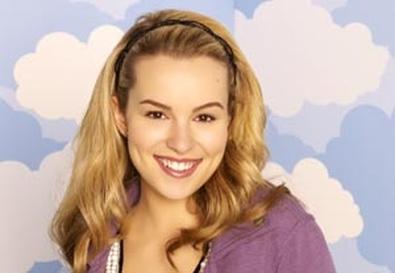 "I think it's awesome to be able to make people laugh," says Bridgit Mendler, and she does on a regular basis. After getting her start on "General Hospital" at age 13, she soon landed the dreamy role as the love interest of—hold your breath—Nick Jonas, on the Disney Channel's "Jonas."
Now Bridgit stars in her own show playing Teddy Duncan on the Disney Channel's new series "Good Luck Charlie," which revolves around the Duncan family as they try to adjust to the birth of their fourth child. A self-described "klutz", Bridgit is humble and self-deprecating, and well on her way to a huge career.
Chosen as this week's Girl2Watch, Bridget will be featured in a series or articles, fun facts and social media tweets through this week for subscribers of
Girl2Watch.com
.
ACTOR2WATCH
: What was your first big break?
BRIDGIT MENDLER
: I did this one scene in an episode of "General Hospital," and that was my first job down in L.A. It was like my second audition and I was like, "Woo! This is easy! This is fun!" That was a really cool moment for me. I think probably my break would be when I started working with Disney Channel on "Jonas." That really got the ball rolling.
A2W
: What kind of training did you get?
BM
: I did this class when I first moved to California. It was a Kids on Camera class up in the Bay Area. That was good for just getting me excited in acting and everything. Then once I started working down L.A., I just stuck to my acting coach and she helps me prepare with auditions and that sort of thing. Her name is Robin Lively. She's awesome.
A2W
: Tell us how you got the role.
BM
: I had worked on "Jonas" and "Wizards of Waverly Place" with Disney Channel. I was actually just starting to film "Wizards" for the first time when I got the script for "Good Luck Charlie." They had me come in and audition for them, and I and I wound up getting the part. We shot the pilot just a month or so later, and it's been really, really great to work on.


A2W
: What role does Twitter play in your career?
BM
: I don't want to be one of those people that's constantly promoting myself on Twitter. I think the fun thing about Twitter is being able to share all the little random things that happen in my life. So, occasionally, occasionally, I'll throw in some "Good Luck Charlie" promotion just because I love that show so much. Besides that, yeah, I like to take pictures of things I see, and talk about places I've been.
A2W
: What is your dream role?
BM
: My thing is I want to do a really broad spectrum of things. I love that I'm working on a sitcom right now and I think it's awesome to be able to make people laugh and have a great time, and have the live audience. I think that's so cool.
But I do think that throughout my acting, I want to do a really wide range of things and if that means doing an action movie, that would be awesome or doing some really intense drama. I want to do it all.
A2W
: Do you have any tips for novices or is there anything you wish someone had told you when you first started out in acting?
BM
: I think the important thing to know is that it's not easy, and that it does take a lot of work. Even if you get lucky with a certain thing, it's going to take a lot of effort to really make things work in the acting career.
It's also a big commitment if you're under the age of 18 to have your family supporting you. It's really important to have a good team of people surrounding you because it does take a lot of your life.