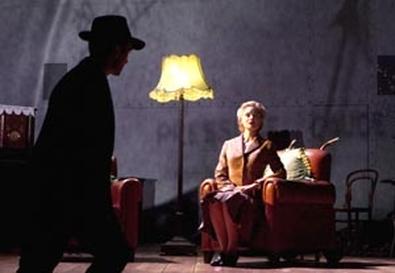 When
Kneehigh Theatre's
multimedia stage adaptation of the classic
Noël Coward
–penned film "Brief Encounter" played St. Ann's Warehouse this past December, this Coward fan attended with great trepidation,
only to fall head over heels for it
. I felt similar trepidation when I heard that Roundabout Theatre Company would bring the show to Broadway at Studio 54. St. Ann's is a decidedly intimate space. Would the show fill a much larger house? Happily, the answer is ringingly affirmative.
Of course, in retrospect I should have known that it would. Though Coward's story is of repressed emotions, those emotions are of huge dimension, involving two middle-class people in prewar England who accidentally meet in a train station and fall in love, though each is married with children. Neither is looking for this, being reasonably happy at home, but their feelings run so deep that they can't ignore them. Admittedly, some of the more intimate two-person scenes between the lovers are a little farther away, in medium shot rather than close-up, but they still pack a punch. Other moments, mostly having to do with stylized movement and video projection that adapter-director
Emma Rice
uses to convey just how constrained this society is, actually benefit from the larger space. A sequence in which the lovers briefly "fly" while being showered with silver Mylar scraps soars in a way it couldn't at St. Ann's, and the climactic moment, when Laura stands high on a bridge watching as Alec's train takes him away forever, is shattering, in part because of the huge video projection of a rushing train sweeping across the broad Studio 54 proscenium at stage level.
Five of the principals have returned, and their work is just as good as before, though cannily pitched just a notch higher to reach the back of the house. Hannah Yelland and Tristan Sturrock excel at the instinctive modesty and decency of Laura and Alec; the scene after a friend of Alec's nearly walks in on the lovers is particularly powerful. In the comic-relief train-station romances with which Coward surrounds his main story, Joseph Alessi and Annette McLaughlin remain a delight as Albert and Myrtle, a station employee and a woman who runs a tea room. In the roles of Beryl and Stanley, two of Myrtle's young employees, Dorothy Atkinson is still riotously charming while newcomer and Juilliard grad Gabriel Ebert's quick, bright work lets him slip effortlessly into the ensemble. Finally, a special shout-out to Damon Daunno, making his Broadway debut as one of the ensemble of musical performers who, among other duties, punctuate the proceedings with song. Daunno's rendition of Coward's "Go Slow, Johnny," interspersed in the scene in which Alec makes Laura admit that they are in love, is a stunner.
Allow yourself extra time to get to the theater early and stay a bit afterward. The company, dressed in movie-usher uniforms, performs period songs in the lobby both before and after the show, and they are enchanting—as is the show itself. Work as imaginative and wholly successful as "Brief Encounter" doesn't come along every day. Indeed, for me it was an exhilarating reminder of why I fell in love with the theater in the first place.
Presented by Roundabout Theatre Company in association with David Pugh & Dafydd Rogers and Cineworld at Studio 54, 254 W. 54th St., NYC. Sept. 28–Jan. 2. Tue.–Sat., 8 p.m.; Sat. and Sun., 2 p.m. (212) 719-1300 or www.roundabouttheatre.org. U.K. casting by Sam Jones. U.S. casting by Jim Carnahan and Stephen Kopel.