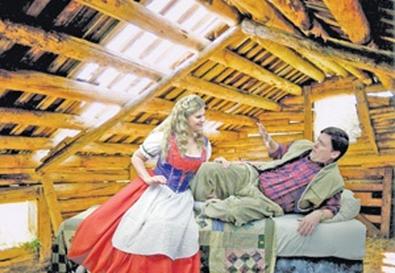 This 1947 musical by the team of librettist-lyricist Alan Jay Lerner and composer Frederick Loewe remains somewhat of an underappreciated stepchild in the duo's canon. Though the show offers a magical and timeless romantic fable set to one of Broadway's loveliest scores, it's less familiar to audiences than their "My Fair Lady" and "Camelot." An element of this musical that seems to grow richer as time passes is its flavorsome depiction of the Scottish culture. Director Jan Duncan's FCLO revival sparkles in that regard, offering a beautifully atmospheric and musically sublime take on this underrated gem.
Choreographer Karen Nowicki's imaginative approach to Agnes de Mille's original Celtic-flavored choreography and music director–conductor Lee Kreter's mastery of the gorgeous score maintain a buoyant atmosphere. Add to this the visual opulence of Christina L. Munich's lighting, Ed Gallagher's breathtaking storybook sets, and the eye-popping splendor of Edith Melcher's costumes, and the result is spellbinding.
The cast is more than up to the challenge. As Tommy Albright, a modern-day New Yorker who finds himself time-warped into a dreamlike ancient Scottish civilization, Robert Patteri is a charming leading man, bringing panache and power to solo ballads like "There but for You Go I" and doing full justice to the evergreen duets "Almost Like Being in Love" and "The Heather on the Hill," during marvelous collaborations with gifted Jennifer Mathews as bonny lass Fiona.
In the scintillating comic role of saucy Meg, Katherine M. Larsen is a delight, particularly in the boisterous numbers "The Love of My Life" and "My Mother's Weddin' Day." Another amusing character is a nonsinging part, that of Tommy's pal Jeff Douglas, the apple of Meg's eye, winningly played by Ted Leib. As Charlie, the lad betrothed to Fiona's sister Jean, James Michael Lambert is magnificent, particularly in the numbers "I'll Go Home With Bonnie Jean" and "Come to Me, Bend to Me." The superb John Williford lends a note of menace as Jean's jilted suitor Harry Beaton, Jeff Cullen's contribution as a strolling bagpipe player is most welcome, and the sterling efforts of the large ensemble cast put the crowning touch on this irresistible production.

Presented by FCLO Music Theatre at Plummer Auditorium, 201 E. Chapman Ave., Fullerton. May 7–23. Thu.–Sat., 8 p.m.; Sun., 2 p.m. (Also Sun., 7 p.m., May 16 and Sat., 2 p.m., May 22.) (714) 879-1732. www.fclo.com.