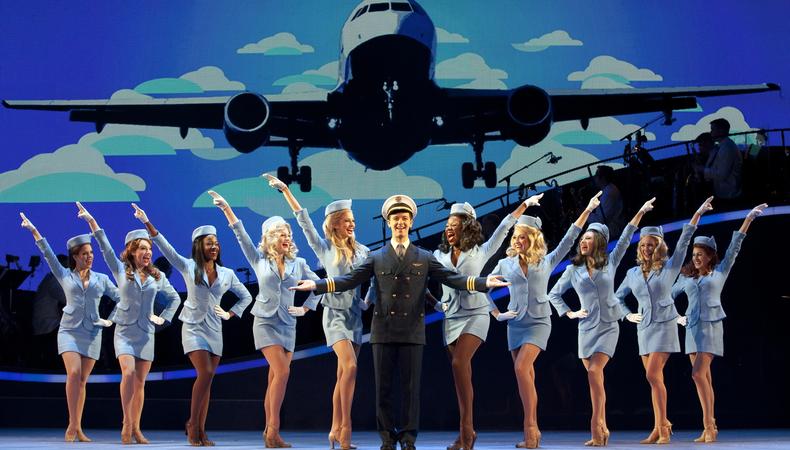 Playwright Terrence McNally, composer-lyricist Marc Shaiman, and lyricist Scott Wittman transform Steven Spielberg's 2002 film about teenage con man and forger Frank Abagnale Jr. into a quintessential Broadway musical, capturing the lighthearted air that buoys a tale perfectly in sync with the carefree spirit and bravado of its mid-1960s time frame. Using aliases and phony checks, Frank Jr. (Stephen Anthony) passes himself off as an airline pilot, a pediatrician, and a lawyer, relentlessly pursued by FBI agent Carl Hanratty (Merritt David Janes). Along with the cool Sinatra showbiz air comes the conceit that Frank Jr.'s flashy story is the stuff of a Vegas lounge act, hence the chorus line of gorgeous long-legged showgirls and the trappings of a period musical variety TV show. Once Hanratty and the boy begin a dialogue by phone, the detective tells the bright teen that the odds are against him, and we realize that despite their differences they're two sides of the same coin, their fates very much intertwined. Learning that Frank Jr. is "just a kid" helps soften Hanratty's approach.
Directed by Jack O'Brien, the show evokes the look and sound of the swingin' '60s in all its aspects, from songs to choreography (by Jerry Mitchell), costumes (by William Ivey Long), visual effects (David Rockwell's set and Bob Bonniol's videos), and lighting (Kenneth Posner). The sexy chorines punctuate scenes with the va-va-voom of a Dean Martin TV special or are arrayed in James Bond–like images on the huge upstage screen, silhouetted against Day-Glo colors. Shaiman's music, arrangements, and orchestrations (the last done in collaboration with Larry Blank) are colorful and funky, his score bouncing along from one catchy song to the next. Music director Matthew Smedal and the onstage 10-piece orchestra capture the jazzy pizzazz required.
Anthony brings a fresh-faced precocity to our anti-hero. Despite his glib, facile exterior, Anthony's Frank Jr. is essentially just a tall, slender, clean-cut juvenile play-acting in the adult world, bilking banks and realizing the charms of beautiful women while eating candy and reading comic books. Janes' Hanratty knows he has always been the dullest guy around, bound to duty and obsessed with catching bad guys, sacrificing a real life in favor of a lonely career. With his thick spectacles, receding hairline, and shabby gray suit, he's like a square version of Dan Aykroyd's Elwood Blues. As Brenda, the petite and pretty blond nurse Frank Jr. falls for, Aubrey Mae Davis is honest, real, and strikingly lovely, projecting a gentle persona, her soaring voice raising the roof in the showstopper "Fly, Fly Away." Dominic Fortuna shows Frank Sr.'s grittiness, self-absorption, and pride in his son's success at conning others.
Poignancy surrounds father, son, and mom Paula (Caitlin Maloney), a French girl who married Frank Sr. as a teen and has now outgrown him. What drives Frank Jr. more than anything is the desire to raise enough cash to help his failure of a dad reassemble a family broken beyond repair, the dark truth of a brightly packaged story.
Presented by Troika Entertainment at the Pantages Theatre, 6233 Hollywood Blvd., L.A. March 12–24. (800) 982-2787, www.ticketmaster.com, or www.hollywoodpantages.com. Casting by Joy Dewing.
Critic's Score: A