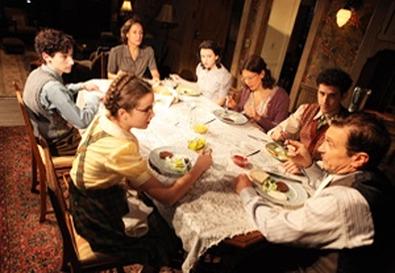 Director David Cromer seems to have an affinity for classic Americana. His iconoclastic "Our Town" continues to enthrall audiences Off-Broadway. He directs "Picnic" on Broadway next fall. And here he is giving us a sparkling account of "Brighton Beach Memoirs," Neil Simon's autobiographical tale of growing up Jewish in Brooklyn in the 1930s.
The first play in a trilogy, "Memoirs" is narrated by journal-writing 15-year-old Eugene Morris Jerome, a Simon stand-in. Crammed into the young man's Brooklyn home are his mother, Kate; father, Jack; and older brother, Stanley; plus Kate's widowed sister Blanche and her two girls, 13-year-old Laurie and 16-year-old Nora. The Great Depression is still raging and money is tight. Blanche can't find work due to poor eyesight, and Jack has been forced to take a series of second jobs to support them all. The family seems in perpetual crisis. Jack has a heart condition. Stanley is being fired from his job in a haberdashery. Laurie has a "flutter" in her heart and must not exert herself. Nora wants to leave school to join the cast of a Broadway-bound musical. Blanche is lost without her husband. Eugene can't control his burgeoning sexual desires. Kate is desperately trying to hold everything together.
Cromer's clean, straightforward direction happily shuns all shtick. Even better, he has cast well. Of course, without a Eugene there is no play (the role made a star out of Matthew Broderick), and here we get the terrific Noah Robbins, making an auspicious Broadway debut at only 19. Robbins takes control like a seasoned veteran. His rock-solid comic timing is integrated into a detailed, finely nuanced characterization of this young man struggling to discover himself. He and the charismatic Santino Fontana as Stanley have excellent rapport: Their scene in which Stanley enlightens Eugene about sexual matters is a highlight. As their cousins, Gracie Bea Lawrence charms as the dutiful Laurie, who isn't as sure about her heart's flutter as her mother is, and Alexandra Socha makes a strong impression as Nora, showing us the inner seething resentment that could easily lead this bright young girl down dangerous roads.
The adults do just as well. Jessica Hecht turns the potentially irritating Blanche into a figure of sympathy and is particularly touching when Blanche finally realizes she has to get herself together. Dennis Boutsikaris is nicely understated as the old-before-his-time Jack, which makes Jack's outbursts of temper even more effective. Anchoring the play in tandem with Robbins is Laurie Metcalf's superb Kate. Gruff, driven, prejudiced, Kate could easily be caricatured into the Jewish mother from hell. But Metcalf gives her real dimension, showing us that Kate is hard on her sons only to make them strong. Kate's all-consuming love for her family is never more apparent than in Metcalf's reaction to the news that Stanley has gambled away a precious week's salary. It's an unforgettable moment in a great performance.
The crack team of John Lee Beatty (sets), Jane Greenwood (costumes), and Brian MacDevit (lights) creates a naturalistic two-story rendition of the Jerome home, its environs, and its inhabitants that's both playable and highly evocative. You feel like you could move right in.
"Memoirs" was a breakthrough for Simon. His characters became richer, and he doesn't flinch from moments of depression, anger, resentment, and even rage. He relies less on one-liners, generally confining them appropriately to smart-aleck Eugene's narration. Nevertheless, he falters in the second act by tying everything up too neatly and happily. While that keeps the play from greatness, nothing is likely to keep the audience from having a great time at this revival.
Presented by Ira Pittelman, Max Cooper, Jeffrey A. Sine, Scott Delman, Ruth Hendel, Roy Furman, Ben Sprecherl/WEndy Federman, Scott Landis, and Emanuel Azenberg at the Nederlander Theatre, 208 W. 41st., NYC. Opens Oct. 25 for an open run. Tue.-Sat., 8 p.m.; Wed. and Sat. 2 p.m.; Sun., 3 p.m. (212) 307-4100 or www.ticketmaster.com. Casting by Jay Binder/Jack Bowdan.