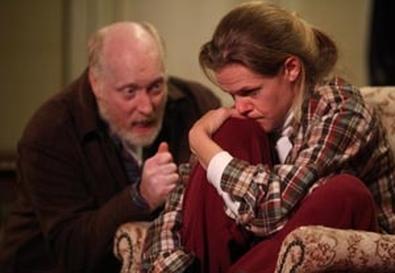 A bride appears in the middle of the night at a remote Alaskan cabin during a whiteout, rambling to the unresponsive man who lives there before she sinks gracefully to the floor. The moment has all of the hallmarks of a scene from a fairy tale, but there will be no happy ending to Cindy Lou Johnson's "Brilliant Traces." Nor will there be much in the way of dramatic conflict by the time this two-hander limps to its conclusion.
A revival of Johnson's 1989 play, this production accentuates the common flaws inherent in writing two-character plays. Runaway bride Rosannah (Erica Linderman) and hermit Henry Harry (William W. Warren) don't really have conversations; they trade monologues. When they do converse, they mostly repeat what the other has just said.
Director Adam Fitzgerald gamely tackles the problem of keeping the actors in organic motion on David L. Arsenault's evocative set and mostly succeeds, though Rosannah's sudden climb on top of Henry's bed during a passionate speech feels forced and unintentionally funny, as if she were a sulky toddler making a pouty point. Linderman, however, usually manages to avoid the obvious as Rosannah, a character who is so out of touch with her emotions that she has no recollection of driving from Arizona to Alaska. Prickly as hell, Rosannah could easily turn shrill, but Linderman tempers her outbursts with apologetic shrugs and headshaking afterward, always just a beat late enough to render the depth of Rosannah's sincerity slightly suspicious.
Warren doesn't fare as well as the reclusive and deeply wounded Henry. His characterization is centered on his speech, a sort of overenunciated wonderment that makes this loner seem like a talkier Boo Radley. As a result, Henry's interactions with Rosannah never ring true; instead of two lonely souls fighting out their demons together, they become a damaged duo arguing with one another over who deserves to be more miserable.
Presented by WE Theater, in association with Iron Jaw Company, at the ArcLight Theater, 152 W. 71st St., NYC. July 7–24. Wed.–Sat., 8 p.m.; Sun., 3 and 8 p.m. (212) 352-3101, (866) 811-4111, or www.theatermania.com.