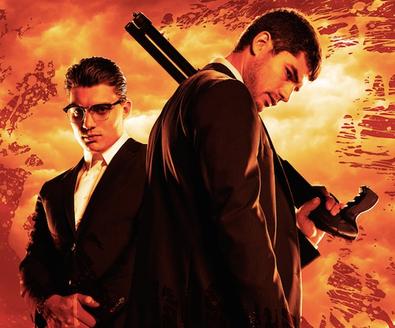 When it comes to a reformatted reboot, it's about making sure your characters—and not your mediums—are duking it out. Simply repeating something like Robert Rodriguez's 1996 film "From Dusk Till Dawn," starring George Clooney and Quentin Tarantino, would've been a figurative stake through the heart for the TV series reimagining of the vampire-gangster cult classic.
Debuting this past March, "From Dusk Till Dawn: The Series" (already renewed for a second season) kept audiences focused on the bullet-riddled face-off between the vampiric Culebras—led by Wilmer Valderrama as Carlos and Eiza González as the film's sultry Salma Hayek character, Santánico—and its human protagonists Seth Gecko (D.J. Cotrona) and Richie Gecko (Zane Holtz). Cutting deeper into these characters, "Dusk," which is shot in Austin, Texas, satiates both new and returning Rodriguez-Tarantino fans.
"The biggest challenge for me was honoring Quentin's characters," says writer–executive producer Juan Carlos Coto. "I knew I was being handed this thing, and it was really about keeping in mind that these were great iconic characters and this was a fantastic movie that needed to be honored. There's a richness to the story that the movie only scratched the surface of; I wanted to really dig deep. Anything else that I thought would be a challenge wasn't because of the energy the show had. It was a dynamic that Robert created immediately. It's his kitchen but he lets everyone take a turn at the stove."
According to Coto, Rodriguez built his "kitchen" in Austin for a reason: It's his backyard, plus it was his original location choice for the film. Now, with the power of his own cable network, El Rey, behind him, the director has chosen Texas for the Gecko brothers to journey through.
"[The series has] taken on a life of its own," says Coto, who was able to weave Mesoamerican and Aztec mythology into the main plot without criticism. "This project is this great sandbox we get to play in. I think at first you might attribute it to the fact that it was a film that existed before, but I really attribute it to Robert's style and to Austin. There's this energy in Austin that's unlike any other I've felt in Toronto or Los Angeles or Miami or anywhere else I've shot. It's a combination of creativity and lawlessness—maybe that's the Texas of it all."
For Holtz, keeping that recalcitrant Texas energy where he wanted meant splitting it up. "We're bank robbers, we hold up the liquor store, we're trying to get across the border," he explains. "All that is easier to believe because it could happen in real life. When we're trying to get into the supernatural stuff, [the challenge was] still playing that with some believability, as if it's happening, instead of going for the comedy. So it was hard trying to find a balance between those two worlds while making sure the performance matched."
The ensemble cast, which includes Jesse Garcia, Madison Davenport, Brandon Soo Hoo, and Robert Patrick, plus locally cast actors and others, was well-equipped to move between the real and supernatural worlds. "Once we had all the scripts and stuff, casting was a great process because Robert has not only this ability to track great talent, but he has this great ability to just look and see and feel instantly who was right for the part. There were a couple of times that I didn't see it and he totally did," admits Coto.
With a strong cast, an already beloved story, and a convincing Big Kahuna Burger establishment built on the streets of Austin, "Dusk" should continue to be a welcome addition to the Lone Star State.
Inspired by this post? Check out our Austin audition listings!