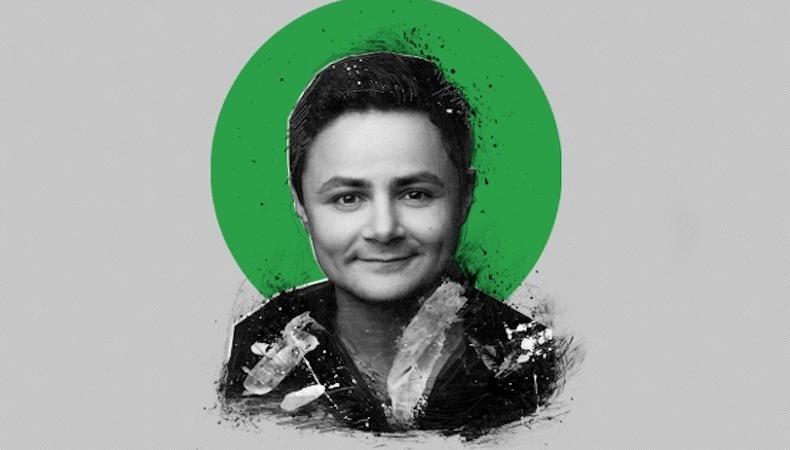 Arturo Castro is having a great month. The actor joined Season 3 of Netflix's "Narcos" Sept. 1 and will reprise his role as Ilana Glazer's roommate, Jaimé, on Season 4 of "Broad City" Sept. 13. After a weekend of screening scripts for his upcoming show "Alternatino"—based on the Comedy Central digital series for which he stars, writes, and executive produces—Castro talked to Backstage about the advice he'd give his younger self and the movie he thinks every actor should see.
Have you ever used Backstage in the past?
I remember back in the day, [Backstage] had both East Coast and West Coast [editions]. Right before I graduated school, I was determined to audition for everything. There's this thing called OPT [Optional Practical Training] that they give you after you graduate; you have a year to prove that you have good credits that they extend into a work visa. I would buy the New York [Backstage] and get my hands on the L.A. one and I'd go to every open call available. I can't sing for the life of me, but I'd go to musical theater open calls. I auditioned for this Polish repertory play. They're like, "You know you're not Polish," and I'm like, "Give me a minute and maybe I can figure it out." Especially before smartphones, I would write down all the auditions in an old notebook that I still have. That's how I got my first agent, that's how I got my first Equity card.
What advice would you give your younger self?
At some point I realized there are so many people who try to do what we do that the only way you're going to stand out is if you're completely yourself. That doesn't mean playing yourself in everything that you do, it just means that you need to find what makes you tick. You need to walk into the room knowing who you are and not expecting anyone to tell you who you are. You have to envision big. If you don't know where you're going, you're not going to go very far. I'd tell him to buy both the East Coast and West Coast Backstage.
What has working on 'Broad City' and 'Narcos' added to your acting skills?
Sometimes in comedy you're afraid of silence. Silence is used for a beat, it's used to punctuate a joke. With drama, I learned that there's real power in stillness. When you play someone who is kind of volatile, your instinct is to intimidate. What I learned is that it's way more scary and disturbing to see someone who sees everything with an eye of calm. That's what I learned from "Narcos"—the power of silence. From Jaimé, I started to see comedy as a symphony. There's a lyricism to it. I'm lucky because I've gotten to work with comedic geniuses. With Abbi [Jacobson], Ilana, or Hannibal [Buress], everybody has their own tone, and I've been able to recognize what that tone is and add to it in a way that enhances the scene.
What were some other moments where you recognized an element that enhanced a scene?
Some actors act from a place of extreme confidence, and I do have confidence in my work, but I like to keep a little insecurity about my character. If I feel like I'm nailing every take, there's no room for growth and interpretation. With Ang Lee's "Billy Lynn's Long Halftime Walk," we went through a really grueling boot camp process with the Navy SEALs. It took maybe three weeks into production to find a balance between the hard person they taught us to be and finding the joy of my character again. I think we trained to the point where I'm like, "OK, I'm solid," but then two or three weeks into it, with the help of Ang, I started to find the laughter again. You think people don't laugh in a drama. It's an easy trap to fall into. The more uncomfortable the moment, the more you want to break the tension.
READ: 'Broad City' Proves Why You Shouldn't Wait for Outside Approval
What do you do to prepare for an audition?
I think Judi Dench was the one who said this: Read what everybody says about your character in the script, but don't believe what everybody says about your character. I start getting a feel for the character's rhythm. Then I put it on tape and I fail a few times until I get it right. Sometimes it feels like you finally get your character and you're two weeks from wrap. I think that's the pain and the pleasure of being an actor.
What movie should every actor see?
"On the Waterfront," if you want to see the beginnings of somebody behaving naturally on camera. The reason I got into acting was "Scent of a Woman." I didn't know actors could perform that way and still be super moving.
You have "Broad City" and "Narcos" releasing within weeks of each other. Did you ever anticipate this?
It's crazy! There were so many times I was reading Backstage, searching for open calls. I don't know what it's like now, but there were these super long lines around the block and it'd be bitter cold. I didn't know it was going to be exactly like this. I've always dreamt really big. It's hard to believe when you're going through it. You never lose that feeling of "what's next," but every now and then—you don't pat yourself on the back, but you think, Man, that kid from 10 years ago who just moved here would be really proud of you. And "Broad City" and "Narcos" couldn't be farther away from each other in genre. That's such a blessing to not pigeonhole yourself into one thing.
Is that something you think about with every role?
People know me because of comedy right now. I'm conscious that I don't want to do a similar role over and over and over again. I'm always looking for a challenge. What scares me? Is this something I could fail at? That's my mentality going forward. At the beginning of my career, people would be like, "You're playing immigrant roles, is that going to pigeonhole you?" I'm an immigrant myself, it comes with a sense of responsibility. I just get caught up in whether the script is good.
The things that scare you the most are the ones worth doing.
If you already have a thing you do sort of well for the rest of your life, you're never going to grow. Maybe I need to do a horror film next. I'm so scared of horror films, I can't watch them. But maybe that's what I need to do: literally scare myself.
Comedy or drama, east or west coast, Backstage has auditions for you!