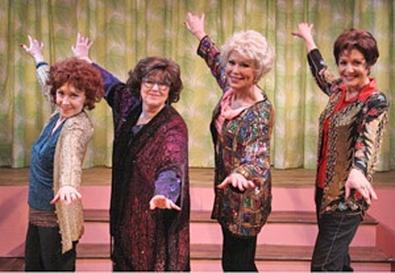 Meet the geriatric Wonderettes. A sense of déjà vu seems unavoidable when viewing this whimsical vehicle for a quartet of mature female performers, offered in the same intimate performing space where "The Marvelous Wonderettes" scored a long-run success. But the differences, which extend far beyond the characters' ages, soon become apparent. This isn't a greatest-hits jukebox retrospective. The time is today, and Joe Symon has composed an original score. There's even a book, courtesy of Jennie Fahn. Director Jules Aaron puts four delightful cutups through their paces. Their zesty performances go a long way toward parlaying this string of familiar old-age jokes into palatable cream-puff entertainment.
The setting is the auditorium at Millennium Manor, a retirement residence in Florida, and the characters speak to the audience as if we were residents enjoying the musical show they are presenting for us. Four feisty gals—broads, if you will—make up the volunteer entertainment group, determined to prove there's plenty of life left in them.
Jewish siblings—Elaine (June Gable) and the nearsighted, pleasantly plump Myra (Barbara Niles)—reminiscence about their childhood, and Myra helps lonely Elaine cope with the loss of her husband. Nilda (Ivonne Coll) is a Puerto Rican spitfire who dances around with a Carmen Miranda fruit headdress—except when hungry Myra eats the bananas. Louise (Leslie Easterbrook) is an over-the-hill glamour girl, unashamedly preserved in Botox. The scenes alternate between onstage performances and the girls' conversations in the upstage dressing room. The satiric targets are as expected: lifts for the face, butt, and boobs; the perils of Social Security; the daily ritual of taking medications and their ubiquitous side effects. One jarring number, listing favorite ways to die, borders on the morbid.
Symon's goofy songs aren't potential chart-toppers, but they offer ample amusement. Kay Cole provides clever choreography, allowing the self-proclaimed broads the chance to kick up their well-worn heels with glee. Handsome design elements (Stephen Gifford's set, J. Kent Inasy's lighting, Shon LeBlanc's costumes) hit the mark, and three musicians (Brian Murphy, John Harvey, Jeff Takiguchi) keep the old folks' joint jumping.


Presented by Route 17 Productions at the El Portal Forum Theatre, 5269 Lankershim Blvd., North Hollywood. Feb. 19–April 4. Thu.–Sat., 8 p.m.; Sun., 3 p.m. (818) 508-4200. www.broadsthemusical.com.