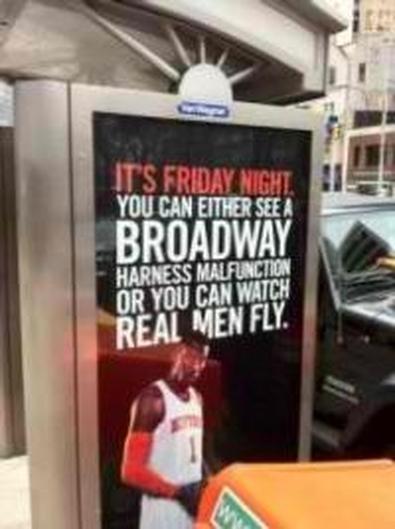 Sports and theater are both divisive topics, but Madison Square Garden has taken the competition to a whole new level. Not only are the two forums competing for evening entertainment options, they're also competing on the masculinity index.
In a new campaign, MSG's advertisement reads "It's Friday night. You can either see a Broadway harness malfunction, or you can watch real men fly."
The ad is causing controversy in the performing arts and LGBT communities alike. Jonathan Higbee of Instinct Magazine writes, "I'd love to see the 'real men' of MSG Network's outdated imagination don tights, harness up and swing above a crowd in one of the most dangerous situations to hit Broadway since Hugh Jackman's one man show caused mini riots in Hell's Kitchen."
In the comments section on a post on BroadwayWorld.com, actor Brandt Brinkley writes, "Do I care or am I offended some poster is insinuating I'm not a 'real man'? No. And I don't think a 'real man' would let a stupid advertisement get under their skin so easily."
What do you think? Does this campaign insinuate that actors are not "real men"?