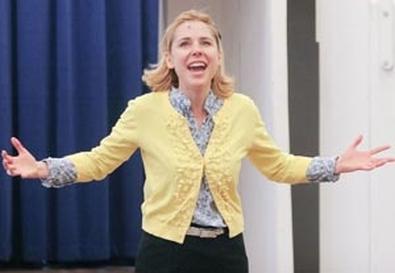 What if "Catch Me If You Can" actress Kerry Butler is prancing around on stage and, say, her shoe falls off. As you expect from a Broadway pro like her, without skipping a beat she would finish the scene. That's what top performers have always done.
What's new? In between scenes, in addition to sharing the snafu with stagehands or fellow cast members backstage, it's likely the pint-sized star will find a quiet spot and "tweet" about it.
Welcome to Broadway—on Twitter.
"You put it up, and it's up—instantly, right away," exclaimed Chester Gregory, "Sister Act" star and avid Twitter user. Sharing what goes on behind the curtain, with 140-character messages to friends and fans in real time, actors are now able to reach people in and out of the industry. Sometimes tweets go out literally mid-performance, revealing even the smallest private moments.
"It is so fascinating how quickly I think Twitter has blown up for the Broadway community," said Sierra Boggess, current star of "Master Class."
Boggess, who has over 4,500 followers, began tweeting while starring in "Love Never Dies" on London's West End. She noticed that the site was being used more frequently in England and liked the idea of being able to connect with fans on a different level.
"I realized once I set up an account, people find you and suddenly there are fans that I'm able to connect with," Boggess said. "I can express who I am as Sierra as a person in the world, as opposed to who I am on stage."
For her "Master Class" co-star and dressing room roommate, Alexandra Silber, social networking sites are a way to compartmentalize the roles she plays on stage and in life. Facebook is for her close friends and family. She writes her blog for herself. Twitter creates an even playing field.
"Twitter, for me, was a place that was much more neutral for engaging in a conversation of light dialog with followers and sharing a little bit of behind-the-scenes information," Silber explained. "It's an effective way to spread the word about things you believe in, things you think, things you are involved in. I love it because it can be as removed or involved as you choose for it to be."
For some Broadway performers, Twitter is also a way to build professional relationships.
Two years ago, Gregory began using Twitter and has used it to meet industry insiders, fans and even forge friendships with superstars. After meeting Jordan Sparks at the "Dream Girls" opening in Los Angeles, Gregory and Sparks connected over tweets and are now good friends. He also met producers for a new project through the social networking site.
"Twitter is a way to maximize work relationships with people and networking and staying current in today's times," Gregory said. "Even Oprah realizes the importance of tweeting. That's just the world we live in. You have to stay current and nothing is more current than Twitter."
In between all the networking and simply being themselves, Broadway stars have found that Twitter is also a very helpful promotional tool and a way to build a fan base.
Butler began tweeting when she was in "Rock of Ages" to help raise money for a charity. The show was auctioning off backstage tours and merchandise, and Butler used her account to let people know what the last bid was or when the auction would be over.
But after leaving "Rock of Ages," her Twitter use did not stop.
"I kept [tweeting] because I thought it's good to let people know when I'm in shows and stuff like that," Butler said. "I don't really have a Fan Facebook thing. This just seems like an easier way to let people know what you're doing."
And with over 3,000 followers, Butler has a lot of people watching her every move.
"You want to have a good fan base so people will support you and want to come see you in the show," Butler continued.
Gregory interacts with as many fans as possible, and although it can be overwhelming, it is something that he truly enjoys. In fact, he is releasing a new single over the social networking site.
Actor Chester Gregory. Photo by Joe Corrigan/Getty Images
Of course, using the big scary world of the everlasting Internet to your advantage has some rules.
"Tweets should be fun." Gregory said. "They should be authentic to who you are, but I think people should benefit from what you tweet about."
Boggess agrees that authenticity is the key to using Twitter effectively.
"I like the way that I use my Twitter because it really is me," she explained. "We as actors spend a lot time with auditions, going, 'Is this ok? Am I good enough?' We go through that so much, and I think having these sites where we can just say 'This is actually who I am' is great."
But Boggess also understands the importance of being careful about what she posts. After rumors got out that she would be a part of the "Phantom 25th Anniversary Concert," she was bombarded daily by fans asking to confirm or deny. As hard as it was, she kept quiet and waited for the producers to make the announcement.
"I think it was such a blessing that I worked for Disney for my first Broadway show. Because it's Disney, and they have a reputation to uphold," Boggess said. "I am very careful when people ask what I'm doing next because I learned that from them. It's important that the producers and the companies are the ones who announce things first."
Silber has never had any negative feedback from productions about her Twitter use, but she credits her "neutral and positive" tweets for this.
"You won't read my review of this or my opinion about this politician," Silber said. "Mostly what I'll do is I'll link to my blog, I'll upload a picture from backstage, I'll say hi to a friend that's in Scotland, and sometimes I'll answer questions from fans. But I try to keep [my Twitter account] pretty positive, pretty work-focused."