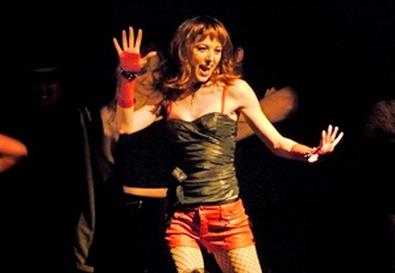 Another hundred students just got off the train. Some come to New York for a rigorous conservatory experience, some to study with teachers who provide a link to theater's glorious past and, hopefully, its future. In either case, musical theater students inevitably find themselves charged by alternating currents of competition and collaboration. Back Stage talked with some of them recently about their experiences in several of New York's musical theater training programs.
Staying Versatile
The New York Film Academy might not sound like the place to perfect your delivery of Rodgers and Hammerstein. Yet the school began offering courses in musical theater performance this past January. The Manhattan branch (there's also one at Universal Studios in Los Angeles) kept getting requests from its students for musical theater classes, so the school approached V.P. Boyle, an audition coach and casting director, to develop a new program.
Boyle looked for a way to build on what the academy already did well—train students in film acting—but also make the program stand apart from other musical theater conservatories: "I said, 'Why don't we merge the two—musical theater conservatory training and film training—and let the kids come out with a tool kit they can use across the board?' "
The program he developed offers three options: a four-week introductory session, providing a sample of the overall curriculum; a one-year option that extends the four-week intro to two full 16-week semesters; and a two-year option, allowing students to incorporate more detailed work in on-camera acting, including performance in film musicals.
Boyle contends that most musical theater actors will want—and need—to move beyond their specialty and work in nonmusical genres on stage and screen. So, in addition to song interpretation, vocal work, and dance training, NYFA students take courses in Shakespeare, stage combat, and improvisation. In the first semester of the first year, they're given an overview of the diverse approaches to acting, from Stanislavsky to Anne Bogart. Then, in the second semester, they settle in for 16 weeks of Sanford Meisner–based training.
"I know from my professional coaching that the acting style we see on stage now is way more layered and realistic—or filmic, you could even say—than it was 15 years ago," says Boyle about contemporary musicals. "All of these acting courses that get in touch with their emotional availability or get them in touch with skill sets that are not two-dimensional I think are really important."
When formulating the program, Boyle insisted that working professionals with Broadway credentials compose the teaching staff. "If we're in New York City," he says, "there's no reason our faculty can't be at the top of the food chain in terms of experience and passion."
Kyle Welling, who just graduated from the one-year program (and is considering staying around for year two), cites the performance-lab class led by Kristy Cates ("Wicked") and Thom Christopher Warren ("The Lion King") as a highlight of his experience. NYFA helped him realize that musical theater is less about "singing pretty" and more about solid storytelling.
There's a "bias" against musical theater performers, Welling says, "especially from the film side. They think, 'Oh, musical theater…they can sing and dance, but they're weak on acting.' Our semester showcase proved everybody wrong…. After we performed, some of the film people were blown away: 'Wow, we knew you guys could sing and dance, but acting? We had no clue.' "
Feathers in Their CAP
Although in some ways it's a spanking-new operation, the conservatory program at New York's Collaborative Arts Project 21 boasts a stellar 17-year reputation as a training ground for musical theater actors.
In 1993, theater artists Frank and Eliza Ventura began the school as a summer training program. According to Pamelia Phillips, the conservatory's professional-training director, the Venturas saw the need for in-depth instruction in all aspects of musical theater: "They felt that the existing programs were mostly music programs with a little bit of attention spent on dancing and acting."
In short order, CAP21 became one of the satellite studios—where acting students study while earning their academic degrees—associated with New York University's Tisch School of the Arts. When Tisch announced in 2009 that it was dissolving the association, CAP21 developed its own two-year program, with a curriculum mirroring that used during the Tisch years. (In fact, some Tisch students who began at CAP21 before 2009 are still studying there). The first class of the independent CAP21 program, which began a year ago, had only 14 students. This fall's group is expected to total 37.
Phillips notes that the conservatory's new independent status allows a more varied group of students to enroll. In the past, many young actors came to CAP21 for an introductory summer training program but were unable to return as Tisch students. "They couldn't stay and train with us," she says, "because they either didn't have the SAT scores to get into NYU or they didn't have the huge chunk of change for tuition."
Britain Gebhardt already held a bachelor's degree (in communications, from the University of Minnesota) when she started at CAP21 last year. She had no interest in enrolling in another degree program, so the school's new status suited her fine. Gebhardt researched actor training programs around the country and put CAP21 on the top of her list. Certainly the program's roster of former students—including Anne Hathaway, Matthew Morrison, and Stefani Germanotta (aka Lady Gaga)—was a factor in her choice.
CAP21's conservatory is a full-time commitment. Students spend 30 hours a week in such classes as scene study, dance and movement, vocal technique, auditioning, musical theater history and literature, and the business of acting. In addition, they rehearse for a series of productions that progressively incorporate the skills they learn in class. Some also participate in productions of the CAP21 Theatre Company and its Summer Stock NYC initiative, introduced earlier this year.
Gebhardt couldn't be happier with the program. Not the strongest of dancers when she enrolled, she feels she has made great strides in that arena, in part due to the caliber of her instructors, themselves Broadway dancers. They're "able to offer you career advice as well as instruction," Gebhardt says, "and I think that is a huge benefit of being in New York."
In addition to its conservatory and summer programs, CAP21 offers weekend instruction for high school students who want to get a taste of what the conservatory's rigorous training is all about.
Music, Maestra, Please
Some acting schools provide individual classes in musical theater performance but not a predefined musical theater curriculum. It's up to students to put together a cluster of courses to meet their needs.
Polly McKie was a high school drama teacher in Glasgow, Scotland, who dreamed of a performing career. Two years ago she moved to New York to pursue serious acting study. McKie had harbored a love of musicals since age 13, when her parents took her to Stephen Sondheim's "Follies" in London. She knew that her New York study would include classes in musical theater.
McKie wound up making HB Studio her training ground. "I did a lot of research on acting schools," she recalls. "I telephoned around to several schools after I did some research on the Internet, and HB was the most friendly and accommodating on the phone." She also appreciated that she could audit classes at the school before making her decision.
Among the courses she found particularly valuable at HB was Musical Performance, taught by veteran Broadway performer and two-time Tony Award winner Helen Gallagher ("Pal Joey," "No, No, Nanette"). "She understands the business and what it takes to put across a song," says McKie, "and she really gets to the core of it."
Gallagher began teaching at HB in the 1970s, at the prompting of the school's founder, Herbert Berghof. She had been studying with Berghof's wife, the legendary Uta Hagen. Says Gallagher, "Uta was not that crazy about the musical theater. She thought it was nothing, and maybe in her day that was true. But you go see 'A Little Night Music,' " she says of the current Broadway revival, "and it's quite something."
Gallagher makes it clear that she is not an acting teacher. While she believes in Hagen's emphasis on truth in acting, she pursues it through the music. "I focus a lot on the voice," she says. As a dancer, she approaches things believing "that if you don't have technique, you don't have anything…. And then, once they get to the point where they're in control of their voices, I talk about performance and how you interpret a song."
Instruction is customized based on the needs of each student. There is no dance component to Gallagher's course, though HB offers other classes in dance. "I do make them move," she says, "particularly those who are tied up in knots."
Students in Gallagher's classes run the gamut when it comes to skill level. Some have been taking the class for years. ("They stick like glue," she says.) But Gallagher enjoys having students at various levels of proficiency studying together: "I believe in that—I like that. In some strange way, you can learn from somebody that knows less than you, not just people that know more." When she gives an adjustment to a beginner, she says, it reinforces the lesson for those a few rungs up the ladder.
"Getting command over the voice takes years," says Gallagher, who adds that the sorts of material a performer sings will change in the course of a career. "It's not like 'Six Lessons From Madame La Zonga.' I still take singing lessons, mostly because of my age. The voice deteriorates, and unless you keep it up, you don't sing."
Melodic yet Method-ic
Gallagher isn't the only teacher in New York with roots in the golden age of the American Broadway musical. Irma Sandrey, an instructor at the Lee Strasberg Theatre & Film Institute for the last 34 years, was a replacement as Liat in the original production of "South Pacific" (she performed in the show under the name Irma Sandre).
A prima ballerina who worked with George Balanchine at the New York City Ballet, Sandrey ventured into musical theater as a sideline and subsequently became interested in serious acting study. She trained with several acclaimed teachers, including Meisner, Wynn Handman, and Jeff Corey. But she clicked with Lee Strasberg.
"Lee had the same idea that I did about music," says Sandrey, who has also studied opera. "He never read music and he didn't play an instrument, but he knew so much about opera voices and musical comedy voices. It was sort of a given that if you were an actor, you cared about music, you went to concerts, to the opera. And I miss that. I think a lot of that has gone."
Unlike Gallagher, Sandrey does not teach courses geared specifically toward musical theater performance. She leads a four-hour acting class, beginning with sense-memory exercises and concluding with monologue and scene study. "I feel there is absolutely no difference to acting in a musical, an opera, or in a straight play," she says. "To me, a song is like a little sketch; it's a little scene. And certainly an opera aria is. It's the same work as acting."
Music is often used as preparation for scenes in Sandrey's classes, though not always in the scenes themselves. Sometimes the "private moment" exercises in her sessions will likewise include musical elements.
Actor-singer Tara Newton-Wordsworth, who is beginning the second year of Strasberg's two-year certificate program, studied with Sandrey and found her "passionate and very specific." "I've seen her do very amazing things with students who have had emotional blocks with what they're trying to work on," Newton-Wordsworth says. "She can go straight to the source of what's going on and help them to come through."
Before arriving in New York from her native Australia, Newton-Wordsworth performed internationally with her mother, an opera singer. But musical theater training is only part of her curriculum at Strasberg. She is admittedly more passionate about film acting than musicals. Still, she values the school's singing and dancing instruction, as well as a class in cabaret performance that culminated in a four-night presentation, filled largely with the songs of Rodgers and Hart.
So, is the Method stressed in musical theater classes at Strasberg to the same extent as in the school's regular acting classes? Not really, says Newton-Wordsworth. She notes, however, that when students sing a song "technically," without focus on the life of the character they're portraying, they may be reminded of Strasbergian tenets.
More to Learn
Training primarily in nondegree programs won't, of course, suit every aspiring musical theater actor. Some will want to study first at a college or university, if only to satisfy parental insistence on the dreaded "something to fall back on." But even if you wait until you have a degree before coming to town, you'll always have the option of continuing your studies further along your career path.