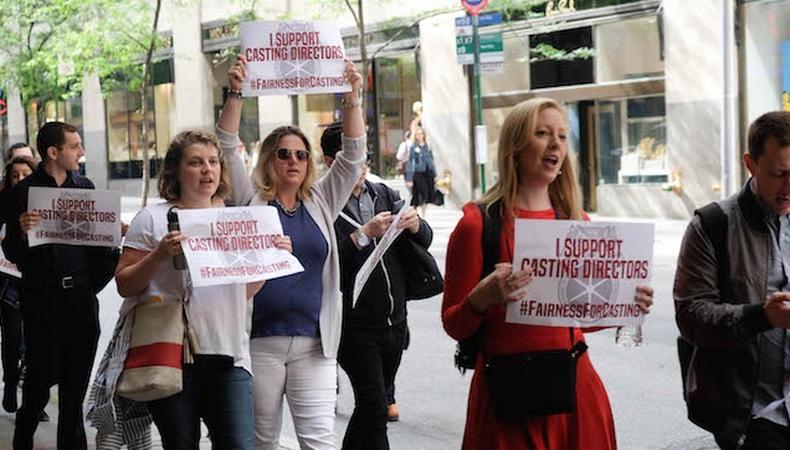 The dispute between Broadway's casting directors and the Broadway League continues.
Amidst ongoing efforts by Broadway's roughly 40 casting directors to unionize, a rally will be held in the heart of New York City's Theater District on Aug. 21.
Beginning at 8:30 a.m. in the historic Shubert Alley, casting directors, many of their allies, as well as Teamsters Local 817, will march to the offices of the Broadway League, to demand a union contract that would grant them healthcare and retirement benefits, which their employers do not contribute to as of now.
The march, at which casting directors of hits including "Hamilton" and "Dear Evan Hansen" are expected, will be the latest development in the disagreements between casting and the Broadway League, following the former's rally held outside of Radio City Music Hall during Tony Awards rehearsal back in June.
Casting is the only major entity of the theater industry that does not have a union or the corresponding benefits such as healthcare and pensions. Casting directors are often working on productions from inception to staging, and work for months if not years on a single production before seeing a contract from a producer.
UPDATE: The Broadway League released the following statement to Backstage:
"The Broadway League has great respect and deep appreciation for the work of casting directors and their valuable contributions to our Broadway productions. Casting directors that are owners or employees of casting companies, however, are not employees of our shows. Like other outside agencies, including general managers, advertising agencies, accountants and lawyers, who are also intimately involved with a show and whose collaborations we also value, casting companies are engaged as independent contractors. They are separate businesses with their own employees and typically work on more than one show at a time within and outside our industry.
"We have had a respectful dialogue in the past year with Teamsters Local 817 but do not believe it would be appropriate for the Broadway League or its producing members to recognize a union as the bargaining representative of professionals who are not employees of our productions. To the extent that Local 817 or the casting companies themselves disagree, we have encouraged them to seek a determination from the National Labor Relations Board, which is the appropriate forum to resolve disputes of this nature. We have even made clear to the union that we are prepared to expedite an NLRB process."
Union questions? Click here for more information on joining the Actors' Equity Association.