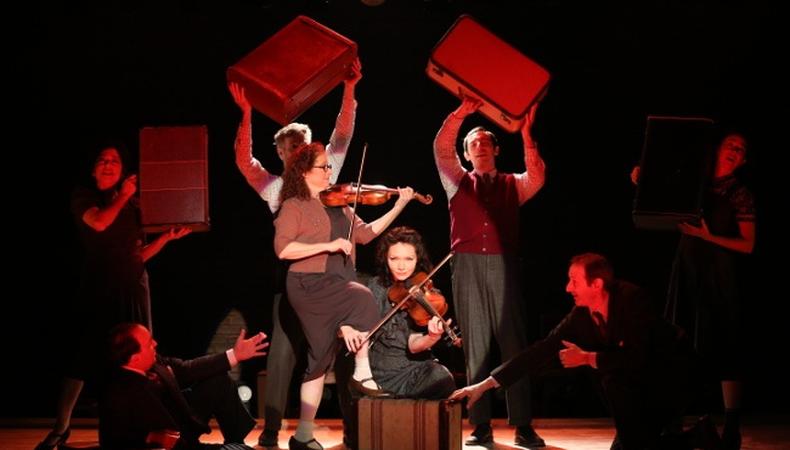 Depicting the Polish theater-makers behind the controversial 1923 play "God of Vengeance," Broadway's "Indecent" is a true-story play within a play that moves—in part thanks to a script by Pulitzer Prize winner Paula Vogel and choreography by David Dorfman. Here's how Dorfman found the drama's rhythm.
"Indecent" has natural movement.
"In this case, the choreography is not giving definite information about each character's development; it's more [about] the life of the troupe and the different places where the troupe performs. My job was to reflect a Jewishness, a European context, but also, because the play was written in the last decade, reflect [our] postmodernism."
READ: Dance Tips from a B'way Casting Director
Every actor is a dancer.
"One of the producers asked me, 'How did you get those guys to do that?' and I said, 'Because they're really talented.' Even if [actors] aren't dancers, they've done movement exercises and courses. They've been available to movement for years. There's been this collective training."
Bodies must be prepared for choreography.
"[Be] really attentive to any physical therapy. That's a big part of staying healthy for an eight-show-a-week schedule. When we pop onstage during previews and say, 'Let's try this,' they're ready to try it and not injure themselves. That's what I ask. Some people might say, 'Go take a hip-hop or jazz class.' No. Just bring yourselves. Be open and be healthy."
Learning choreography is like learning lines.
"I'm amazed at how many lines actors can memorize and how many line changes actors can deal with. It's the same with movement. At first, actors will say, 'I can't do that with my legs and do the gestures with my hands.' Well, yes you can, but it might take three days. And we have a few weeks so we're gonna learn it, bit by bit. I think just a calm underscoring of process and understanding that product is not needed in 10 seconds, but over time [is necessary]. If we believe in that, then we don't panic."
"Indecent" has become exceedingly topical.
"It was all in there, and we were just amazed. We talked about it a lot when we reconvened for this [Broadway] run. After November's election and the state of the world, the play, through a couple of restagings and rewrites, small but powerful, became even more relevant. I think it's important to combine this idea of censorship, of self, of love, what we think of as decent or indecent or precious…. There's a pious irreverence. We're not poking fun at all, we're telling the story, hopefully in a slightly humorous but also in a sad way, of losing one's identity, immigration, trying to belong, assimilation, a new life. The movement came from the idea of celebration. There's always this joy of the spirits."
Ready for your New York Stage debut? Check out our theater audition listings!