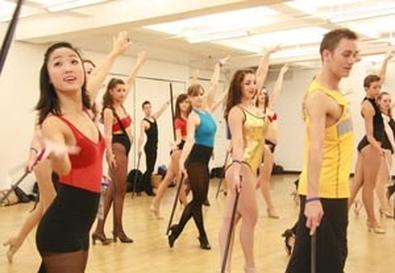 Broadway Dance Center is a home away from home for dancers of all levels. "Whether you're a singer looking to move or you're a professional looking to keep your training up, there's a little bit for everybody in the business," says executive director and co-owner Diane King.
Welcoming 3,000 students each week, Broadway Dance Center offers classes in all disciplines and for all skill sets in five studios, with class size ranging from 20 to 70. King plans to add two studios and increase the center's programming next January. This year, she's expanded the contemporary class offerings as a result of dancer requests, and she hopes to expand the tap program in the coming months. "We listen to our students," she says. "Hopefully, we're giving dancers what they're looking for."
In addition to its ever-popular drop-in schedule, Broadway Dance Center offers workshops catering to everyone from the rank beginner to the seasoned professional. These workshops usually culminate in a showcase, which agents and casting directors attend. Some dancers have been signed this way, according to King.
One of the newer workshops, the Musical Theater Performance Project, came about through student requests and the ideas of faculty member Joshua Bergasse. Bergasse also choreographed the highly anticipated first episode of the upcoming NBC series "Smash." "A lot of our faculty is working, which then enriches what goes on here," King says.
Located in the heart of the theater district, the center moved to its current location four years ago, and Back Stage reader Joy Song says the new space is a huge perk. Although she is not a musical theater performer, she has attended classes at Broadway Dance Center on and off for about five years to keep in shape and prepare for roles.
"It's perfect for actors who want to be part of an ensemble," Song says, adding that she likes the mix of classes. Some of her favorites are the ballet classes taught by Dawn Hillen. "I keep coming back to it just because of the variety of classes and there's a lot of space," Song says. "It's more about getting back into it, trying new things, and just having fun. I don't feel that competitive thing at all, so you don't have to feel self-conscious. Everybody is there just to learn."
Broadway Dance Center, 322 W. 45th St., 3rd floor, New York; (212) 582-9304; www.broadwaydancecenter.com

Broadway Dance Center was the Readers' Choice winner in this category in 2008, 2009, and 2010.
Runners-Up:
- Steps on Broadway, (212) 874-2410,
www.stepsnyc.com
- Alvin Ailey American Dance Theater, (212) 405-9500,
www.alvinailey.org
- Ripley-Grier Studios, (212) 799-5433,
www.ripleygrier.com