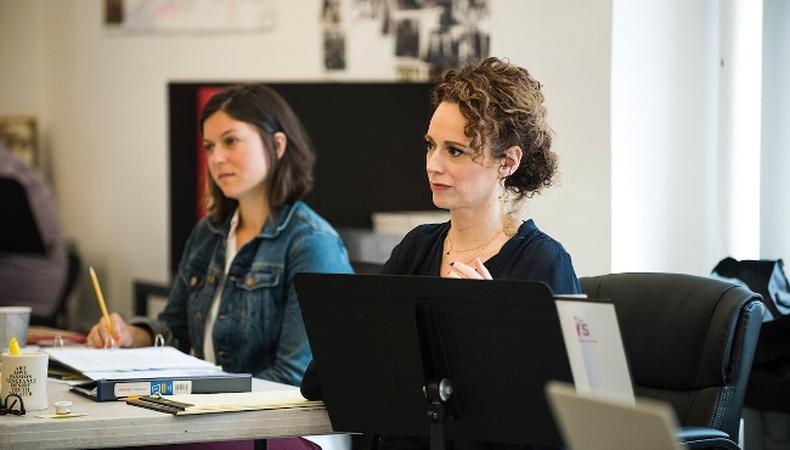 Actors working under the directorial instruction of Rebecca Taichman are often as much students of history as they are of theater. The Tony winner behind last year's Holocaust drama "Indecent" returns to the New York stage this month with "Time and the Conways," the post–Great War, Yorkshire-set classic from J.B. Priestley. Taichman cites the late playwright's drama as a "neglected masterpiece" on this side of the world; her goal with "Time"—as with "God of Vengeance" by way of "Indecent"—is to bring "that art back to life again and to bring attention to it so it's not lost to time."
While the three-act play's action jumps between 1919 and 1937, detailing the highs and lows of the aristocratic Conway family, Taichman says that it's her "obsession" to look "back into history to try to understand or unpack what's happening to us today" through theater. That doesn't happen without a generous amount of research on her part, and she expects similar due diligence from her actors.
"I think for [these] particular plays, if you don't understand the context, it's very hard to play because you don't have your foundation," Taichman says. "So I try to empower the actor to really research that context on their own and then to share it as a dialogue with each other.... The task is really how to get the research in the room in a way that sets actors alive. I find that the more empowered and engaged the actor is, the more that usually happens."
For "Time and the Conways" (a play that requires "so much research...for American [actors] to understand the very basics of the world"), for instance, Taichman requested each actor arrive to rehearsal having read or watched something on a topic of her choosing "that is particularly evocative of the character they're playing," and then to be ready to present what inspired them and sparked their imagination. "It's not one voice giving a history lesson," she says. "It's us all learning the context and the world of the play very much together and in each other's voices."
Taichman discusses this process with Backstage just days before "Time and the Conways" rehearsals are actually set to begin with stars Elizabeth McGovern, Steven Boyer, Anna Camp, Ga briel Ebert, Charlotte Parry, and Matthew James Thomas, so the homework has been assigned and she's anticipating what the company will bring with them on the first day. It is these early stages in a production, where actors and creators come together for the first time and build a trust and relationship with one another, that, for Taichman, are equal parts invigorating and tenuous. Her main principle is "creating a really safe-feeling space," one where "taking risks is welcome [and] invited." It's a space where anything goes, artistically speaking, and where instinct is king. "Often, that first instinct is this sort of artistic gold, and if you step on it or you erase it or you deny it or somebody's too scared to share it, you can lose something really profound."
At the helm of any project (her next being "School Girls: Or, the African Mean Girls Play" with the MCC Theater), Taichman ensures a sort of bond with the hired talent by acknowledging that her skills as a theater-maker are of little use when applied with a "one size fits all" mentality. Directors must be "malleable and flexible to the different actors' needs." It's her job, she says, to "learn the people and learn what system [works], what makes them soar."
If "Indecent" and the forthcoming "Time and the Conways" are any indication, she's a creator who will continue living by her words.
Want to work with directors like Taichman? Check out Backstage's theater audition listings!