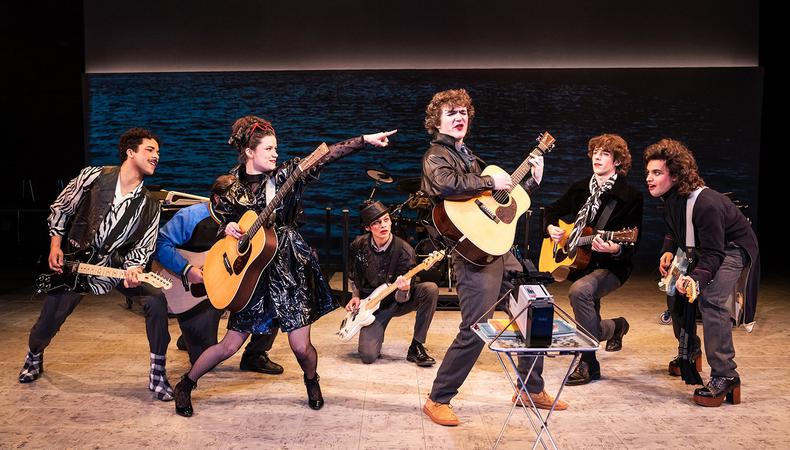 This article originally appeared on DanceMagazine.com.
Booking a Broadway show as a dancer is hard enough as it is.
The fact that at least five of the nine shows that were set to in the 2019-2020 season (before the shutdown disrupted plans) will not feature an ensemble doesn't help.
"Sing Street," "Girl from the North Country," "Six," "Company," and "Caroline, or Change" will not employ ensembles. That leaves just "Diana's 18-person ensemble, Mrs. Doubtfire's 14-person ensemble, and the "West Side Story" generous 35-person ensemble. (These numbers include swings.)
Of the musicals that opened during the first half of the season, you'll only find ensembles in "Moulin Rouge!" (26), "Jagged Little Pill" (17), and "Tina (21)".
This means there were as few as 131 ensemble roles for the 2019–2020 season, compared to 185 in 2018–2019 and 183 in 2017–2018, according to The Ensemblist.
Sure, this could be a fluke. As Jim Daly, talent agent at Bloc NYC points out, it often takes years for shows to land on Broadway, and this is simply the crop that arrived this time around.
But he also acknowledges that as shows become more expensive to produce, creators must "be more succinct in what they're looking for"—which often means shrinking cast and orchestra sizes. (Shows produced by Disney or other large conglomerates tend to be the exception—which is not necessarily good news for those bemoaning the lack of truly original new musicals on Broadway today.)
For Josh Prince, choreographer of the Broadway productions of "Beautiful" and "Shrek," and founder of Dance Lab New York, "reduce, reduce, reduce" has been the story of nearly every musical he's worked on, he says, whether that means writing smaller shows or revamping smaller versions of existing shows.
"Dance is the first thing to be thrown by the side of the road on the journey to creating a financial sustainable show," he says. "I've come to expect it, and I've come to be the voice of reality for my teammates when it comes to understanding what a reduced cast size means in terms of the effectiveness of the movement onstage. You're not going to get the same outcome as you would if you're hiring an ensemble of dancers. Not necessarily better or worse, but different. Every show has to decide what they are utilizing dance for and make decisions based on that."
Dance Magazine is the must-read magazine for professional and aspiring dancers. Subscribe today!
While, in theory, smaller productions can use dance in more intimate, more unique ways, unfortunately, fewer ensemble members usually does translate to less dance, says Prince. It's rare to see dance solos (though there have been several notable ones in recent seasons) and pas de deux in Broadway shows, he says, and perhaps even rarer to see the entire cast of a 10-person show break out into a highly-technical dance number.
Plus, the smaller the cast, the more each actor has to contribute vocally, and the more likely it is that ensemble members are understudying principal roles. This means casting directors might prioritize casting strong actors and singers who can dance, Prince says, rather than top-tier dancers. As roles for dancers become fewer and fewer, demands on dancers—to act, to sing, sometimes even to play an instrument—grow higher.
The implications for Broadway choreographers are worth noting, too. Though perhaps anecdotal, of the six shows of the shortened season with ensembles, three of them employ choreographers who are new to Broadway and who typically work in concert dance (Sonya Tayeh for "Moulin Rouge!", Sidi Larbi Cherkaoui for "Jagged Little Pill," and Anne Teresa de Keersmaeker for "West Side Story"). Director-slash-choreographers seem to be more common on Broadway, today, too, and while some—like Casey Nicholaw and Susan Stroman—make dance-heavy shows, sometimes it feels as though this, too, is done in the name of "reduction."
Prince says that Broadway choreographers have also had to adjust their skill sets from working with dancers to working with actors and singers, and, as a result, "the muscles that are needed to choreograph a big dance show are atrophying."
The Ensemblist points out that while the past three Tony Award winners for Best Musical have either not had an ensemble ("Dear Evan Hansen" and "The Band's Visit") or had a very small ensemble ("Hadestown," which has five ensemble members and four swings), the seven longest-running Broadway shows ("Phantom of the Opera," "Chicago," "The Lion King," "Wicked," "Book of Mormon," "Aladdin," and "Hamilton") each has large ensembles. And while last year's Tony winner for Best Choreography, "Ain't Too Proud," has a relatively small ensemble, the award typically goes to shows with lots of dancers, like "Carousel," "Bandstand," "Hamilton," and "An American in Paris." (Though, to be fair, we're well aware that the Tony Award is not the end-all-be-all for the best dance on Broadway.)
FREE Dance content every day. Click here to sign up!
So what's a choreographer—or a dancer—dreaming of Broadway to do? Don't give up hope, says Prince, because, "For every rule, there's a broken rule. There are still a lot of jobs to be had."
Daly says he's submitting lots of dancers for commercial gigs—from "Saturday Night Live" to "The Marvelous Mrs. Maisel"—and that there are always replacements needed in older Broadway shows, as well as opportunities on tours and in regional productions.
Whether dancers are trying to book Broadway or are open to other types of work, both Daly and Prince recommend focusing on diversifying. Just because you don't have any lines doesn't mean you don't need acting classes, says Prince, and not having a solo doesn't excuse you from vocal training.

There's hope that this trend will fade—or at least that it will result in more innovative uses of dance on Broadway rather than less dance on Broadway. "I think we're going to come to a point where we're going to have to be really creative about how to see great dance on Broadway," says Prince. "Dance is never going to go away; it will always be the heart of Broadway storytelling."