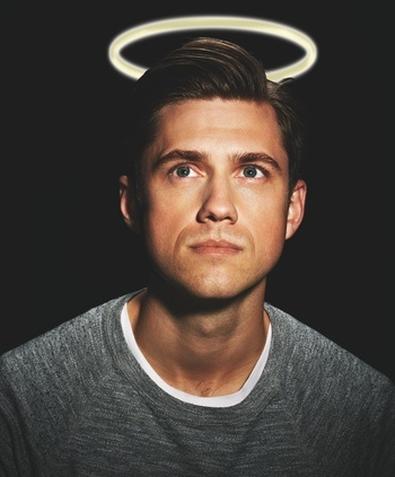 Aaron Tveit is not one for making mistakes.
The impossibly handsome actor has carefully navigated his skyrocketing career from tour understudy in "Rent" to Broadway leading man in "Catch Me If You Can," from television guest star on "Gossip Girl" to movie star with "Les Misérables" to series regular on USA's "Graceland." But on an evening in early May, Tveit's worst nightmare came true.
Making his cabaret debut in front of a sold-out crowd at Manhattan's 54 Below, Tveit messed up. He didn't just fumble a line. He stopped mid-song—seemingly stunning himself at his error—and walked over to the piano to check the lyrics. When he emerged from the shock, he exclaimed, with a clap of his hands, "That was awesome!"
It was. Because since the dawn of "Les Miz," the world has been asking the question, Who is Aaron Tveit? The mishap shines a moment behind the mask of the man who can set an Internet wildfire with one Tumblr tag and has an entire BuzzFeed article detailing his "most seductively charming moments."
But on a drizzly day in late April, Tveit—in a white T-shirt, jeans, and a baseball cap—seems like just another guy. In March he returned to his native New York from Florida, where "Graceland" shoots. The USA Network series, which is inspired by real events, follows a group of government agents from the DEA, the FBI, and customs living together in a house in Los Angeles called Graceland as they navigate the city's crime and their own lives.
"I didn't really have a plan to jump into television," says Tveit, relaxing on a couch in a photographer's loft in Chelsea. "I really wanted to let whatever I was drawn to lead me that way. I got sent this script by [NBC Senior Vice President of Casting] Steven O'Neill, and I absolutely loved it."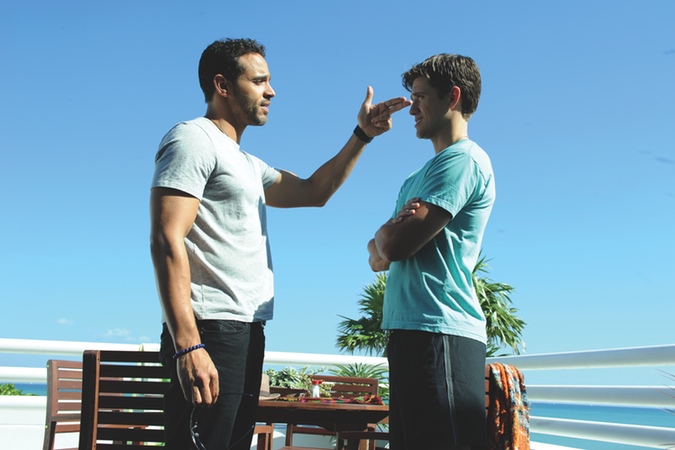 While Tveit seems to have nailed his first pilot season, O'Neill says he's been trailing him for years and admits to being a tad obsessive. "I could have been labeled a stalker," he jokes. "Now I'm an employer. I used to be a stalker."
O'Neill first saw Tveit in "Hairspray" on Broadway, and "the light bulb went off over my head, like, 'Who're you? I want you to be doing whatever I'm working on,' " he remembers. Because Tveit had been attached to "Catch Me If You Can" he hadn't been able to commit to a television series, but the stars aligned for "Graceland." "He got himself on tape, sent the audition off, and right from that first start, it was just like, 'I think we have our guy!' "
Tveit plays recent FBI Academy graduate Mike Warren, and he says he was attracted to Mike's single-mindedness in his work, which he likens to his own dedication to his job. "Once I came to acting, it was almost a thing where there weren't enough hours in the day to work on stuff because I was so passionate about it," he says.
But he never planned to be an actor. He grew up in upstate New York and found his way into performing through the pressure in high school to "do everything to make it look good on a college application." His stage debut came freshman year when he played Seymour in "Little Shop of Horrors." But isn't Seymour supposed to be awkward?
"Uh-huh," he replies with a laugh. "I was a very awkward high schooler, especially in early high school. I had the middle part with a swoop, all that. It was the late '90s!"
He almost went to college for business because he received a scholarship, but his supportive parents encouraged him to do what he wanted, and he ended up at Ithaca College as a music major. Sensing that something was missing, he auditioned for the theater program and a year later left school to tour with "Rent." (He has since completed his degree.)
"I've fallen in love with the craft and the work of being an actor," he says. "You need to go to school to get the basic knowledge, to get your first job, but once you get your first job, you learn everything you need to know. Working made me fall in love with acting even more."
He hasn't stopped since. He calls himself a "heady actor," as he likes to do a lot of preparation beforehand and really delve into the psychology of his characters. Working on "Graceland," he met the controlling officer of the real-life undercover agents at Graceland, worked with a Florida sheriff on gun handling, and practiced clearing a house with a SWAT team, some of whose members are extras in the series.
He learned how to prepare as an actor from being in the ensemble in "Rent," when he "would create five-act plays" for himself to keep invested in the story eight shows a week. "I thought everyone was like this!" he says.
Now he's been able to use his preparation to shape his character arc and the story line of "Graceland," adding that the writers are open to suggestions and that shooting the show has been a collaborative process. "To feel like I'm having an impact on what's being told was a very rewarding experience," he says.
His stage experience also helped, though Tveit says screen acting was initially hard for him. "It feels like it's the opposite of working onstage," he says. "I had a hard time connecting the two. I feel like now it's all the same work." But the stamina of performing eight shows a week prepped him for the television hours. His "Catch Me" partner in crime Norbert Leo Butz, whom Tveit calls one of his acting role models, refers to him as a "Grecian athlete."
"He's indefatigable, incredibly disciplined," Butz says via email. "He was a soldier in that play, just gave his whole heart and soul and body away for that performance. And those are really the only people I want to work with…. But what I most love about Aaron, and I do love that guy, like a brother, is his sheer giddiness and joy and delight in his life. He's a big kid."
Ask Tveit what roles he wants to play next, and his giddiness erupts. He speaks with an impassioned fervor and is particularly grateful that his "Graceland" gig only takes six months a year so he'll be able to also do film and theater work.
"There's a lot more theater work that I want to do," he says, adding that Billy in "Carousel" is one of his big dream roles. "I'm at an interesting age, especially for musicals. There are a lot of roles for 18-, 19-, 20-year-old characters. From there, it jumps to older, kind of leading-man roles. So that hopefully will be the next group of parts that I get to play in musicals on the stage. I also want to do plays. I want to do everything."