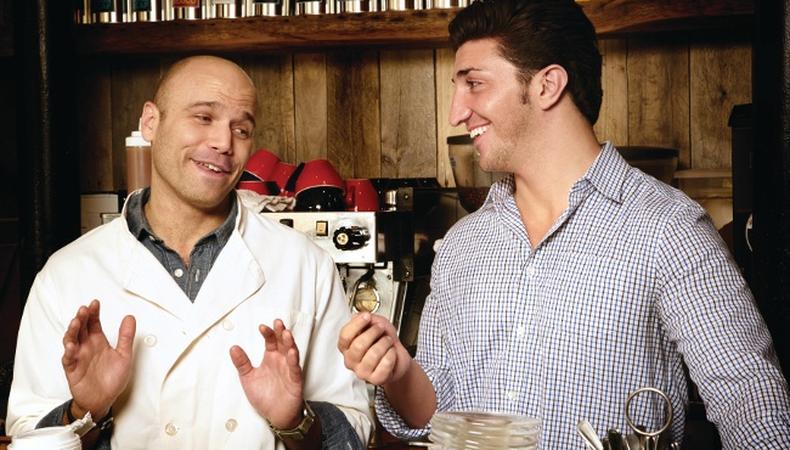 Most performers dream of being discovered, but a growing number have found that there is more than one way to find momentum in the theater—and that they can be the ones in the driver's seat.
Dominick LaRuffa Jr. can currently be seen in "How Alfo Learned to Love," a comedy written by Vincent Amelio running at New York's 59E59 Theaters. He is a trained actor who received his BFA from Pace University, and while he has continued to find work since graduation, he has also made a sizable footprint as a Broadway producer.
On a whim in 2013, LaRuffa and Rob Hinderliter, an actor friend he met while bartending, decided to become producers after LaRuffa read about the A.R.T. production of "All the Way," a play about President Lyndon B. Johnson written by Robert Schenkkan and starring Bryan Cranston as LBJ. LaRuffa, a history buff and fan of both Cranston and Schenkkan, researched the play. "I sent this email to Rob at 5:37 a.m.: 'Bryan Cranston is in a play about LBJ. No way it's not going to Broadway. Let's be Broadway producers!' "
The two formed production company R&D Theatricals, and were able to raise several hundred thousand dollars from bartending customers who trusted their ambition and were willing to help. (To be a producer doesn't mean one has to have the money to invest in a show; one simply has to be able to collect a certain amount of money from a group of investors.) They were able to provide the money they raised to a co-producer on "All the Way," after which lead producer and Broadway titan Jeffrey Richards reached out to them. He not only offered both Hinderliter and LaRuffa associate producer billing on the show, but also an offer to produce another Broadway-bound show, Will Eno's "The Realistic Joneses." When "All the Way" won the 2014 Tony Award for best play, the two of them were among the producers standing onstage as winners.
READ: How to Become a Producer
"I was 24 years old, standing onstage at Radio City in front of 5,000 people and millions of viewers, hugging Bryan Cranston as part of a Tony-winning show," LaRuffa says. "It's one of my life's greatest highlights."
Of course, the economics of Broadway are such that even a Tony-winning producer needs to keep his day job. "Only 20 percent of shows produced commercially are financial successes," Hinderliter explains. "Co-producers only make an income if the shows they co-produce recoup their investment and see a profit. Here we thought we had made it, Tony and all, and yet we still had to tend bar!"
Both men credit their positive relationships with allies both within and outside the Broadway community for their ability to raise the large quantities of cash needed to serve as a producer. Several acting colleagues have also served as investors with R&D on their most recent Broadway venture, "China Doll," written by David Mamet and starring Al Pacino, and are quick to praise their friends' vision and business acumen.
"Dom is light years ahead of himself, age-wise," according to Warren Bub, a fellow actor-cum-investor. "But while the producing keeps him afloat, he's going to make his mark as an actor."
And how does being a producer affect LaRuffa's perspective as a performer?
"Being a producer has made me an infinitely better actor," LaRuffa admits. "The best part has been fully understanding everything that's going on around me. How hard everyone else's jobs are and, most important, how much a production is not just about the performers."
Inspired by this post? Check out our Broadway audition listings!