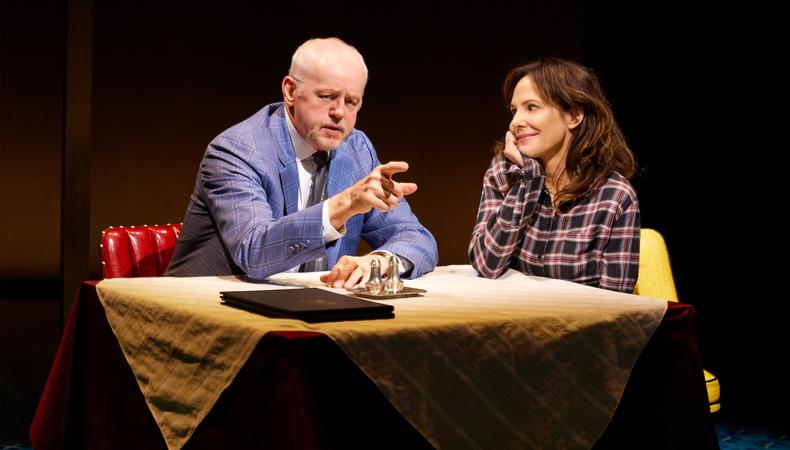 Despite airlines and other public transit companies doing away with mask mandates, masking is still required for Broadway audiences—at least for now. The Broadway League has extended its masking requirements to May 31, but in a crucial change, theaters are no longer required to check the vaccination status of attendees as of April 30. It's now up to individual shows and theaters to decide whether they will require audiences to be vaccinated against COVID-19.
The New York Times reported that a potential reason for this change is that pandemic safety measures have been costly for producers: "Dropping vaccination verification will save producers money. Paying workers to check proof of vaccination has been one of several COVID safety measures that have driven up running costs for Broadway shows."
COVID-19 infections have been reemerging on Broadway
"Macbeth" canceled several performances because of an outbreak in its cast, which included star Daniel Craig. "Plaza Suite," starring Matthew Broderick and Sarah Jessica Parker, canceled shows when both of its headliners fell ill. "Paradise Square" and "A Strange Loop" also canceled performances due to infections in their ensembles.
"Since resuming performances last fall, over 5 million attendees have seen a Broadway show, and the safety and security of our cast, crew, and audience has been our top priority," said Broadway League president Charlotte St. Martin in a statement. "Our intention is that, by maintaining strict audience masking through at least the month of May, we will continue that track record of safety for all. And of course, we urge everyone to get vaccinated." The Broadway League represents the owners and producers behind Broadway's 41 theaters.
The Broadway League has required proof of vaccination and masks since September
But Broadway is now following suit with New York City, which dropped its vaccine requirements for public indoor spaces on March 7.
Many theater owners have already announced that they will no longer require proof of vaccination for audience members, including Disney Theatrical Productions, whose "Aladdin" and "The Lion King" are currently running; the Shubert Organization, which owns 17 Broadway and Off-Broadway venues; and the Nederlander Organization, which runs nine Broadway theaters.
Others are keeping their vaccine requirements for the time being
Locations sticking to vaccine requirements include Lincoln Center, Roundabout Theatre Company (which is producing "Birthday Candles," starring Debra Messing), and Manhattan Theatre Club (which is producing "How I Learned to Drive," starring Mary-Louise Parker).
However, the COVID-19 safety protocols agreed upon by Actors' Equity Association and the Broadway League still require that actors be fully vaccinated, test weekly, and wear masks when they're not onstage.
The Broadway League said it will announce masking policies for June and beyond later this month.
This story originally appeared in the May 5 issue of Backstage Magazine.