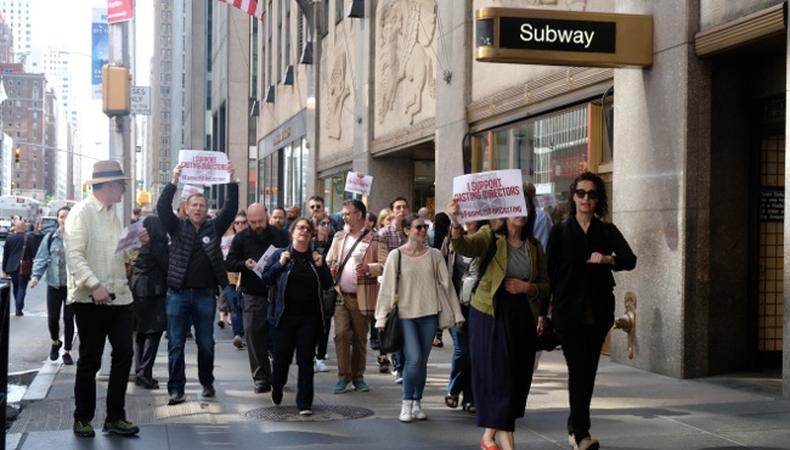 Just three days before the 2017 Tony Awards, Broadway's casting directors rallied in the streets of New York City to galvanize efforts to unionize and negotiate a contract with the Broadway League, which would provide this facet of the industry—one of the only without a union—with health insurance and pension plans.
The rally, held on June 8 outside Radio City Music Hall while rehearsals for the 71st annual Tony Awards took place inside, saw dozens from the Broadway and casting communities assemble. Most held signs which read: "I support casting directors."
Among those rallying was Bernie Telsey, the casting force behind such shows as "Hamilton," "Wicked," and "Hello, Dolly!," and who founded the prolific Telsey + Company. "We're the only creative people working on Broadway today that don't have health benefits and don't have pension benefits," Telsey said of Broadway's approximately 40 casting directors. "It's ludicrous because we're no different than the press agents, we're no different than the costume designers, and we need to be covered."
READ: The Inside Scoop on Bernie Telsey's Prolific Career
In agreement was Richard Hicks, a former president of the Casting Society of America, who mainly casts television and film, but who felt compelled to support his counterparts in theater. "This isn't a political argument," Hicks said. "I have friends who are alive today because of the health insurance we were able to get 12 years ago for work in film and television, and these people deserve no less."
Hicks was referring to attempts by film and television casting directors to unionize in 2005, which led to their joining the International Brotherhood of Teamsters; a deal with the Alliance of Motion Picture and Television Producers was ultimately reached in 2008. Broadway casting directors are hoping to achieve a similar outcome, but have so far been met with resistance from the Broadway League.
"Even though [producers] are making record profits this year, they don't want to part with it," reflected Tom O'Donnell, president of Theatrical Teamsters Local 817. "Twelve years ago, we had the same arguments from the Hollywood studios, but we were able to prevail upon them that these people provided a vital creative contribution, and that they're deserving of health care, deserving of some kind of basic pension and job protection."
That casting remains a sole entity of the business without benefits may be symptomatic of the broader lack of awareness for all that casting directors do. "These people are integral to the creative process," said Hicks. "They make productions tons of money by getting the right person in the play, and it's unconscionable that [the Broadway League] isn't going to give benefits to casting directors when they give benefits to every other craft on Broadway."
Alarmingly, Telsey also believes the lack of a union may deter a future generation of casting directors. "To say to them, 'Yeah, it is an amazing profession, but you'll never get coverage'—what are they working toward?" he pressed. "Broadway is the epitome, and to start with nothing, it just makes no sense."
UPDATE: The Broadway League released the following statement to Backstage:
"The Broadway League has great respect and deep appreciation for the work of casting directors and their valuable contributions to our Broadway productions. Casting directors that are owners or employees of casting companies, however, are not employees of our shows. Like other outside agencies, including general managers, advertising agencies, accountants and lawyers, who are also intimately involved with a show and whose collaborations we also value, casting companies are engaged as independent contractors. They are separate businesses with their own employees and typically work on more than one show at a time within and outside our industry.
"We have had a respectful dialogue in the past year with Teamsters Local 817 but do not believe it would be appropriate for the Broadway League or its producing members to recognize a union as the bargaining representative of professionals who are not employees of our productions. To the extent that Local 817 or the casting companies themselves disagree, we have encouraged them to seek a determination from the National Labor Relations Board, which is the appropriate forum to resolve disputes of this nature. We have even made clear to the union that we are prepared to expedite an NLRB process."
To show support for your casting directors, click here for the #FairnessForCasting image. Post a photo of yourself on social media with the hashtag and join the conversation.
Do you have questions about the union? Click here for more information on joining the Actors' Equity Association.