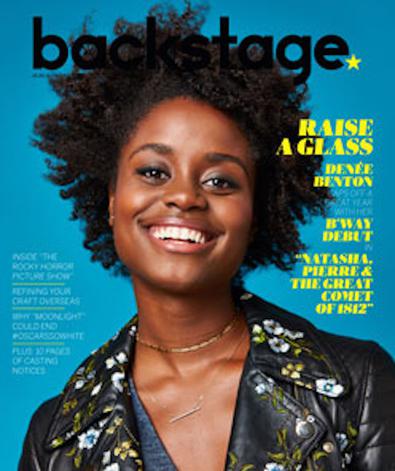 Denée Benton's 2016 has been about testing just how high she can climb. "It's amazing what can happen in a year," says the actor. In the case of her big break, though, it was more like a week. Benton learned about her Broadway debut as the leading lady of "Natasha, Pierre & the Great Comet of 1812" within days of booking a huge role on Lifetime's "UnREAL."
"Me and my mom were just on the phone crying for a week," says Benton with a grin.
Natasha Rostova, the Russian countess of Dave Malloy's musical riff on Tolstoy's "War and Peace," may not appear at first to have much in common with a young black woman from Florida who earned a musical theater degree from Carnegie Mellon University in 2014.
But from the moment she heard "No One Else," Natasha's lovestruck aria, Benton clicked with the role. "She has this incredible vitality for life, she feels things so deeply. I thought, She's just as dramatic and romantic as I was—or am, to be honest. Who wouldn't want to be the romantic lead chased by all these men, and in furs and corsets, you know? I was like, Natasha: I get you, girl!"
There was also the ingenue quality of Malloy's song itself. "Vocally and type-wise, I tend to fit roles like that a lot better than some of the roles I might be typecast for," says Benton, who at CMU cycled through what she calls the "canon of black female songs" despite having a more classical vocal style. For showstoppers from "The Color Purple" or "Ragtime," for example, "you need to be able to bring down the house and take people to church. And it was always the biggest plague of my existence. I can't take anybody to church."
So in her audition for "The Great Comet" with director Rachel Chavkin, Benton ignored the fact that she doesn't resemble a 19th-century aristocrat and focused only on her responsibility as an actor to tell Natasha's story. "It does take ownership and a little bit of bravery to say, 'You know what? I am going to walk into this room and audition for this Russian countess because I think I can do a really good job with that.' Deep down there's always that fear—fear based on fact—that they're probably not looking for you to tell that story. In this case," she adds, "they were looking for me."
Backstage Experts Answer: 11 Fears Every Working Actor Must Overcome
"I welled up with tears," remembers Chavkin. "She walked out and we all just looked at each other and had melting smiles on our faces." Benton booked the part in the show's remount at American Repertory Theater following its acclaimed 2013 Off-Broadway run starring Phillipa Soo as Natasha. For the production's Broadway transfer (opening Nov. 14 at the Imperial Theatre), the creative team agreed the role had to be Benton's.
"She's just an unbelievably skilled actress in terms of her nuance and her ability to mingle vulnerability with core strength," Chavkin says. "Denée is able to swing between those two poles. She has an incredible sense of humor as well...she has these hilarious moments that play at [Natasha's] youth and arrogance, which is what makes her so attractive.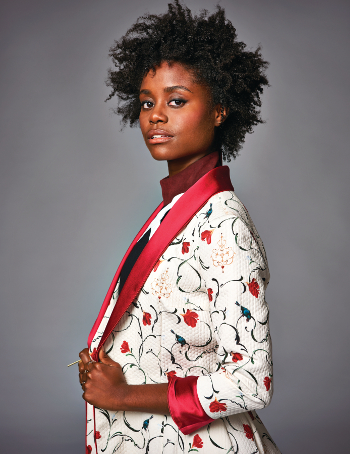 "And her singing is just beautiful," the director adds. "Those pipes are extraordinary."
"To have a role and hear the music and go, 'I can do this,' to not feel like I need to fake it...it's exciting to be given that opportunity because I don't think it comes very often," Benton says. Particularly for actors outside the mainstream or considered "other," she says—"whether it be your sexuality or your race or anything that Hollywood or the media hasn't quite decided is universal"—fitting into a box to become commodifiable can prove challenging.
"We all have faced that plight of, 'I'm not like that box, does that mean I'll never work?' I think maybe there are a lot of us walking around feeling 'other.' I'm always a little disheartened to think about how many people might be discouraged and just decide not to try.... We all have access to the human story."
As Benton points out, representation in entertainment matters for emerging talent. "We are all affected by popular culture, whether you're the president or a plumber in New Jersey." When even fantasy projects like "Game of Thrones," "Into the Woods," or "Wicked" continue to feature all-white casts, that sends a message to people of color, she says. Inclusive casting "needs to be more frequent—something that becomes the norm, instead of something that makes headlines every time it happens. It needs to become old news. I hope in 30 years this conversation doesn't need to happen anymore, like the way they talk about how cocaine used to be in Coca-Cola."
Judging by the American theater's growing attention to diversity and inclusion, however, Benton anticipates the tide turning. Led by trailblazers like Audra McDonald and Cicely Tyson, black women are slowly but surely accessing a wider array of roles. "The fact that a black girl in college might learn 'No One Else' [from 'The Great Comet'] or might learn something from 'Hamilton,' it's exciting. There's room for you to tell different versions of your story. It's still a version of blackness and womanhood."
Roles written specifically about blackness and womanhood seem to be increasing, too—especially on the small screen. "When I decided to go natural, to stop putting relaxers in my hair," Benton remembers, "I was a little concerned. There are very few natural women on television. I've always had very high hopes, I'm a very ambitious person. So I was like, was this a smart, logical decision? Or should I just package myself in a way that sells?" Then she read the breakdown for Ruby, a contestant on the reality dating show within "UnREAL." "They wanted natural hair, college-age, all these things that were Denée, Denée, Denée."
The twisty second season of Marti Noxon and Sarah Gertrude Shapiro's feminist drama series found activist-student Ruby fighting for the Black Lives Matter movement on a nationally televised "Bachelor"-style show—while accidentally falling for the bachelor.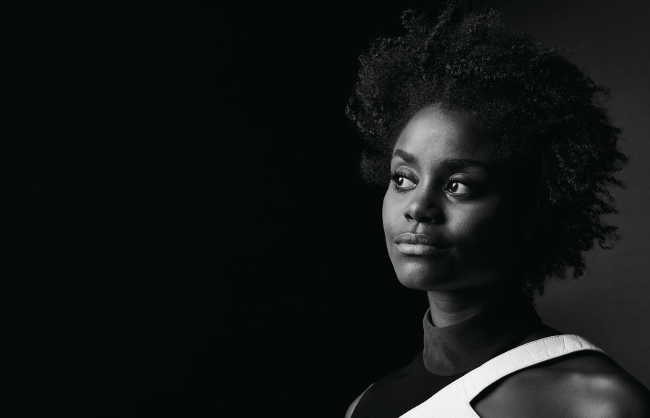 "Ruby wasn't just this trope to push other people's plot devices, she was the center of this love story," Benton points out. "It was cool to be a part of that. That's also something you don't see: this really intelligent, outspoken, dark-skinned black woman with natural hair is the center of this love story."
It goes to show that in the entertainment business, authenticity can make the right part come to you. "It's so interesting trying to give actors advice because you really never know," Benton says with a sigh. "You just have to have a lot of faith, and keep doing it. Maybe it'll happen right away, maybe it'll take 10 years, or you'll become Beyoncé." The important thing is to nurture the parts of yourself that distinguish you from the rest, she says.
READ: "13 Broadway Shows We're Dying to See This Fall"
"If you don't look or sound like the people who come before you, great! Get really good at what you do sound like. The things about you that you think are going to be a hindrance for you are actually the keys to your success. Screw the boxes. Lean into who you are, into what comes naturally for you and what you're good at, and sharpen that. And if you show up, it will make room for you."
---
The Great Debut
Benton has been daydreaming about her Broadway debut since age 4. But because almost a year has passed between the Broadway announcement of "The Great Comet" and its rehearsals, the pressure to stick the landing keeps growing. Her new mantra, she jokes, is "Girl, you better be really good."
How does an actor physically and mentally prepare for such a milestone? "I want to make sure I give this opportunity as much respect as I possibly can, and stay grounded in the fact that this is big and that not everybody gets to do this," Benton says.
That doesn't mean it's not scary, she adds. "It's so intimidating. But you have to rise to the occasion—that's the only option. You look at an obstacle and go, 'I don't know how to do this! What's my process? Do I know my ABCs? Can I sing?!' And then you just sort of start. The material teaches you what you need." And by the time she's stepping onto the stage, of course, "it's the most incredible feeling in the universe.
"I think there's an image attached to our job that it's just glamorous and fun and free and 'you're so talented' and it's easy. Like, no. You need to prepare, keep quiet, do your vocal exercises, stretch, drink your green juice, and go to bed on time. You have to be disciplined. That discipline also makes you better than you thought you could be."
Want to find that perfect role? Check out Backstage's Broadway audition listings!
Styling by Erin Walsh. Dresses by Mugler. Coat by Ulyana Sergeenko.