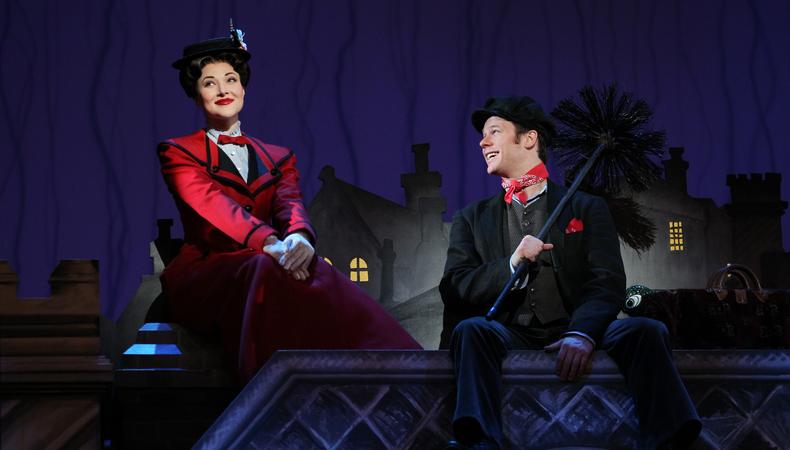 Steffanie Leigh's Broadway debut in the title role in "Mary Poppins" almost didn't happen.
"I almost didn't go to the audition because I had scheduled vacation already," Leigh says of her initial try-out, which landed her a spot in the ensemble and as the Mary understudy on the national tour. Luckily, she rescheduled her Florida trip for a day later and landed the role that would lead to her taking the part of Mary Poppins in October 2011.
Though "Poppins," marks her first experience as a working actor in New York, she speaks with a maturity and grace beyond her years, not unlike her stage alter ego. And while starring on Broadway is certainly a thrill, as she reflects on her time with the show, she shares her high point as an actor.
"The biggest high I got performing was the first time I performed as an understudy," she says. "I remember getting to the bow and right before I was going to come on just like bursting into tears because I had done it. "
There will be more reasons to celebrate and shed tears when "Poppins" ends its Broadway run on March 3, and Leigh chatted with us about the lessons she's learned, what it's like following Julie Andrews, and the things she will—and will not—miss.
What was it like finding out that you would be coming to Broadway?
Steffanie Leigh: I was on tour playing the role of Mary for maybe six months, and I remember we were in tech and our director came to my dressing room and told me and I promptly freaked out. I remember I tried to call my boyfriend and my parents. And for some reason this was a crazy freak accident on the phone I could hear them but they couldn't hear anything I was saying. I wanted to tell them so badly but they were like, "What? What?"
What was it like making the role your own?
Leigh: With any iconic roles it's a little daunting at first because so many people hold it in such regard. But everyone was very clear that I should make this my own Mary Poppins, not try to be Julie Andrews or any of the other fantastic actresses who have played her. So right off the bat I knew that I had liberty to have her filtered through myself.
And you're a natural blonde! What has it been like going brunette each night?
Leigh: I love it! Actually, fun fact, they use a section of my real hair because the wig design—I think they call it a 3/4 wig. So they use the back section of my hair to make the wig look real and so that gets painted dark every night. It washes out every night. I will not be sad to leave that behind. It comes off in little like black strands almost. Those are everywhere in my house.
What will you be sad to leave behind?
Leigh: I will miss so much of it! It's a magical show. I will miss flying over the house every night and seeing the kids who are so excited, and you see them looking up and reaching and grabbing for you. And then often the parents next to them are so excited and doing the same thing. It's been great to be a part of a show where you see kids having their first experience with theater. That's a huge honor. I will miss singing the iconic songs and the people. I've been lucky because a lot of the touring cast has also been brought to Broadway so I have very strong relationships with so many of the people in the building and onstage. Every time a show stops it's always sort of like—mini-funeral sounds so morbid—you go from seeing these people every day and them being such a part of your life to seeing them maybe once a month. It's a very odd sort of unnatural break that we all have to deal with and mourn the loss of the family and doing the show every night.
Has there been any onstage mishaps over the course of the run?
Leigh: I love bloopers. They're one of my favorite things. The very first city I opened, which was Boston, I was singing "Practically Perfect" and snapping fingers doing magic and all of a sudden the house lights come on in the audience, but the music kept going so I was like, "OK, we're just going to keep on rolling with this," and I kept singing and then all of a sudden an alarm starts going off. The fire alarm was going off in the theater, and we all had to evacuate into a little alleyway as well as the entire audience, and they started encroaching upon us.
What has it been like working with the kids in the show?
Leigh: It's unlike working with adults because they've very un-jaded. They are so excited to come to work, and you never hear them complain about how tired they are, how much their body hurts, how much they don't want to do the show, which is really refreshing to be around. They have one of the hardest jobs. They're onstage more than anyone else, more than I am. It requires such discipline and such creativity and such smart kids.
What advice have you given them?
Leigh: For most of them, it's been learning how to keep finding new things as the show goes on for a long time. It's extremely hard for adults, and it's extremely hard for kids as well to not get bored and to keep finding new things and listening to each other.
Mary Poppins is such a positive character. Do you ever find it difficult to go onstage and be that happy all the time?
Leigh: Yes! That's when it's very hard when I'm not feeling extremely happy and that's one of the biggest lessons I've learned doing a long run because I'm not always going to come to the theater every day feeling peppy and excited. My life gets in the way and other things. Before each show I really try to take an inventory of where I am physically, where I am mentally, where I am emotionally and try to get to a spot at least before where I'm neutral and then I can kind of be where I have to be to do the show and do such a high energy character.
What is one of the biggest acting lessons you're going to take away from "Mary Poppins"?
Leigh: I think the discipline. Really, that was the biggest thing coming out. I learned so much in school that prepared me for creating the character, but I'm still finding moments in the show where I'm like, "Oh of course that's what I'd be thinking there. Of course this is a moment." I think the discipline that it takes to do eight shows a week and keep producing a show that is high energy and alive. That is a big skill and very difficult to do. That's probably the biggest lesson.