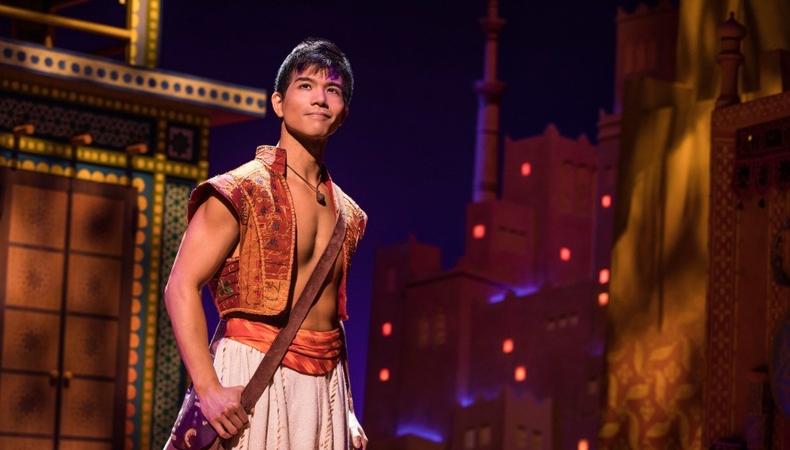 Broadway replacements have big shoes to fill—literally. Stepping into a role originated by someone else brings with it a highly unique set of challenges and rewards. In The Replacements, Backstage speaks with replacement performers who have lived to tell the tale.
Telly Leung is a bonafide theater veteran, having originated several roles in new musicals, as well as been a part of numerous revivals on Broadway and beyond. Still, nothing could have prepared him for the fantastic feat that was the title character in Disney's "Aladdin." Between his eight-flying-carpet-rides-a-week schedule, Leung spoke with Backstage about the lightning-paced rehearsal period, assuming the role of leading man in a three-years-strong company, and how he managed to make a role as ubiquitously known as Aladdin his own.
How did you prepare to step into this massive role?
I started my career in the ensemble of shows. I started doing summer stock, where you have 10 days to learn a show. When [the "Aladdin" team] said, "You have three and a half weeks to learn Aladdin," I thought, "What am I going to do with myself?" Then as I got into the process, I was like, "Oh my gosh I am going to need every single minute of this three and a half weeks." I hadn't realized watching the show how much is involved backstage with costumes, with choreography. What's wonderful about "Aladdin" is that all the creatives have made it look seamless and beautiful onstage. It looks like a breeze! But what's happening backstage is insanity to get that show to look that smoothe.
What was the rehearsal process like?
The first week is all learning blocking and choreography. The second week, our resident director started bringing in some of my fellow actors that I was going to be onstage with. So I had a couple of rehearsals in a room with Courtney Reed, who plays Jasmine, and Jonathan Freeman, who plays Jafar. I had some time in a rehearsal studio with them which was wonderful and a luxury for me that the first time I was seeing them was not at my put-in rehearsal. It was generous and wonderful that the resident directing team got me some time with these people in a rehearsal room, and also generous that these actors, who have been doing this show every night for three years on Broadway, would come in and give me their time and energy in a room, and re-create with me. That was a blessing and not something that every actor who replaces in a show gets the benefit of all the time.
What has it been like to step into an existing cast as the lead?
It's at first daunting because you know that with somebody like [original Aladdin] Adam Jacobs, who'd been doing the role for three years, there's a certain spirit that he brings into the building and there's a certain personality and a certain energy, not just onstage but offstage as a leading man. That's something that people don't ever really teach you in any sort of acting conservatory. That comes from being in several Broadway shows. I started in the ensemble in my first couple of shows, and I had incredible leading men and women to teach me how to comport myself as a leading man, how to boost the spirits of a company even though it's a five-show weekend. It's times like that when they count on you to be a leader, not just artistically onstage but offstage, too. I wanted to come in and be that for a company.
How did you go about making a universally-known role like Aladdin your own?
There is certainly a pressure, not just in replacing somebody as amazing as Adam Jacobs, but the pressure of what people remember from the Disney film. For me to come into it, I kind of had to divorce myself from that pressure and go, "There are certain things that I'm not going to be able to control." I'm not going to be able to control that I don't look exactly like what the animators made Aladdin look like. What I can control is finding at its core why this story has existed and been moving to people. What attracted Disney to it in the first place? And at the end of the day, it's about this boy who wants to make his mother proud and wants to be the best man he can be and he wants to be the kind of man that his parents can be proud of. I connect to that as Telly. I am a son. I am a guy who had to learn those lessons myself. I just try to find the humanity in that and hope the audience can see that, too.
Is there anything you wish audiences knew about replacements?
That first show feels like a complete blur to me. That first show that you're on you're just like, "I hope I don't die jumping off a building, I hope I don't fall off the carpet, I hope I don't step on Jasmine's dress." But that first audience, they don't know. They just came to see "Aladdin." They don't know it's your first show. A preview audience knows that they're going to a preview. That audience that's coming to a show three years in doesn't know it's your first preview and there's a part of me that wishes that they knew that.
What's the best part about replacing on Broadway?
As an actor that has originated in a lot of shows, there is always that pressure of originating a role, which is wonderful. It is a wonderfully creative, artistically fulfilling process to do that, but there's always that pressure of, "Oh my gosh Ben Brantley is coming to review us." So there isn't that pressure of opening night or previews or press night or what do people think or is our show going to be running because the New York Times has panned it? I have often experienced that: If these reviews aren't great, our show might close. That pressure is off in this instance. What that allows me to do as an actor is just focus on giving joy to 1,700 people every night.
Inspired? Check out Backstage's theater audition listings!