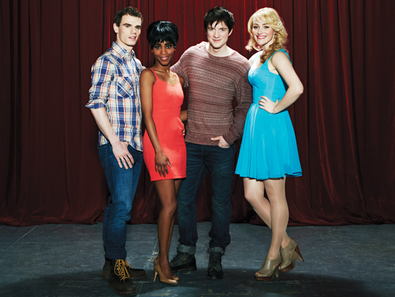 While Alec Baldwin and Tom Hanks get their Broadway on and producers scrounge for the sexy allure of Hollywood fame to emblazon on their marquees, four purebred theater actors are getting their big breaks this spring.
Jay Armstrong Johnson, who's understudied the likes of Aaron Tveit in "Catch Me If You Can" and Gavin Creel in "Hair," will step into a leading role in "Hands on a Hardbody," a new musical inspired by the documentary about a competition for a pickup truck. After playing the Peter Parker alternate in "Spider-Man: Turn Off the Dark," British actor Matthew James Thomas will tackle the title role in the Diane Paulus–helmed revival of "Pippin," coming straight from American Repertory Theater. And though Valisia LeKae marks her fifth Broadway show with "Motown: The Musical," she's no longer a swing, understudy, or ensemble member—she's Diana Ross. Finally, Betsy Wolfe who took on the devious ingénue Rosa Bud in "The Mystery of Edwin Drood" this fall, lands as the leading lady in cult favorite "The Last Five Years" at Second Stage Theatre.
We sat down with these burgeoning stars to talk about auditions, the pressures of leading a show, and destiny.
How does it feel to be starring in a show this spring?
Jay Armstrong Johnson: It feels really good. I never thought that I'd climb my way out of understudy-ville. So to be able to be recognized as a leading actor for the first time in three and a half years feels like an accomplishment.

Matthew James Thomas: I second that. When I got back from Boston, the first thing I did was get a cab to see the theater, and I saw the sign. It hadn't hit me at all. I called my manager, and I won't tell you the exact words I used but I was like, "I just ---- myself."

Valisia LeKae: I didn't go to school for theater or anything like that, so I feel like my first four years on Broadway have been my conservatory, and this is like graduation day for me.

Betsy Wolfe: It comes with a responsibility, but it's also very humbling. In a way it feels like I've kind of been here the whole time just waiting for a really great opportunity to really fully realize a character in a way that you don't necessarily get to do in the ensemble.

Johnson: We've been paying our dues, y'all!
How did you get cast?
LeKae: Oddly enough the director for "Motown," Charles Randolph-Wright, was the first director that I ever auditioned for, for musical theater gigs. A girlfriend of mine just sent me in on her audition. He was like, "You're not really right for this, but I'm going to send your information to someone." And from that phone call, I just fell into theater.

Wolfe: I feel like that happens a lot where you go in for something you might not be right for, and then someone will remember you. I think that's a huge lesson to learn.

Thomas: The casting [appointment] came through, and I had a day to learn the five songs, and I was so unsure of how to sing "Corner of the Sky." There's this last note—this high C—and I've never really understood it. So every time I'd do this song in the audition, I would like stop singing… I never sang that note in any of the auditions, so I'm glad they had faith that I could do it.

Wolfe: So we might pay $140 and hear "Corner of the..."

Thomas: We figured it out, and it became something. Now I'm really singing it!
What about you, Jay?
Johnson: I was actually on vacation in Texas floating in a river and drinking copious amounts of beer. I got a phone call from my manager saying there was an offer for me to do a workshop of this show about Texas people trying to win a pickup truck. I had to leave my vacation three days early to go do the workshop, and I was just a fill-in at the time. Luckily enough, they really enjoyed my work and decided to keep me with the show through the next workshop and then on to La Jolla, and then everyone in La Jolla got contracts for Broadway, so I never actually auditioned for it. It was just, like, given to me.

Wolfe: It's funny because I always joked throughout the years that I would do this show somewhere. I would say to certain friends of mine, "Let's go put this show on somewhere!" Little did I know they'd be reviving it and at the age where I feel I can actually be playing this.
Is there pressure in tackling a leading role?
LeKae: I feel like everything in my life has prepared me for this moment. Diana Ross—we have very similar upbringings. So I feel like every little bit of whatever I've done has brought me to this moment. I don't find it nervous. I'm very grateful.

Thomas: I think there's pressure with every role. I've tried desperately to ignore the pressure because no matter what happens I'm only going to be able to do what I can do.

Johnson: There's always pressure, especially mounting a new piece of theater, because it's something that's never been seen before. But it's such an ensemble piece. So I have a family that I feel very supported by. The pressure in the role is not necessarily there, but there's pressure to create something exciting and new and fresh and that will beat "Matilda"…

Wolfe: You cannot beat four little girls. Stop trying!

Johnson: I know.

Wolfe: I feel like I always put the same amount of pressure on myself no matter if it's a small role or a big role. And no one's harder on you than you are on yourself. I've learned the more I get out of my own way, the better off I'll be.
How has your training prepared you for this moment?
LeKae: In high school, I was at the local theme park Libertyland. My first two years I was a mascot in college. I had to do something in entertainment because I didn't make the women's choral group.
Wolfe: How did you not make the women's choral group?

LeKae: Can I tell you what I auditioned with? A Diana Ross medley.

Johnson: Shut up!

LeKae: I fully auditioned with the TCB medley on track and didn't make it. So I saw this sign that said they were looking for mascots and it was a form of entertainment. So I was a hound dog.

Wolfe: I'm just glad you didn't get that first Diana Ross role because I don't want to see you phoning it in.

LeKae: It worked out pretty well.

Wolfe: It makes it even sweeter.

LeKae: Oh yeah—this is destiny.
Matthew and Jay, how has your training prepared you?
Thomas: I feel like you just have to be a human boy in your 20s to play Pippin because it's just so Everyman. I guess just being alive prepared me for that in some ways.

Johnson: The only actual training where I've taken classes has been in dance. Most of my training in singing and acting comes from working with professionals in local shows at my regional theater.
You've all been working in theater for a while. What trends have you noticed?
LeKae: There's more nontraditional casting now. I just love seeing that happening in theater where people are accepting the actors for being actors who know their craft instead of seeing them for the color of their skin. It creates more opportunities for all of us.

Wolfe: With star casting, it seemed depressing because it seemed like, "Oh, my gosh, I'm going to have to go out to L.A. and land a TV job to come back to do what I really want to do." The trends are going to come and go, but I think if you are personally making choices for yourself that are right for you, hopefully you'll be satisfied.
Do you find it's harder to find work in the theater with star casting?
LeKae: What's for you is for you. We are all being given such a great opportunity that producers are willing to say, "It's not about the star; it's about the show." Back in the day, Broadway created stars. So it's really great to be with my peers and to know I worked with Betsy six years ago, and we were in the ensemble. It's hopeful. When I see an unknown, it lets me know, "Wow, I can do that. It's that close."