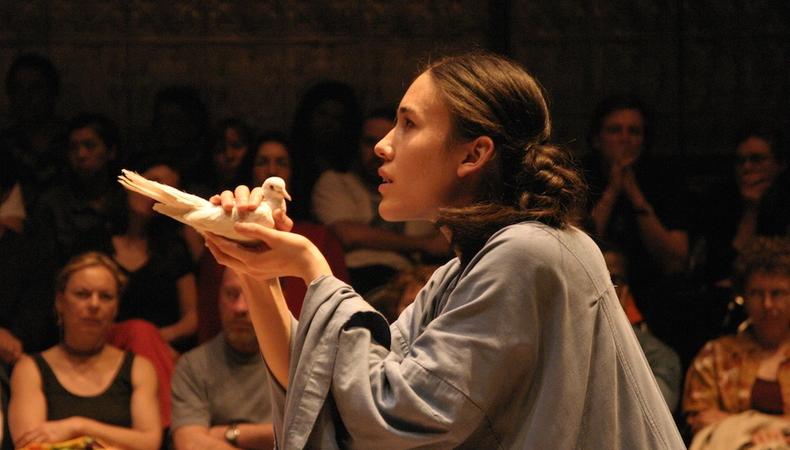 On a Monday afternoon, Mia Yoo, the artistic director of La MaMa—a renowned experimental theater in New York City—was informed that a vital phone call needed her immediate attention.
On the other end of that call was Heather Hitchens of the American Theater Wing and Charlotte St. Martin of the Broadway League informing her of a major announcement: La MaMa had been awarded this year's Regional Theater Tony Award.
It's been a whirlwind for Yoo and the La MaMa community since, and we decided to get a peek at the aftermath ahead of the June 10 Tony Awards ceremony.
"It's thrilling," says Yoo in an exclusive interview with Backstage. "Whenever I get messages from folks congratulating us, my first response is, 'This is crazy!' But I believe this honor is a testament to our founder Ellen Stewart's vision, and to the work of all our artists at La MaMa."
La MaMa was started in a Lower East Side basement by Stewart in 1961. Since, the theater has become known as a critical hub of, what the Village Voice notably termed, the Off-Off Broadway movement.
"The reason why La MaMa started was because there weren't spaces like La MaMa in existence. There were a lot of underrepresented, marginalized, non-commercial theater artists and playwrights who didn't have a space to express themselves," says Yoo. "So Ellen [Stewart] who was living in this neighborhood felt this necessity of space from these kinds of artists and this community so strongly that she used her own money to make this platform for these artists to show their work."
Stewart, who died in 2011, was known for being a vibrant (if not eccentric) visionary, inspiring and fostering several risk-taking theater artists before their landing into prominence—from Sam Shepard to Julie Taymor to Yoo herself.
READ: 1 Way to Find Work in the Theater
So, when Yoo stepped into the role of artistic director of the theater after being personally tapped by Stewart, she recognized the distinctive legacy of the institution. "I think of Ellen as being mama—La MaMa was Ellen and Ellen was La MaMa," she says. "Now I feel like La MaMa is no longer about one person but a much bigger and larger community.... This rich, rich family of artists is who we are. That's who this honor is for: it's for our artists, our artistic community, and, of course, Ellen."
La MaMa made its mark not only with the experimental and innovative nature of the work it produces and presents but also with its outright commitment to artist-centered processes and multicultural diversity. "Our mission statement is dedicated to the artist in all aspects of the theater," says Yoo. The theater estimates that in its decades of operation, they have engaged roughly 150,000 artists from 70 different countries worldwide.
In considering the theater's legacy, Yoo emphasizes a sense of service to an artistic community. "I do believe it is harder for artists to be experimental. We have to be able to articulate the ideas in a grant, we need to be able to pay rent that sometimes feels impossible as an artist living in a city like NYC. That's why places like La MaMa are essential.... La Mama is still holding on for dear life to that idea of being able to have space to try something, to risk something, to experiment with something that you've never done before."
In a joint statement between the American Theater Wing and the Broadway League, St. Martin and Hitchens declared, "La MaMa is a staple of the New York theater scene. It is an exciting space where artists can grow, create, and push boundaries, and we are thrilled to be able to honor them this year."
In addition to the national recognition, the theater will also receive a monetary prize of $25,000. And with a long-planned capital campaign moving forward, it seems like La MaMa is getting ready to transition into a new chapter.
For theater artists in NYC today, Yoo encourages a multidisciplinary approach: "Learn about the various aspects of putting up a show, as opposed to just focusing on the acting craft…. Be proactive and try to generate your own material…. You have to be able to wear many different hats—including producing your own work," emphasizes Yoo. "This is all about flexibility and adaptability."
For the La MaMa community, the national recognition is an affirmation of their perseverance in what can be a treacherous landscape for non-commercial theater. "Being an artist in this country, in this world, sometimes feels as though it's being questioned in terms of the value in society," posits Yoo when considering what the Tony recognition signifies. "It feels as though the stars are aligning to say, 'Yes! We need to make sure that places like La MaMa continue to exist.' "
The experimental theater is currently playing productions including La MaMa's Squirts: Generations of Queer Performance and Brooklyn United Live! now through June 10.
The 72nd Tony Awards ceremony will be nationally aired live on CBS, with Josh Groban and Sara Bareilles hosting.
Want to make your mark on experimental theater in NYC? Check out Backstage's theater audition listings and sort by location!