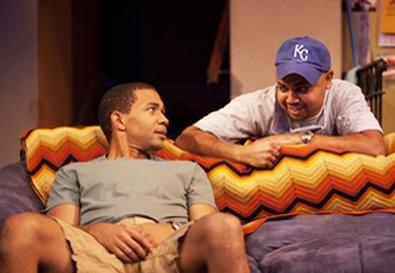 Economics as destroyer is the theme of Nathan Louis Jackson's moving new play "Broke-ology." The fate of a low-income African-American family in Kansas City is decided by its limited health-care options, as mother Sonia and, several years later, father William are struck with expensive illnesses. Their sons, Ennis and Malcolm, are also trapped—in different ways—by their salaries and confining circumstances. Ennis struggles to support his girlfriend and new baby on a cook's wages, while the more educated Malcolm must choose between a college teaching job in Connecticut and a less desirable local position that would let him help Ennis care for their ailing father.
Jackson lays on the symbolism a bit heavily at times. Every time William has a vision of his late mother, "Just My Imagination" is played on the stereo. In a reference to Martin Luther King's famous speech, William repeats that he has had a dream—except instead of a dream of equality and justice, his is a nightmare in which his wife and children are drowning and he can't save them. Even the family's surname, King, is an example of not-so-subtle irony.
Despite the weighty metaphors, this young playwright has created a striking portrait of four people yearning to escape their blighted neighborhood yet caught by necessities and obligations. Director Thomas Kail saves the production from sentimentality by focusing on the gritty reality of the action. Donyale Werle's detailed set is especially helpful here. Strewn with junk food, medicines, and a lifetime's bric-a-brac, this house feels lived in down to the scrubby patch of lawn on the stage's apron.
The actors inhabit their roles with as much attention to specifics as the director and the designer display. Wendell Pierce is particularly effective as the big-hearted but failing patriarch. You can feel William's every ache and pain and his tremendous love for his boys. Francois Battiste captures Ennis' frustration and anger at his dead-end job and demanding family, as well as his desperate need to blow off steam. Alano Miller puts across Malcolm's conflict with equal conviction. Sonia is seen mostly as a ghost figure, but Crystal A. Dickinson skillfully brings this woman's passions to life, as the playwright brings a family's deferred dreams to the stage.
Presented by Lincoln Center Theater at the Mitzi E. Newhouse Theater, 150 W. 65th St., NYC. Oct. 5–Nov. 22. Tue.–Sat., 8 p.m.; Wed. and Sat., 2 p.m.; Sun., 3 p.m. (212) 239-6200, (800) 432-7250, or www.telecharge.com. Casting by Daniel Swee and Mele Nagler.