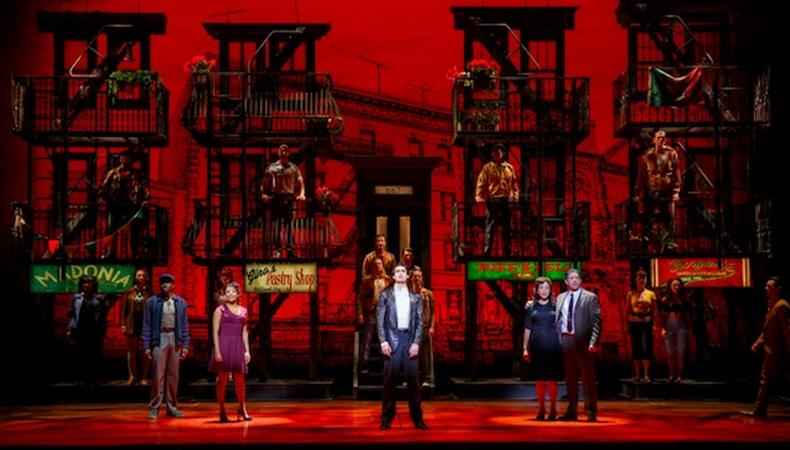 In Broadway's new musical "A Bronx Tale," based on the play-turned-film of the same name, Bobby Conte Thornton plays Calogero, an impressionable young man lured into the world of organized crime by the enigmatic gangster, Sonny. Thornton, making his Broadway debut in the hefty role, is either onstage or narrating for the show's near-entirety. During his limited downtime between eight performances a week, Thornton chatted with Backstage about the circuitous path which lead him to the Alan Menken and Glenn Slater-scored tuner, and what it's like to receive direction from his "hero," Robert De Niro.
On leading a company in Broadway's 'A Bronx Tale.'
"I've never had a role of this magnitude, simply in terms of onstage time, because I'm simultaneously narrating and stepping in as 17-year-old Calogero. Whether you like it or not, you're stuck with me for two hours onstage…. My five minutes before curtain every day is just going around and hugging and checking in with every single one of my cast members because we're telling a story about a community and I have a relationship with every single person in that community. I have to make sure I have a relationship with every single one of my cast mates."
On the scrupulous direction of Robert De Niro.
"['A Bronx Tale' co-director De Niro] is a master of detail. Everyone wears a cross or some sort of necklace in the show because it's a Catholic community. He gave me a necklace of the Archangel Saint Michael and told me why Calogero would wear this instead of a standard cross. If you're not in the first five rows, I would doubt that you would even see I'm wearing a necklace let alone see that it's the Archangel Saint Michael, but it's more tools in the toolbox for me as an actor. It's more things I can draw upon so that when I step onstage I can get lost in a world very different from my own."
On the path to making his Broadway debut.
"Everyone has their own path and it's very easy to get distracted when you see incredibly talented people beside you also succeeding or failing or going through their own struggles. You have to have faith that, as long as you have loving people around you that are saying that you are worthy of being on this path, it's going to work out. This life we choose is so hard because very little is in our control. [So you should] do everything you can that is in your control—like waking up everyday and working on your book and being as prepared as you can be when you walk into that audition, being open-minded to every person you come into contact with, then [giving] it up to the universe and [saying], 'I am here and present to whatever's going to come my way today.' "
On initially missing out on the role in 'A Bronx Tale.'
"Our job as actors every day is to fall in and out of love because every day you get an appointment for a different show. I got this script and instantly fell for it. When I didn't get it [in 2015 at Paper Mill Playhouse], I couldn't find removal from it. A friend of mine said, 'Why don't you just work on it for yourself? You can process it by engaging instead of being complacent and frustrated.' I worked on it for my own sake from November of last year to June of this year and then one day I get a call from my agent saying they're reopening the role of Calogero and they want to see you again. If anything, [the role] felt more engrained and I knew who this guy was and where it sat in my body and my soul so that when I was getting direction, I could be malleable."
On having a different approach to auditioning.
"The point of an audition is not actually to get the job. When you audition, you have been given material and you create a take on the character and you go into the room and you present it and you're open to direction, you're open to inspiration. You collaborate and you say thank you and you leave and your job is done. Anything after that is completely out of your control, so it's actually insane to try to think about what you have to do next. That gives you great perspective and removal from it to say, 'My only job was to work as an actor today with these incredible people and collaborate. The rest is up to the universe.' We all have phenomenally complex, nuanced lives that are beyond just waking up for the next audition every day."
Ready to make your stage debut? Browse our theater audition listings! And for expert insight on the casting process and more, check out Backstage's YouTube channel!