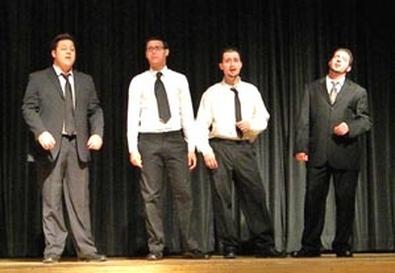 Chris Manetakis doesn't want to be a Broadway star. Headlining local plays since his teens, the Bronx native took a few acting classes at Hunter College and The American Musical and Dramatic Academy after graduating high school.
However, when finances forced him to put school to the side, Manetakis spent much of his 20s managing several retail stores throughout New York while performing and directing on the side. Now 29, Manetakis is finally pursuing his true vision.
"Starting a theater group has been a goal of mine for the past 12 years of my life," said Manetakis. His goal has been met, as Manetakis founded Local Celebrity Theatre, an independent nonprofit theater group, in April.
"So many times we look at the ultimate goal and think, 'That's impossible,' " said Manetakis. "This time, I set a bunch of small goals, and one by one, I achieved them."
The group has staged a variety of performances in the Bronx since its inception, ranging from talent shows to cabaret to a recent review of Broadway songs. The ages of performers range from teens to those old enough to be parents of teens, resulting in diverse but tight-knit casts.
"Seeing what Chris has offered of himself to this community has influenced me to use some of the talents people didn't know I was capable of," said Amanda Livingston, 25, an actor in the company.
Manetakis wants LCT to be more than a means for local performers to showcase their talent. The group is involved with several charities, having participated in the March of Dimes' March for Babies and donating proceeds from a talent show to the Muscular Dystrophy Association. An upcoming Christmas production, "Telethon for Santa," will raise money for the Make-a-Wish Foundation and serve as a drop-off spot for Toys for Tots.
Manetakis also plans to start a program that has LCT members visiting and performing for seniors in local nursing homes.
"We're not afraid of a little manual labor," said Manetakis. "If there is any way we can help out in our community, LCT is willing to do so."
This commitment to charity and community is what makes LCT stand out, according to Manetakis. "Typically when you think about performers, you think egos. That's not what LCT is all about. We're using our talents as a way to help and inspire others."
Though LCT is locally based, Manetakis is confident that it could someday be his sole occupation.
"I have already decided that LCT will be my career," he said. "I don't believe in backup plans. I don't believe in having something to fall back on. I'm prepared to do whatever I have to do to make it successful."
LCT's next performance, an original Christmas show by Manetakis and Steven Bendler titled "Telethon for Santa," will run Dec. 10 at 7:30 p.m., and Dec. 11 and 12 at 3 p.m. The play will be held at Lehman High School in the Bronx. Tickets are $15, $10 with a Toys for Tots donation, and $8 for children up to 13.
For information on Local Celebrity Theatre, visit
localcelebritytheatre.webs.com
.