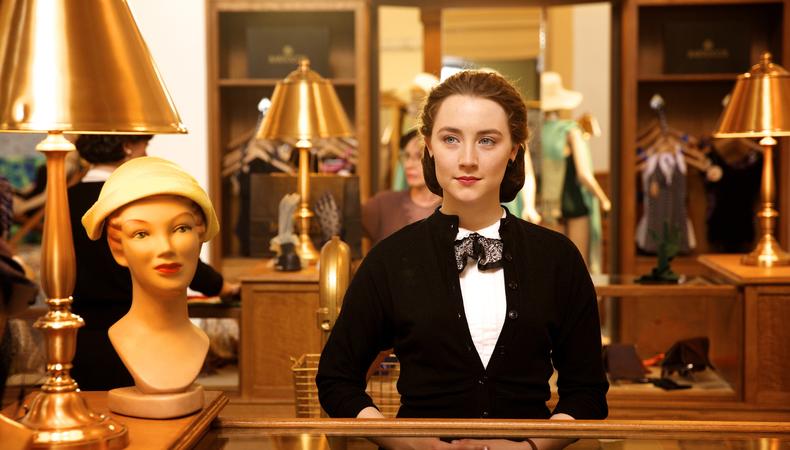 It's hard to imagine a creative trio bringing Colm Tóibín's 2009 novel, "Brooklyn," to the screen as elegantly as star Saoirse Ronan, screenwriter Nick Hornby, and director John Crowley; it was a seamless fit for this sweeping coming-of-age adaptation about a an Irish girl relocating to America in the 1950's.
"I pretty much pulled [my agent's] arm off to get at the script. I didn't need to think twice," Crowley, a longtime Tóibín fan, recalls. He felt that same immediacy with his star, Ronan. "Authenticity was everything to me, so when I started the [casting] process, Saoirse was my first thought. I'd always loved her work and she'd obviously proven herself to be an astonishing actress from an early age. [But] she'd yet to give the performance to take her to a fully-fledged adult performer. This role seemed to be a perfect challenge for her on that level."
It was also perfect timing. Crowley met with the 21-year-old Academy Award nominee, then 19, when he was first attached to the project, and when Ronan herself was about to go through a transition similar to her character's. Eilis moves from County Wexford, Ireland, to Brooklyn and comes into herself away from her family and home. In reality, Ronan was about to move from Dublin to London to do just the same.
"She brought an awful lot of emotional rawness to the performance when she was shooting because it was based on real experience," Crowley says.
When Backstage spoke with Ronan in October, she echoed the fact, saying, "To have a character that you're playing where you're literally running parallel to each other is so terrifying. It's like you're facing a mirror that's an inch from your face and you can't look away. I was an absolute wreck the whole time. Every second scene in the film had me in buckets."
Of course, not everything in "Brooklyn" reflected Ronan's experience so explicitly. The film shows her Eilis moving into a boarding home run by Mrs. Kehoe (Julie Walters), landing a job and taking night classes thanks to help from Father Flood (Jim Broadbent), and falling in love with an Italian boy named Tony (Emory Cohen). Her newfound stability, however, is upheaved after a death in her family and a hasty return to Ireland, and Eilis and Ronan are left to traverse some emotional ground.
Crowley credits his experience in the theater for giving him the proper skillset to gauge and hone an actor's feelings while culling the best performance possible.
"The kick I get out of directing is working with actors," Crowley says. "I'm fascinated by the exact right note that you can give an actor that will close the gap between where they're at and the target in this scene, in this one moment. So much of information is not actable—it might be interesting intellectually to speculate on the meaning of the scene, but it's not actable. And so the key is [asking], What is the piece of information you can impart on that actor that will make that happen?"
Filming days were preceded by hours of rehearsal with his ensemble, not just to perfect the dialogue of Hornby's script, which he believes is "remarkable" and the writer's "best work," but also to come with an emotional intelligence about their characters. Entering a shoot with that knowledge gave his cast room to play without losing sight of the story's arc and intent.
"I always have a reasonably tight area that I feel the scenes need to land in," Crowley says. "That's what your job is [as a director]: to try and work more specifically toward that all the time—and then maybe throw in a curveball in order to loosen it up. I don't want the actors to feel like they've been put into a straight jacket."