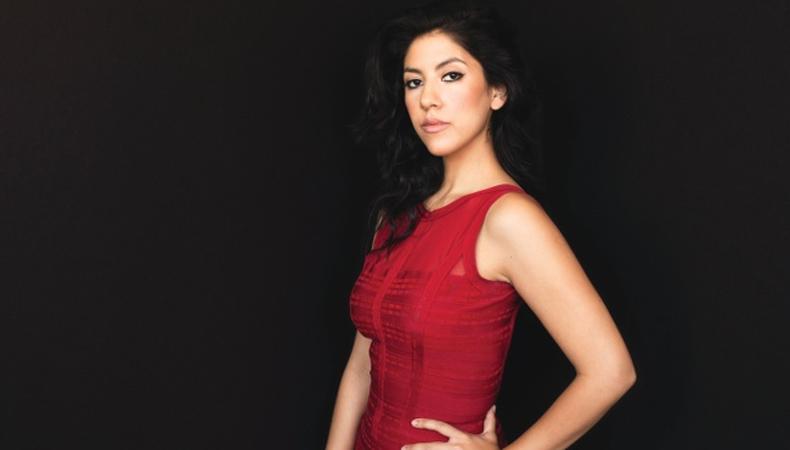 With a background in theater, Stephanie Beatriz is learning the ropes of television on "Brooklyn Nine-Nine," playing the toughest cop in the precinct, Rosa Diaz.
On booking the show.
"It took a while for all these tests and I was nervous as fuck the whole time, 'cause I wanted it so badly and I'm a huge fan of 'Parks and Rec.' I love Andy [Samberg] and the Lonely Island. When I kept getting called back it was like the roller coaster kept going up and up and up, and it just didn't drop until I finally got it."
On the similarities between her and Rosa.
"We both really like black leather. I think personality-wise, I can be a little rough sometimes. If there's injustice in the world I can be very standup-y about it, but most of the time I think I'm pretty easygoing and nice and chill. I try to be nice! I don't think Rosa really tries very often. I think she cuts to the chase a lot more than I would."
On learning the technical side of television.
"I was having a lot of trouble hitting my marks [at first] because I never needed them onstage. There was always just a general area. And I don't work with my glasses on and contacts really bother my eyes, so I was just having trouble seeing the marks on the floor; I just had to adapt. The technical side of television is really difficult and interesting and really cool, but it's a different skill, so that's been an adjustment."
On her most memorable survival job.
"On a working farm in Queens there was this corn maze in the fall. They would cut a maze into this field of corn and then create a game out of it. So I was hired as one of the guides. I'd give the speech in the beginning about how you play the game—which no one would ever listen to, they'd just run rampant—and then I would travel through the maze helping people who were lost. It was really, really hot, and some families in New York are darling and lovely and some are really intense, so there was a mix of all sorts of people there. Some days were really fun and then one time I walked around and there was a kid relieving himself in the corner; I was like, 'All right. Cool.' "
Inspired by this post? Check out our television audition listings!