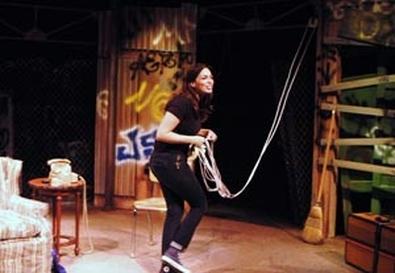 In her new one-woman show "Brownsville Bred," Elaine Del Valle is so ebullient that not until afterward does one realize the darkness of her story. In retrospect, the terrifying and dangerous situations in which she found herself while growing up in the Brownsville neighborhood of Brooklyn (where almost every adult man has been arrested at some point in his life, according to a projection that begins the show) seem almost numbing in their relentlessness. Even winning tickets to a Run-DMC concert ends with Del Valle being beaten during a gang initiation.

Del Valle, however, isn't interested in writing and performing from a victim's point of view. Her stories of growing up Puerto Rican in a predominantly African-American neighborhood all have a tinge of yearning for the old, pre-gentrification, rough-and-tumble New York City. Her description of how they could always tell when one of their neighbors started using crack cocaine is both hilarious and oddly nostalgic.

Director Pamela Moller Kareman keeps the pace unflagging, and she and Del Valle cleverly cross the chasms between the painful end of one story—a trip to Jones Beach ends with a young Del Valle being inappropriately fondled by an older man—and the buoyant beginning of another. Scenic designer Jason Bolen's set is a clever combination of clutter and junk and soothing poppy colors, perfectly capturing the gritty but sunny remembrances of Del Valle's play.

Del Valle is a whirlwind of talent, conveying her various ages imperceptibly but clearly and taking on other characters without the usual showiness of one-person plays. "Brownsville Bred," in the hands of these two talented women, becomes more than another memoir of growing up in less-than-ideal circumstances. Del Valle's show is an attractively modest tribute to looking on the bright side and refusing to settle for less.

Presented by Pamela Moller Kareman, the Schoolhouse Theater, and Theater 808 at 59E59 Theaters, 59 E. 59th St., NYC. July 17–31. Tue.–Thu., 7:15 p.m.; Fri. and Sat., 8:15 p.m.; Sun., 3:15 p.m. (212) 279-4200 or www.ticketcentral.com.