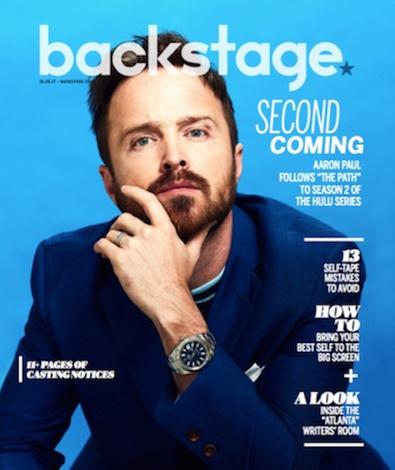 Acting comes with the inherent risk of bringing your characters home with you. If you ask Aaron Paul, he'll tell you that's not always a good thing.
Despite being a self-professed "very happy person" who's "madly in love"—his "Breaking Bad" co-star Bryan Cranston even equates his longtime friend to a puppy: "Wide-eyed, excited, his tail wagging"—Paul consistently seeks out roles with a building storm behind them. They give him something to follow.
"As an actor, it's just so much fun to go to work and zip on that skin and do something that is so polar opposite to your day-to-day life," he says. "It's adrenaline, right? I mean, people jump out of planes to feel that rush. I love feeling heavy emotions, and I love that I can do that at work and have it not be real. But it feels real."
Over lunch at midtown Manhattan's Tavola, Paul is quick to smile and lean back in his chair, snugging his shoulder blades into a corner. Even nine years after his breakout role of Jesse "Bitch!" Pinkman on "Breaking Bad," the 37-year-old retains a genuine excitement when talking about his craft. There was a time, however, after filming "Breaking Bad" Season 1, that he felt the heavy emotions he relishes as a performer beginning to take a toll.
"During the first season, I just lived and breathed this guy," he says of Jesse, a street-level drug dealer-turned-"Blue Sky" crystal meth cook alongside Walter White (Cranston). "After work, I would just be so depressed and find myself in dark alleyways at 3, 4 in the morning to surround myself with these sorts of characters. It was a heavy first year for me as an actor."
READ: Aaron Paul Recounts Life as a Broke, Struggling Actor
It is easy to understand how Paul became engrossed in the drama. With its in-depth character development and gripping plot twists, Vince Gilligan's five-season AMC series proved to be the opportunity of a lifetime: Paul received a record-setting three Emmy wins for outstanding supporting actor in a drama series.
Though Jesse was Paul's first major role, he came along after years in Hollywood's trenches. The actor moved from Idaho to Los Angeles at age 17 after graduating high school early and placing in an International Modeling & Talent Association competition. That competition eventually landed him a manager, an MTV pilot, and a string of commercial gigs. But even after working in a decade's worth of weekly procedural guest spots and minor roles in film projects (he appeared in "Mission: Impossible III," for one, as brother to Michelle Monaghan, with whom he now stars on "The Path"), Paul was struggling to pay his bills when the "Breaking Bad" script fell into his lap.
"I read the pilot and I knew this was my role," Paul recalls. "I was excited about really diving deep because I thought, Hey, this is my opportunity to shine. This is the greatest piece of material I've ever read in my life, and they hired me to do this? I have to bring my A-game. I didn't want to break away from being inside of that character."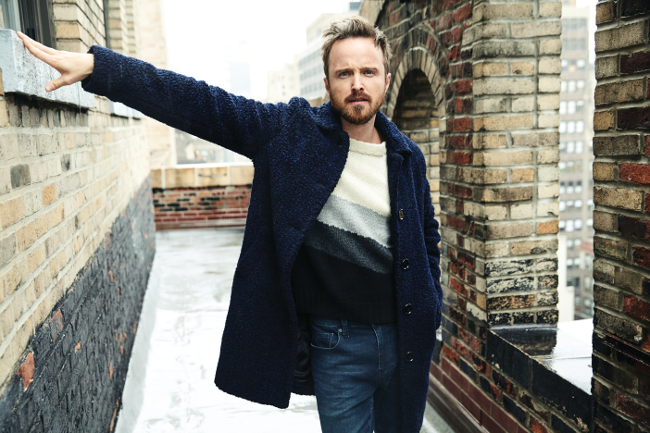 It was Cranston who eventually sat Paul down and told him that it was OK to break away from a role. After a long day of shooting, he assured him that it's sometimes necessary to go back to the trailer, wash off the makeup, change clothes, and hang the character up for the night before zipping the skin back on the next morning.
"It's something that I learned along the way, too," Cranston says before detailing how, when playing Walter, he would go back to wardrobe, wrap a hot towel around his head and face, and allow the heat and moisture to act as a "physical manifestation to take it off" and to wipe away the "emotional and physical grime. It turned out to be a good policy," he says. "[When] you have to tap into your emotions, you want to have the same ability to release them," Cranston continues. "It's not always possible because of the dynamic of what we [actors] deal with—the highly emotional, intense, and very intimate relationships that we have with our work. But the longer you do it, the easier it can be."
That lesson in Jesse's darkness was a solid training ground for Paul, who has delivered assured and emotionally textured screen performances in the years since the show's 2013 finale, namely as Eddie on "The Path." That's not at all to diminish his voiceover work as Todd Chavez on "BoJack Horseman" or his feature film turns in "Smashed," "Eye in the Sky," and "Triple 9," either. But as a man grappling with and questioning his cultish Meyerist faith while weighing the value of his friends and family, Paul's Eddie finds himself bound by the theological ties that once saved him. The actor says he was "instantly drawn" to the role.
READ: Bryan Cranston Says Acting Takes 'Total Dedication'
"I grew up in a very religious household. My father was a Southern Baptist minister, and I grew up reading the Bible. I knew what I knew, and so that's what I believed," Paul says. "But moving to L.A., I was opened up to so many different beliefs. My world was opened to everything, and that was really intriguing to me. I see how someone could fall out of faith or maybe find something else that they connect to in a more powerful way."
"The Path" Season 2, which premiered on Hulu Jan. 25, picks up after Eddie confesses his crisis of faith and is excommunicated from Meyerism, effectively leaving the cult. Slowly reacclimating to the outside world, one that when he last inhabited it left him lost and suicidal, he still feels pulled back to the beliefs he left behind, his wife, Sarah (Monaghan), and his two children, Hawk and Summer.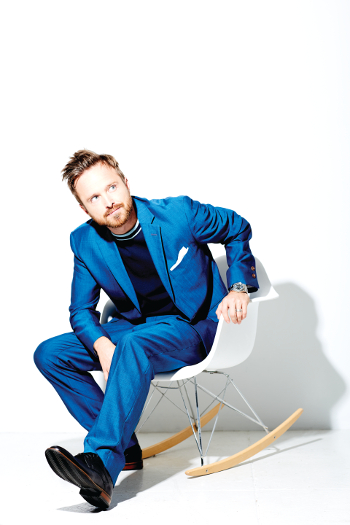 "I love the [show's] world and I love my crew, [and] the cast is so impeccable," Paul says. "I'm at a point where you just want to do stuff that fills that sort of creative need inside of you. In the beginning, I just wanted to work—anything. Commercials that paid the bills. That wasn't my end goal, but I was still very happy. I feel very blessed."
Over two seasons, Eddie Lane and "The Path" have led Paul to greater growth as a performer, allowing him to better explore the character's conflicts surrounding faith, family, and even mental health and self-worth as a husband and a father. While Jesse Pinkman was an award-winning, scene-stealing supporter to Walter White's journey, Eddie Lane cements Paul as a leading man.
"You feel that the audience yearns for his success, whatever character he's playing," Cranston concludes. "You cannot help yourself from rooting for this man because Aaron's natural sense of nobility comes through in his character…but [he also has] a naiveté and a vulnerability that is embraceable in spirit. He's the complete package. He's a terrific actor, but I think he's even a better person. I made a friend for life."
---
The Strong Survive
"What's so beautiful about Los Angeles is it's a city full of dreamers. Same with New York: people running away to the coasts and trying to chase after whatever they're passionate about," Paul says. "My advice [to actors] would be the same advice I got when I moved to L.A. from this commercial actor that I met, an older man. He said to me, 'The strong will survive. If you want it for the right reasons and you want it bad enough, it'll happen. So just stay strong.' The city will sort of filter out the people that are weak, because it's a tough business. It's a tough and grueling business, but I loved it all, man."
When asked, Cranston echoes Paul's mantra. "Yeah, if you didn't love [acting], at the first sign of resistance or disappointment [you'd say,] 'Oh, I'm done, I'm out.' It's the weakest link. You just don't have an emotional bond to the art form, and if you don't have that, you can't survive. It just won't work."
Styling by Savannah White. Coat and sweater by Lucio Castro, jeans by Mavi. Suit and sweater by David Hart, shoes by Florsheim.
Are you television's next big star? Check out our TV audition listings!