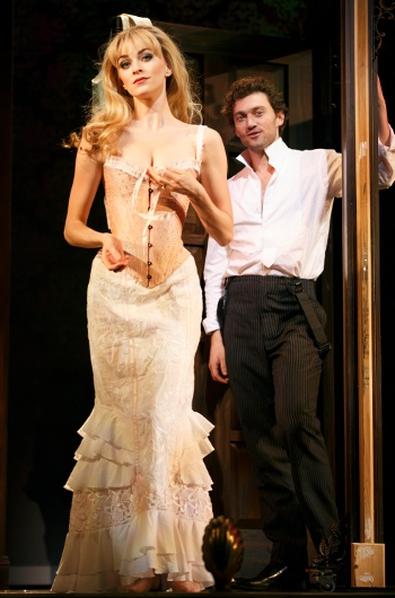 When Bryce Pinkham had the chance to audition for the world premiere of "A Gentleman's Guide to Love and Murder" in Hartford, Conn., he turned it down.
"I remember saying to myself, 'I want to do shows in New York and see what's here for me,' " he says. He was given another chance to play the murderous Monty Navarro when the show eventually made its way to Broadway. Good thing, too—Pinkham was nominated for a Tony Award for best actor in a musical (opposite co-star Jefferson Mays).
Based on the novel "Israel Rank: The Autobiography of a Criminal" (also the source material for the classic film "Kind Hearts and Coronets"), "Gentleman's Guide" follows the impoverished Monty as he takes revenge on the wealthy family who shunned his dead mother, slowly rising in the ranks until he becomes the Earl of Highhurst. Along the way, he dispatches multiple family members (all played by Mays) while juggling two women and keeping the audience's sympathy.
"I think the piece only succeeds when you root for him, when you are on his side," Pinkham says. "So my goal each night at the show is to find a way to ingratiate Monty to the audience and to make it clear that he is the everyman that we can put our chips behind and root for. If you don't root for him then it sort of doesn't work."
Part of Pinkham's winning strategy was to present Monty as a guileful innocent, someone who isn't intrinsically murderous but who does take advantage of situations that find his relatives imperiled. Ultimately, he goes to much greater lengths to assume the earldom, but by the time he's morphed into the "dangerous and sexy" killer of the second act, we're firmly Team Monty.
Co-stars Mays and Lisa O'Hare—who winningly plays Monty's ambivalent, flirtatious mistress, Sibella—had been with the show in previous incarnations, but both were eager and willing to return to the material from scratch during rehearsals for the Broadway production.
"[Director Darko Tresnjak and writers Robert L. Freedman and Steven Lutvak] wanted to recreate what had gotten them to where they were, but we wanted to find our own unique spin on it," Pinkham says. "So Jeff and I had to find our groove in the audition room and managed to do that very early on because he gave me the space and time to explore various terrible ideas I had before turning to something we knew could work. And there are plenty of things in the show that are new because they occurred to me in the rehearsal room."
While Mays' and Pinkham's duets of death are hilarious and exquisitely timed, it's Monty's relationship with the tormented Sibella (who rejects him for being too poor early in the show) that adds depth. "We hear quite often there are parts of the show that are surprisingly moving, and that's always nice to hear because I always try to create as close to a three-dimensional character as I can, despite whatever genre," Pinkham says. "It's more fulfilling. Why not? The impositions of the genre are gonna be there whether you like it or not so you might as well make it as real and fully fleshed out as possible."
Pinkham's love for the material is obvious—and never more so than when it comes to performing eight times a week as a lead who rarely leaves the stage. "Doing what I'm talking about would be much harder in a show I didn't like," he says. "It's quite a high, especially when you're doing it sustained throughout the evening. My brain is sort of on for two-and-a-half hours and that's sort of helpful because there's not a lot of time to think. And that's proven to be a great pleasure."
Like this post? Check out more of our Tony Awards coverage!