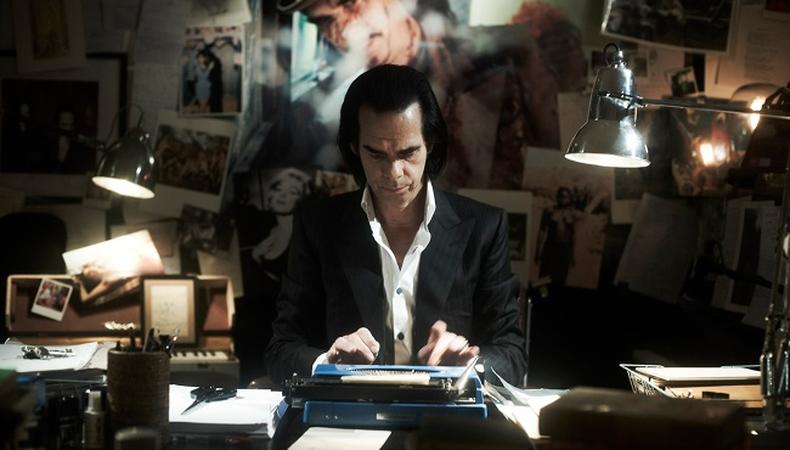 This is how it usually plays out: We're in the limo with the rock star and his glamorously disheveled entourage. Adoring fans swirl and howl. We're in the studio watching the rock star create. We return to the rock star's early life in Memphis-Detroit-Birmingham-Dublin where we discover the rock star's passions and demons.
Yeah, forget all that.
Nick Cave isn't that kind of rock star, and English artists Iain Forsyth and Jane Pollard aren't interested in making that sort of document. Don't call their first feature film, "20,000 Days on Earth," a documentary. Don't even call it a film "about" Nick Cave. It's a film that takes place over the course of a single fictitious day featuring Nick Cave—along with Kylie Minogue, who sang with Cave on his biggest hit; Ray Winstone, who acted in the film Cave wrote, "The Proposition"; current band member Warren Ellis; and Blixa Bargeld, who parted from Cave's band in 2003. This is a film constructed of odd components like Freudian analysis, dreamlike conversations in cars, and the making of a song, a thread that provides a rare and real glimpse into Cave's rigorous, brutal practice. As much as "20,000 Days on Earth" is "about" anything, it's about the possibility of a form that had grown horribly stale.
"We were becoming sickened by the talent shows using similar techniques to put a soft story on someone's reason for doing what they're doing," says Pollard. "That very manufactured, emotionally manipulated, quick-fix approach. Might bring a tear to my eye, but two minutes later I'm in my kitchen making my dinner." In thinking about what this film could be, Forsyth and Pollard rejected "the quest for the authentic," as they see it: the trend in music documentaries "to peel away the layers of celebrity and artifice and find the 'real' man behind X,Y, and Z," according to Forsyth. "Nick's not one of those rock stars who turns something on onstage and then gets into the tracksuit and goes off-duty."
Forsyth and Pollard met in the early '90s at Goldsmiths, the London college of art that has produced graduates such as Damien Hirst and Steve McQueen, and have been working together—and only together—since. They attracted early attention with "A Rock 'N' Roll Suicide," an obsessive re-creation of David Bowie's last concert as Ziggy Stardust. Then Cave asked them to direct a music video for "Dig, Lazarus, Dig!!!" They went on to make every video for every single on the album.
According to Forsyth, "20,000 Days on Earth" began in much the same way. "There was no grand master plan to make a film," he says. Cave and Ellis were starting to write new material and asked Forsyth and Pollard to come film them at work—a first for Cave, who tends to keep the details of what he calls his "songwriting universe" well hidden. "Nick is a storyteller. Whether it's the music or the novels or whatever, there's just this desire to create stories. We didn't necessarily want to inhabit that working process, but we wanted it to remain intact."
Rather than fold that footage into the usual "behind the scenes" material that accompanies album releases, the duo came up with threads to intentionally obliterate the lines between fact and fiction. The story that emerged was the story of creation itself. "You have an idea," says Pollard. "Often it feels a bit fragile or half-baked; you look after it, you try and protect it from the things that want to stop it, and you see it through. Sometimes when you see it through, something really quite big comes of that, something you hadn't expected. That moves me. That's not just the story that's in the film, it's the story of the film. The film started with a tiny idea."
Inspired by this post? Check out our audition listings!