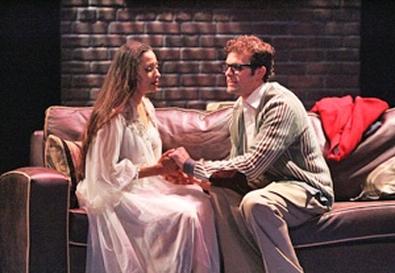 Performers whose lives are unexpectedly cut short often gain a special kind of immortality. Such is the case with Buddy Holly, whose promising career as a songwriter and performer ended when he was killed in a plane crash along with the Big Bopper and Ritchie Valens in 1959. Don McLean's "American Pie" dubbed it "the day the music died."
Alan Janes and Rob Bettinson have written a tribute to Holly that showcases his music and adds biographical details that bring his story to life. From age 19 when he got his break until his death at 22, the singer produced a group of hits that are still commercially popular.
Portraying Holly, Brandon Albright is a human dynamo. Sporting the signature black-rimmed glasses and demonstrating phenomenal energy, Albright and his cast mates bring to life 28 songs, including the classics "Peggy Sue," "That'll Be the Day," and "True Love Ways."
Buddy Holly and the Crickets (Matt Wolpe on drums and Omar D. Brancato on bass) seemed to find success fairly easily, so the book doesn't dwell too much on the biographical but instead showcases Holly's musical progression. On the singing side are T.J. Dawson as the Big Bopper and Manuel Romero as Valens; Maegan McConnell, Arthur L. Ross, and Jennifer Leigh Warren provide solos and backup. Andy Taylor fills in well as Hipockets Duncan, Holly's first manager-D.J., and the cast does double and triple duty as the parade of characters who intersect Holly's life. The production boasts an outstanding troupe of instrumentalists.
If there is a singular fault to be found, it might be that the amped-up music is almost too loud to be able to hear Holly's guitar work. Durable director Glenn Casale keeps the action moving, and the audience is on board, so the show works well as a musical tribute.
Presented by McCoy Rigby Entertainment in association with and at La Mirada Theatre for the Performing Arts, 14900 La Mirada Blvd., La Mirada.

April 17–May 2. Tue.–Thu., 7:30 p.m.; Fri., 8 p.m.; Sat., 2 and 8 p.m.; Sun., 2 and 7 p.m. (562) 944-9801. www.lamiradatheatre.com.