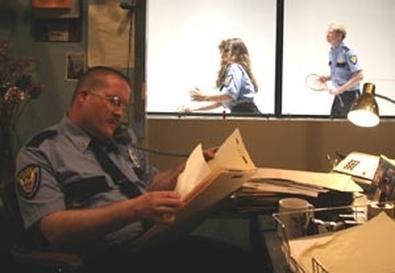 Nothing is where it should be in the
Debate Society's
latest play, "Buddy Cop 2." It may seem strange that Christmastime comes in August or that the police department operates out of the local racquetball court, but playwrights Hannah Bos and Paul Thureen and director-developer Oliver Butler have woven an accomplished yarn about people learning to live in peace with such peculiarities. Packed with the sort of nonchalant theatrics and smoldering intensity that have earned the Brooklyn-based company its stripes, "Buddy Cop 2" proves that the usually scatological Society is also comfortable with a more linear, sentimental narrative.
The play is set in the sleepy town of Shandon, where the scant police force is busily preparing for this year's Christmas festivities, which have been rescheduled for late summer to accommodate the final wish of a cancer-ridden little girl named Skylar. As the big day approaches, caroling, parades, and ice skating have been organized to keep poor Skylar's spirits up. Officers Novak and Olsen (Bos and Thureen) are assigned to guard the governor's daughter at one of these events. Throughout, Bos and Thureen's script is conversational, tightly structured, and embellished with darkly surreal imagery, like Skylar's recurring nightmare about a demonic Santa Claus.
After a destructive flood, the police department has set up shop in the local rec center, with Novak and Olsen frequently heading to the racquetball court (set designer Laura Jellinek's court is fully functional) to hit a few. Butler's decisive staging utilizes each aspect of this extraordinary and lived-in environment to maximum effect—the windows, the simultaneous performance areas, even the sound of bouncing racquetballs.
Both Bos and Thureen exhibit a restrained knack for comedy in their roles. Thureen's silent devastation when Olsen loses a game of bingo and Bos' brusque delivery of Novak's diagnosis of her partner's gambling addiction are two small moments that exemplify this admirable subtlety. Michael Cyril Creighton and Monique Vukovic round out the cast well.
Presented by the Debate Society in association with the Ontological-Hysteric Incubator at the Ontological-Hysteric Theater at St. Mark's Church, 131 E. 10th St
.,
NYC. May 20
–
June 12. Thu
.–
Sun
.,
8 p.m
. (
212
)
352-3101 or www.ontological.com
.